Extreme Shore Experiences Bring New Dimension to Cruises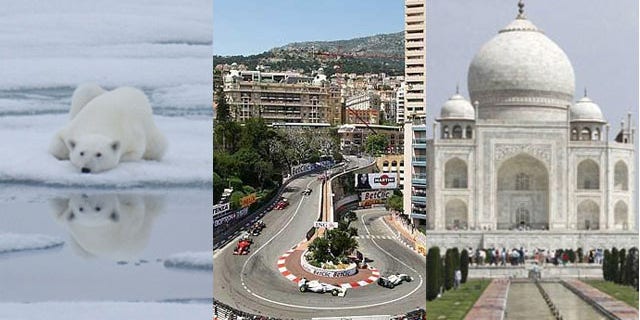 When it comes to world travel, there's a common misconception that cruise ships are only good for getting a taste of places you might want to come back to someday.
But experienced cruisers know exactly where they are going and what to do when they get there. While some excursions can cost a pretty penny, the main thing to remember about any far-off cruise is that you already paid to get to your destination, so it doesn't make sense to scrimp at the last minute.
These days, some luxury lines are offering new shore-side experiences you probably wouldn't associate with a cruise. If you have the time and budget, here are a few suggestions for "off the beaten path" port experiences.
Tour Monte Carlo in a Race Car
Monaco is famous for two things: Grace Kelly and the Grand Prix. You can see the church where Grace was married and buried by taking a short stroll from the Monte Carlo pier. But if you want to try one the world's most challenging auto racing routes, you can drive the Circuit de Monaco in your own Ferrari, Lamborghini or Maserati while visiting Monte Carlo on any one of five Mediterranean itineraries operated by Crystal Cruises in 2012. Your car will be waiting at the pier with a full tank (a Maserati averages 13 miles per gallon but has a 22 gallon tank). Unfortunately, you have to obey the traffic laws of the principality, but the track route is so notoriously curvy and precipitous that the Grand Hotel Hairpin and one of the longest tunnels in all of racing will surely give you the same goose bumps. Cost: $4,569 for eight hours. This works out to about $10 a minute. And you thought Hertz was expensive?
Search for Polar Bears in the Arctic Circle
A number of beautiful animals are getting rarer all the time, but few are more endangered than polar bears. They migrate constantly, but only through very sparsely populated regions -- and they are one of humankind's most dangerous predators. One place to spot the creatures is in the Arctic archipelago of Svalbard, aboard one of the nicest expedition vessels in the world, the Silversea Silver Explorer. This ice-class vessel offers extraordinary adventures with all the comforts of a luxury cruise. Your suite will have complimentary caviar and champagne from room service, a Jacuzzi, a butler, and a polar parka and waterproof boots for each guest. Svalbard is located halfway between the North Cape of Norway and the North Pole. You will see the summer midnight sun. But remember, the average temperature is 33 degrees Fahrenheit, although a wind storm can make it feel far colder. They might look cuddly, but given a chance, a polar bear will eat you. For Svalbard's 2,400 residents, it is illegal to walk outside any human settlement without a rifle. To find bears for you to shoot -- with your camera, that it-- a professional expedition leader will take you out in a rubber Zodiac boat with about 15 other guests and a bear guide with rifle and binoculars. Polar bears live wherever the ice meets the sea. Cost: $5,748 per person. Just one word of caution about any polar cruise – be sure to research and take all of the proper clothing. You need a completely watertight outfit to cover everything but your face.
See the Taj Mahal
Mark Twain once said the world has two types of people: those who have seen the Taj Mahal and those who have not. I have not seen it - because it is in Agra, India, more than 700 miles from the nearest coastline. But during the Seabourn Quest's 56-day Singapore to Venice voyage in 2012, you can schedule a three-night trip to the Taj Mahal from the port of Cochin, India. You'll fly to Delhi, where you sleep the first night. The next day you are transported to Agra, arriving in time to visit the world-famous mausoleum at sunset. You can see it again in the morning light for the best photography, and then drive back to Delhi to catch the morning flight to Mumbai to meet your ship. Cost: $4,400 approximately per person.
G-force 4: Jet Plane Aerial Stunts
Who doesn't enjoy seeing a good air show? But how would you like to "be" the air show? In Adelaide, Australia, Crystal Cruises will get you into the cockpit of a Nanchang CJ-6A or a Yakovlev Yak-52 fighter trainer, where your expert pilot will take you through several combat aerobatic maneuvers, capped by a "flyby salute" over your ship. Some of the fun includes a "wing over," a "loop," a "barrel roll" and a "stall turn." You absorb forces of up to 4Gs during these stunts, but the pilot will explain the dynamics of each one before he hits the "afterburner" button. Cost: $2,435 per person, and a clean pair of underwear. You also get tea and cookies after the flight, to replace the cookies you tossed all over the cockpit during the barrel roll.
Visit Iguaçu Falls, Argentina
On the February 20, 2012 cruise of Crystal Symphony, you can leave from Buenos Aires to catch a 1 hour 45 minute flight to Iguaçu airport. From there, you will be driven to Iguaçu Falls National Park to see one of the most beautiful waterfalls in the world. Iguaçu doesn't have quite the volume of Niagara Falls, or the height of Angel Falls in Venezuela, but it is arguably the most visually stunning waterfall in the world due to its vast width – some 275 separate waterfalls side by side in an inverted J-shape, creating a circular curtain of water. At one spot a person can be surrounded by 260 degrees of waterfalls. Cost: $1,299 per person.
How Extreme Cruise Excursions Work
The one thing all these shore tours have in common is fast cars or airplanes, which makes them expensive. Since the recession, most cruise lines just offer "customized private tour planning" onboard their ships. In fact, while these were the pre-set prices online, you may be able to arrange these tours more inexpensively.
Paul Motter is the co-founder and editor of CruiseMates.com cruise travel guide.