Top 5 celebrity feuds that had stars at each other's throats
Everyone loves getting a peek at what celebrities are like in moments of conflict, but every once in a while things in Hollywood boil over into an all-out feud between two stars.
Whether it's friction on the set, a social media spat or a good old-fashioned dislike of the other gal, or guy, celebrities aren't immune to getting into nasty spats with their show business colleagues. The industry is overflowed with celebrity feuds, but here is a selection of the top 5 most shocking ones from recent memory:
Nicki Minaj and Cardi B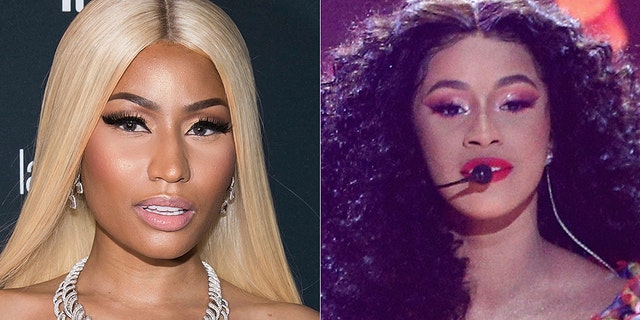 After a lot of thinly veiled back-and-forth on social media about one another, things came to a head between Nicki Minaj and Cardi B at a New York Fashion Week event, in which Cardi B allegedly approached a table Minaj was sitting at during a Harper's Bazaar bash. It's unclear specifically what happened, but accusations include Minaj's security hitting Cardi in the head and Cardi throwing a shoe at Minaj.
The "I Like It" singer explained on Instagram that she believed Minaj was spreading lies about her and calling her skills as a parent into question.
"For a while now, she's been taking a lot of shots at me. I spoke to her twice before, and we came to an understanding. But she kept it going," Cardi B said.
Minaj, 35, claimed her friend Rah Ali, who was formerly Cardi B's co-star on "Love and Hip Hop," ran up on Cardi B and punched her about 10 times in the head. Minaj also said she would give $100,000 to anyone who had surveillance footage of the incident.
Fortunately, the duo decided to abandon their feud and agree to keep things positive rather than continue to sling mud (and fists) at each other. The decision came after another hours-long war of words on social media.
Dwayne "The Rock" Johnson and Vin Diesel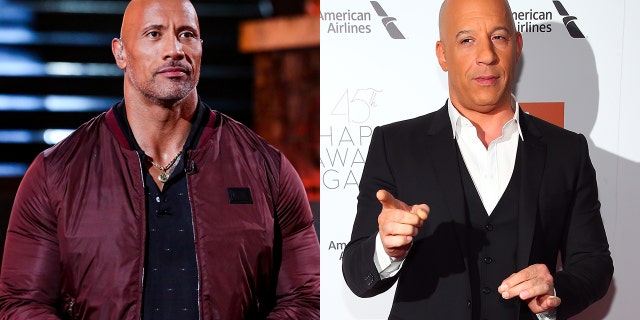 In addition to an ongoing feud with fellow "Fast and the Furious" franchise co-star Tyrese Gibson, The Rock is also brushing up against the film's original star, Vin Diesel. The beef reportedly started on the set of the most recent installment in the franchise, "F8 of the Furious." After an unknown disagreement over what The Rock would later call "different philosophies," the star took to Instagram in a since-deleted post to rail against his "unprofessional" co-star without naming him directly.
"Some [male co-stars] conduct themselves as stand up men and true professionals, while others don't. The ones that don't are too chicken s--t to do anything about it anyway. Candy a--es."
According to Vanity Fair, he captioned the now-infamous post "zero tolerance for candy a--es."
It didn't take long before Diesel was outed as the subject of Johnson's ire. Soon afterward, it was announced that The Rock would star in his own spinoff movie with Jason Statham and allegedly filmed his scenes in the eighth movie at a different time than Diesel.
Things further escalated when the filming wrapped and Johnson took to Instagram to thank all of his co-stars, with one big exception.
To his credit, Diesel never went low and tried to preserve the "family" dynamic of the franchise, telling USA Today: "I don't think the world really realizes how close we are, in a weird way," Diesel said. "I think some things may be blown out of proportion. I don't think that was his intention. I know he appreciates how much I work this franchise. In my house, he's Uncle Dwayne. . . . It's not always easy being an alpha. And it's two alphas. Being an alpha is sometimes a pain in the (butt)."
Kim Cattrall and Sarah Jessica Parker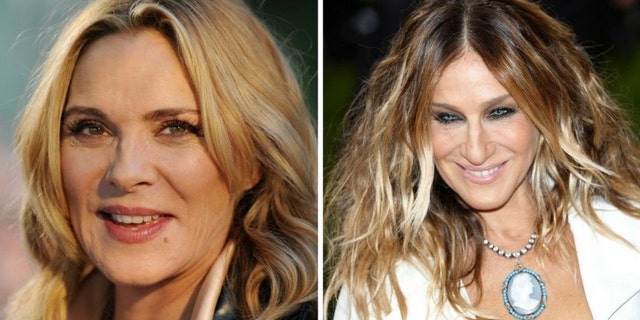 The duo made up half the core cast of "Sex and the City" but it seems that things were never super friendly between them. Writer and executive producer Michael Patrick King told The Hollywood Reporter the feud dates back to the actress' initial contract negotiations skewing in favor of Parker. Fans were brought into the fold last year when it was revealed that contract negotiations for a third movie fell apart with Cattrall. This sparked rumors that the 62-year-old star was at odds with her co-stars. Things got a big shove into the realm of public feud after Parker offered her condolences for the untimely death of Cattrall's brother.
"Your continuous reaching out is a painful reminder of how cruel you really were then and now," Cattrall wrote in an Instagram post addressed to her former co-star. "Let me make this VERY clear. (If I haven't already) You are not my family. You are not my friend. So I'm writing to tell you one last time to stop exploiting our tragedy in order to restore your 'nice girl' persona."
She continued in a follow-up post: "My Mom asked me today "When will that @sarahjessicaparker, that hypocrite, leave you alone?" Your continuous reaching out is a painful reminder of how cruel you really were then and now. Let me make this VERY clear. (If I haven't already) You are not my family. You are not my friend. So I'm writing to tell you one last time to stop exploiting our tragedy in order to restore your 'nice girl' persona."
Parker tried to downplay the feud by saying that there are no hard feelings on her end.
"She has felt perfectly comfortable to say lots of things — that's the beauty of living in a democracy — but I have no apologies, meaning, this isn't a catfight," Parker continued.
"This is someone who chose to talk about something and myself, I remain grateful for her work and the role she played on and off camera for all the years we spent together."
Taylor Swift and Kim Kardashian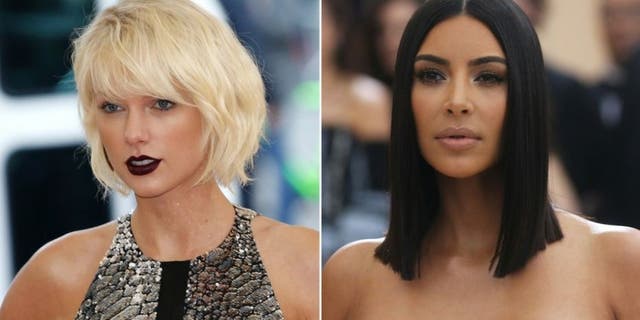 Believe it or not, this feud has little to do with Kim Kardashian's husband, Kanye West, stealing the microphone from Taylor Swift at the 2009 VMAs.
This feud actually has to do with Kanye West's song "Famous," in which he utters a line about possibly having sex with Swift and calls her a "b----."
"I feel like me and Taylor might still have sex," West raps in "Famous." "Why? I made that b---ch famous."
West called Swift about the lyric, but she claimed she wasn't aware of the expletive being used in reference to her, only the line about them having sex.
That's when Kardashian got involved, sharing a Snapchat video that alleging that Swift was aware of the entirety of the song's lyrics, although the word "b----" was not mentioned. Kardashian would continue to call Swift a liar over the incident, noting on her reality show, "Keeping Up With the Kardashians" that she's "playing the victim."
"I don't know why she just, you know, flipped all of a sudden," Kardashian told GQ. "It was funny because [on the call with Kanye, Taylor] said, 'When I get on the Grammy red carpet, all the media is going to think that I'm so against this [song], and I'll just laugh and say, 'The joke's on you, guys. I was in on it the whole time.' And I'm like, wait, but [in] your Grammy speech, you completely dissed my husband just to play the victim again."
Swift eventually walked back her indignation with the now-famous quote attempting to detach herself from the Kardashian's story: "I would very much like to be excluded from this narrative, one that I have never asked to be a part of, since 2009."
Paris Hilton and Lindsay Lohan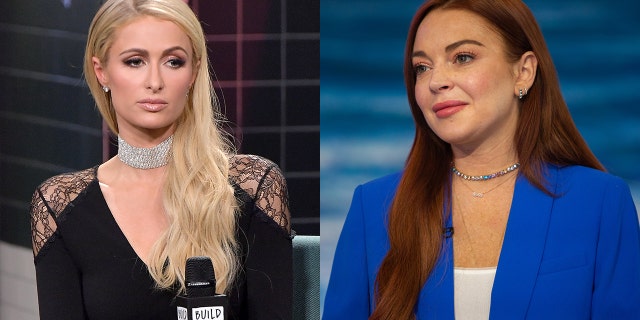 The infamous party girl duo has had nothing but choice words for one another for more than a decade. But everyone pretty much agrees that the feud dates back to 2006, when Lindsay Lohan was allegedly linked to Paris Hilton's ex, Greek shipping heir Stavros Niarchos. Although she denies ever fighting with the hotel heiress over a guy, Lohan became the subject of a lot of vitriol from Hilton and her posse.
Lohan fired back by telling paparazzi that Paris Hilton hit her with a drink at a friend's house. Although she later denied the accusation, Hilton never forgot the spat. The moment resurfaced in 2018 when the original video was posted on a fan Instagram page, prompting Hilton to call her a "pathological liar."
Paris would go on to say that Lohan crashed her and Britney Spears' infamous night out in 2006.
'Well, Britney and I went out for the night … [Lohan] totally party crashed," she revealed. "We were all at the Beverly Hills Hotel at the bungalows and we were at an after-party and then Britney and I wanted to leave to go home," she explained. "And then [Lohan] started, like, chasing us, and then squeezed in the car – it was literally a two-seater SLR, you know — the sports car. She just, like, squeezed in."