Nicki Minaj, Cardi B press pause on feud after hours-long war of words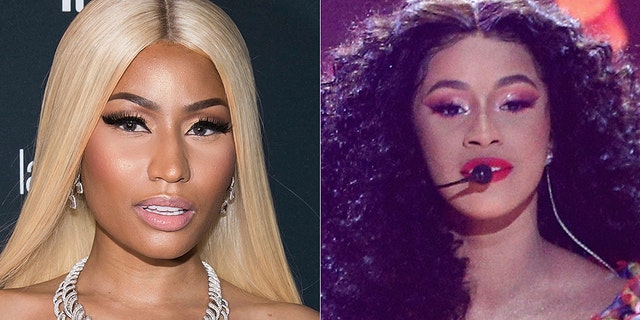 The feud between arguably two of the best female hip-hop artists was put on hold Monday after hours of back and forth regarding the fallout from an altercation at a fashion week party last month.
Cardi B agreed with Nicki Minaj in an Instagram post they should keep things positive after Minaj reignited the feud with Cardi B on her Beats 1 show "Queen Radio."
Minaj, 35, claimed her friend Rah Ali, who was formerly Cardi B's co-star on "Love and Hip Hop," ran up on Cardi B and punched her about 10 times in the head. Minaj also said she would give $100,000 to anyone who had surveillance footage of the incident, according to Pitchfork.
"Rah really beat Cardi's a-- bad," Minaj said. "You went home and told people security hit you, and we let that ride for legal reasons."
CARDI B, NICKI MINAJ FEUD ESCALATES AT NY FASHION WEEK
The "Queen" rapper also claimed Cardi B prevented rappers Offset and 21 Savage from doing a video for their collaboration with producer London on da Track and stopped 21 Savage from appearing on the remix of the song "Krippy Kush."
Furthermore, Minaj said Cardi B had asked her to appear on another single but turned it down because the Migos song "Motorsport" was debuting around the same time. "Motorsport" featured both Minaj and Cardi B.
Cardi B, 26, responded to Minaj's claims in a series of nearly a dozen Instagram videos.
"You lie so much you can't keep up with your f----n' lies," Cardi B said in response to Minaj's claims about their fight. "First, you say you've got the footage, but then you say you wanna pay somebody $100,000 if they give you the footage? Yo, make sense when you're talking!"
The "Bodak Yellow" rapper went on to claim Minaj was the one responsible for leaking her private phone numbers to the public and that the female group Little Mix originally asked her to appear on the "Woman Like Me" song before asking Minaj.
"You say you're tired of talking about it, I'm tired of talking about it too," Cardi B said. "I'm tired of the f-----g whole internet s--t, I'm tired of the interview s--t. If you really wanna talk about it, you know where to link me. ... We can talk about it, or we can fight it out. I'm with whatever."
In response to Cardi B, Minaj took to Twitter and said she would pay to have Cardi B take a lie detector over every claim she made.
In a final tweet, Minaj said, "Ok you guys, let's focus on positive things only from here on out. We're all so blessed. I know this stuff is entertaining & funny to a lot of people but I won't be discussing this nonsense anymore. Thank you for the support & encouragement year after year. Love you."
Cardi B agreed, saying "Alright then! Let's keep it positive and keep it pushing!"