Lady Gaga, Bradley Cooper's 'hot' Oscars performance leaves Twitter, Tiffany Haddish drooling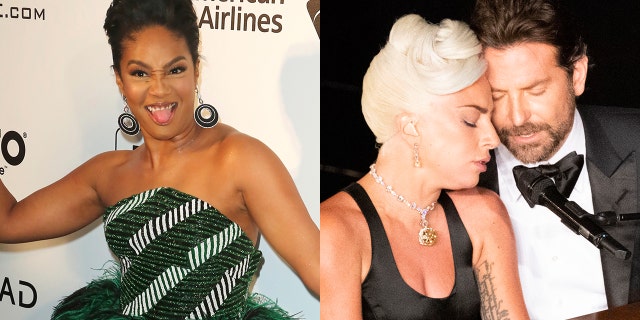 Lady Gaga and Bradley Cooper's scintillating performance of "Shallow" from "A Star Is Born" at the 2019 Oscars left tongues wagging on Sunday — and one of those tongues belong to famously loose-lipped Tiffany Haddish.
The performance contained some seriously intense eye contact between the pair, who starred as the star-crossed Jackson Maine and Ally in the hit, which won the Academy Award for best original song at the ceremony.
Towards the end of the performance, Cooper, 44, moved to sit very close to the 32-year-old "Joanne" crooner, sharing a microphone and a small piano bench together.
OSCARS 2019 RED CARPET: WHAT THE STARS WORE
"I was like, 'Are they doing it?' It was so good," the "Girls' Trip" star told Entertainment Tonight at the Vanity Fair Oscar party, adding that the co-stars had great chemistry. "That was hot!"
Haddish, 39, wasn't the only person to swoon over Gaga and Cooper's performance.
"If you try to tell me Bradley Cooper and Lady Gaga aren't in love, I am going to call you a liar. #Oscars," one viewer wrote.
"Bradley cooper and Lady Gaga acting like they're the only people in the room for 3 minutes straight #oscars⁠ ," another tweeted.
BRADLEY COOPER TALKS DIRECTING LADY GAGA IN 'A STAR IS BORN'
Another advised, "Definitely get yourself somebody that looks at you like Lady Gaga looks at Bradley Cooper. #oscars."
An Oscars audience member tweeted, "Right after Lady Gaga and Bradley Cooper's performance ended and it cut to commercial, they ran back into stage holding hands to head to their seats and the entire audience cheered and applauded them. #Oscars2019 #WhatYouDidntSee."
2019 OSCARS: QUEEN, LADY GAGA PERFORMANCES SHINE, 'GREEN BOOK' WINS BEST PICTURE
While some speculated that Cooper's longtime girlfriend (and mother of his daughter) Irina Shayk would be miffed, it was the opposite: Shayk, 33, was seen giving Gaga a huge hug during the show.
During her acceptance speech, a tearful Gaga gushed, "Bradley, there is not a single person on the planet that could've sang this song with me but you. Thank you for believing in us. Thank you so much."
Mother Monster previously spoke out about Cooper's best director Oscar snub, which he admitted "embarrassed" him.
"At the end of the day, he knows that he's the best director in my eyes, and in all of our eyes as his cast," she said. "I know that he's so happy that we've all been nominated and that the film was recognized and we all feel really, really beyond elated for the recognition."