Oscars: Queen, Lady Gaga-Bradley Cooper performances shine, 'Green Book' wins best picture
Viewers who tuned into the 91st Academy Awards on Sunday night may have thought they were watching the Grammys as Hollywood's biggest night relied heavily on musical performances as opposed to witty dialogue after opting to forgo a host for only the second time in decades.
While "Green Book" won the top honor for best picture, it was Lady Gaga and Bradley Cooper's passionate performance of "Shallow" from "A Star Is Born" and Queen, with Adam Lambert singing in Freddie Mercury's place, that moved the audience.
The performances gave the show a distinctly Grammy-like flavor as Hollywood's prestigious ceremony sought to prove that it's still "champion of the world" after last year's record-low ratings.
KEVIN HART BOXES DURING OSCARS AFTER STEPPING DOWN AS HOST OVER ALLEGED HOMOPHOBIC REMARKS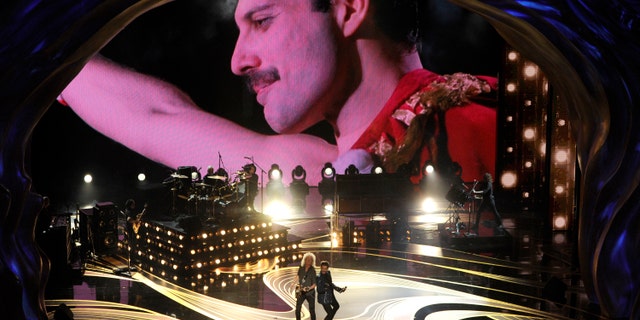 Following Queen's opening the show, the motion picture academy ran a montage of the year's movies before Tina Fey — alongside Amy Poehler and Maya Rudolph — welcomed the Dolby Theatre audience to "the one-millionth Academy Awards." The trio ran through the kind of jokes, they said, they would have said if they were, in fact, hosting.
They wasted no time poking fun at the series of missteps and backtracks by the Academy of Motion Picture Arts and Sciences which included a new best "popular film" category was in, and then it was out, Kevin Hart was host and then he wasn't and some categories were removed from the live broadcast, and then they were back.
PHOTOS: OSCARS 2019 RED CARPET
"We are not your hosts," Fey pointed out before Rudolph jumped in and said, "So just a quick update in case you're confused. There is no host tonight, there will be no popular movie category and Mexico is not paying for the wall."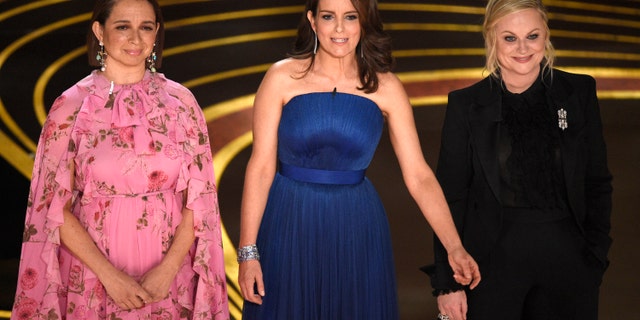 Rudolph's political jab got the audience cheering before Regina King tearfully accepted her award for her role in "If Beale Street Could Talk." The crowd gave King a standing ovation for her first Oscar.
"Mom, I love you so much," the actress told her mother who was sitting in the audience. "Thank you for teaching me that God...always has been leaning in my direction...God is good all the time."
TREVOR NOAH SLAMS MEL GIBSON DURING OSCARS SPEECH ABOUT 'BLACK PANTHER'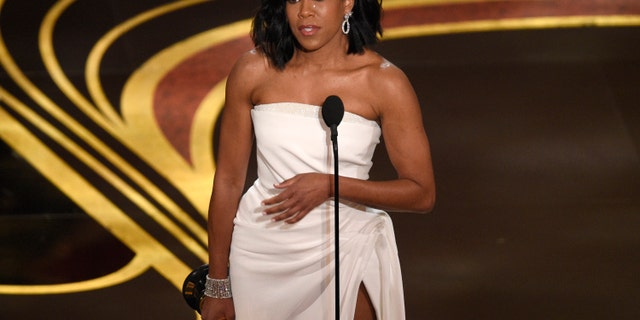 Another politically charged moment came when Spike Lee when he won best adapted screenplay for "BlacKkKlansman."
Lee started out his acceptance speech with some profanity, telling producers not to start the clock on his speech. Winners have been allotted 90 seconds for their speech from the time their names are called.
Lee ready from a two-page letter that tied together history and the years 1619 and 2019, along with his own story.
He then urged people to "do the right thing" in the upcoming 2020 presidential election.
"The 2020 presidential election is around the corner," Lee said. "Let's all mobilize, let's all be on the right side of history. Make the moral choice between love vs hate. Let's do the right thing. You know I had to get that in there."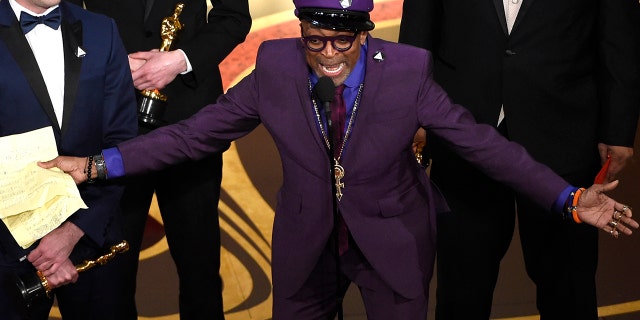 One of the night's top honors went to Rami Malek who won best actor for his portrayal of Queen frontman Freddie Mercury in "Bohemian Rhapsody."
"I may not have been the obvious choice but I guess it worked out," Malek joked after paying tribute to his later father, who he said didn't get to see him become a film star.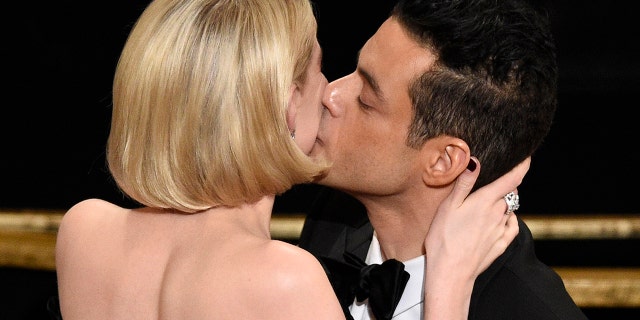 Best actress went to Olivia Colman for "The Favourite" and the British star had a hard time holding back her shock as Glenn Close was considered a shoo-in for the award.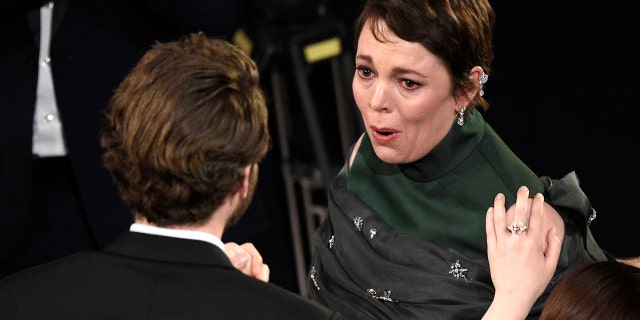 While Gaga lost the best actress award to Colman, she took home best original song for "Shallow" from "A Star Is Born."
"Shallow" was written by Lady Gaga, Mark Ronson, Anthony Rossomando and Andrew Wyatt. Lady Gaga and Bradley Cooper perform it in the film. The song won two Grammy Awards earlier this month.
Gaga effusively thanked the academy and her co-winners, as well as her sister and Cooper.
"It's not about how many times you get rejected...it's about how many times you stand up and you're brave and you keep on going," she said through tears.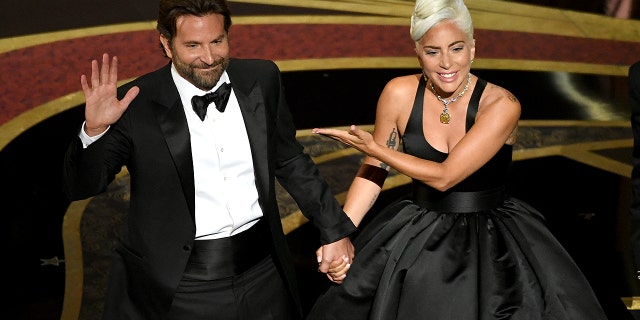 Best director went to Afonso Cuaron for "Roma" which also won best foreign language film -- a first for Mexico. The writer-director dedicated his speech to domestic workers, noting that tens of millions of them work around the world with any rights.
History was made multiple times during the otherwise tame show. Ruth E. Carter became the first African-American costume designer to win in the costume design category for "Black Panther." The film had another history-making moment when Hannah Beachler became the first African-American winner in the production design category.
But almost stealing Carter's spotlight was Melissa McCarthy who presented her with the award dressed in a seeming nod to "The Favourite" and its Queen Anne's affection for bunnies and elaborate dress. McCarthy had the audience roaring with laughter as she came out to present dressed in a huge, white queen's gown covered with stuffed rabbits.
The laughter continued as McCarthy explained that a costumer's job is to present an authentic dress for actors but "never distract from the story."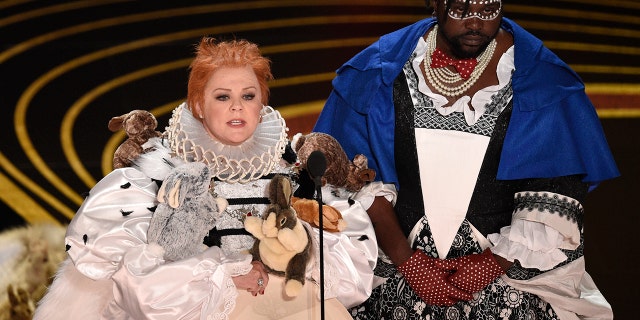 Other awards included best documentary for Elizabeth Chai Vasarhelyi and Jimmy Chin's "Free Solo" and Mahershala Ali won his second Oscar for best supporting actor for his performance in "Green Book." In "Green Book" he plays Don Shirley, an African-American classical pianist, who tours the Deep South.
DANNY GLOVER TALKS DIVERSITY IN HOLLYWOOD ON THE OSCARS RED CARPE
Later it came as no surprise as fan-favorite "Spider-Man: Into the Spider-Verse" won best animated film. The ground-breaking and mind-bending film about multiple spider-heroes from multiple universes gives Sony Pictures its first Oscar for animated feature, a category that has been dominated by Disney for its 18-year existence.
"Green Book" won the Oscar for original screenplay while "First Man" won best visual effects.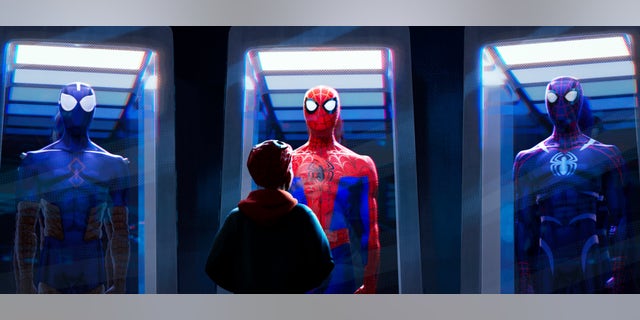 BILLY PORTER'S OSCARS TUXEDO DRESS TURNS HEADS, SPARKS SOCIAL MEDIA FRENZY
Last year's Oscars followed the rise of the #MeToo movement, the launch of the gender equality group Time's Up and the downfall of Harvey Weinstein. A year after best-actress winner Frances McDormand urged the adoption of an "inclusion rider" (a contractual stipulation for the diversity of a film's cast and crew), numerous production companies, stars and one studio (Warner Bros.) have made similar pledges.
In the last few years, the academy has considerably increased its membership in an effort to diversify its ranks, which have historically been overwhelmingly white and male. In June, the academy invited a record 928 new members.
EMMA STONE WRITES FELLOW OSCAR NOMINEE MARINA DE TAVIRA 'INCREDIBLE' NOTE BEFORE CEREMONY
Several of this year's nominees have been affected by sexual misconduct allegations. "Bohemian Rhapsody" director Bryan Singer, who was fired in mid-production, was accused of sexually assaulting minors; he has denied it. "Incredibles 2" producer and Pixar co-founder John Lasseter last year departed the Walt Disney Co. after acknowledging "missteps" in his behavior with female employees. (He has since been hired by Skydance Media.)
Without a host, the film academy has emphasized its eclectic lineup of presenters. They included: Barbra Streisand, Congressman John Lewis, Serena Williams, Mike Myers, Chadwick Boseman, Tina Fey, Whoopi Goldberg, Brie Larson, Awkwafina and Samuel L. Jackson.
The Associated Press contributed to this report.