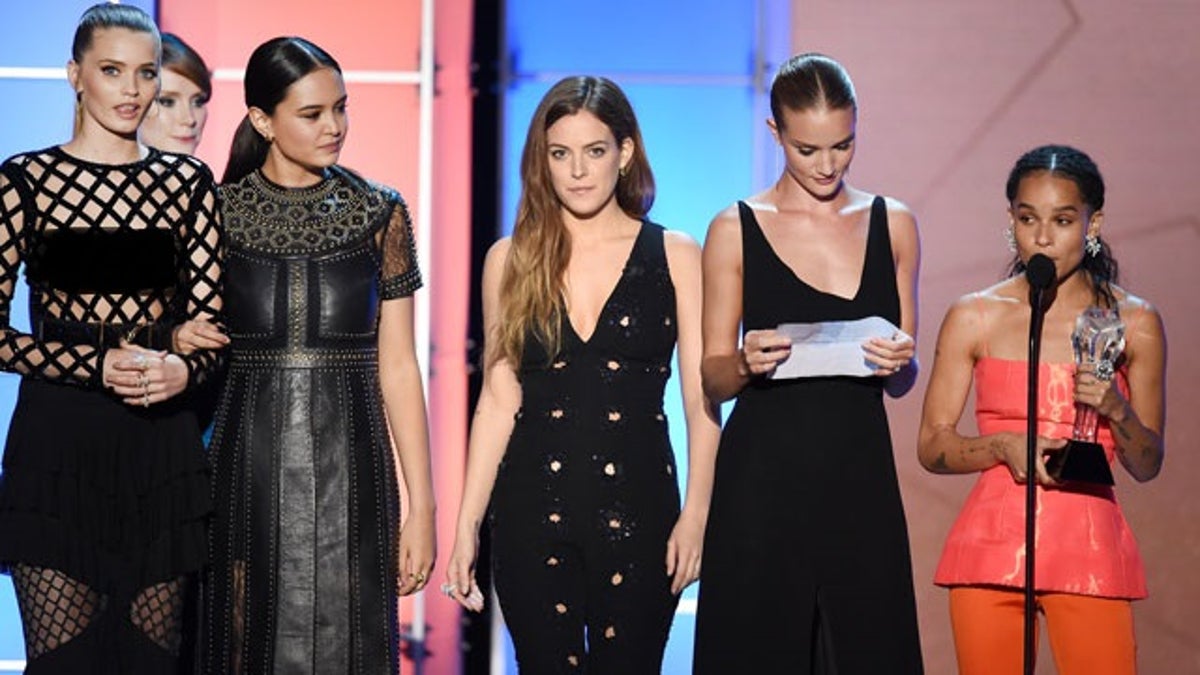 George Miller's action epic "Mad Max: Fury Road" has been feeling a lot of love this awards season, and the 70-year-old director cannot make it to every single ceremony. When he was unable to make it to the Critics' Choice Awards in Santa Monica, California on Sunday, he had some close friends accept the award on his behalf: "Fury Road"s Five Wives.
Zoe Kravitz, Rosie Huntington-Whiteley, Riley Keough, Abbey Lee and Courtney Eaton, who star as the slave-brides of "Fury Road"'s villainous Immortan Joe (Hugh Keays-Byrne), took the stage to accept the prize on Miller's behalf.
RELATED: Charlize Theron Has the Perfect Answer to a Question About 'Mad Max: Fury Road' Being Feminist
"Go George Miller!" said Kravitz, who was the first of the group to address the crowd. "George created a film that was not only crowd-pleasing but was groundbreaking - and was f**king awesome!"
"It was a privilege for us all to be part of his vision," Huntington-Whitely added. "Especially since, in a male-dominated genre, this film was truly inspired by women."
The celebrated film, which currently enjoys near-universal acclaim, with an impressive 97 percent on critics' site RottenTomatoes.com, scored 10 Oscar nominations -- including Best Picture and Best Director.
WATCH: Tom Hardy Opens Up About Taking Over Iconic Role in 'Mad Max: Fury Road'
With this Critics' Choice win, Miller find himself charging into the Oscar race with some power in his engine.
For more from Mad Max: Fury Road, which is the fourth installment in the cult classic franchise, check out the video below.