Kendall Jenner steps out in completely sheer top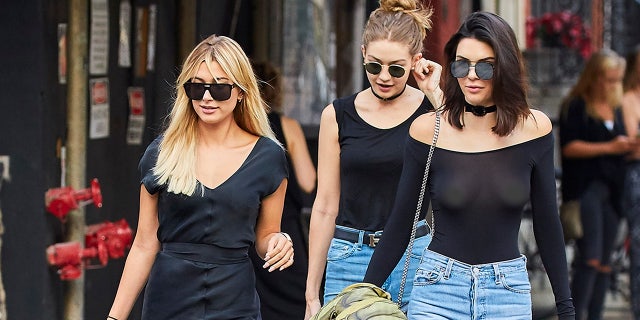 NEWYou can now listen to Fox News articles!
No covering up here! Kendall Jenner stepped out in New York City on Tuesday and dared to bare. The 20-year-old supermodel was spotted walking around the East Village with pals Gigi Hadid and Hailey Baldwin wearing a sheer black off-the-shoulder shirt.
MORE: Gigi Hadid Wears Slip Dress and Slippers While Out With Kendall Jenner
The top exposed both Kendall's nipples and her edgy nipple ring, but she did not seem fazed. The "Keeping Up With the Kardashians" star paired the look with high-waisted jeans and black boots.
She also posed with Gigi in an Instagram post, with both ladies facing one another and sticking their tongues out.
Lately it's been Kendall's besties who have been making headlines for their sexy getups. On Monday, Gigi wore a slip dress to a screening of "Finding Dory" and last week, Kendall was spotted out with her sister, Kylie, who wore a similar lingerie look.
WATCH: Kylie Jenner Wears Slip Dress Out to Dinner With Kendall Jenner: See the Racy Look!
This isn't the first time Kendall has flashed her chest bling in public. In April she wore a lacy bra top to Coachella and last October she ditched her bra in a see-through white shirt at Kim Kardashian's surprise birthday party.
Back in October, Kendall got candid about her piercing on her app, writing, "Having my nipple pierced isn't really something I make a big deal of, but I think people are obsessed with the topic because it seems so unexpected of me. Before I even decided to go for it, I just liked showing my nipples through some of my outfits; there's something understated, yet sexy about it."