'Fox & Friends' Fall Festival recipes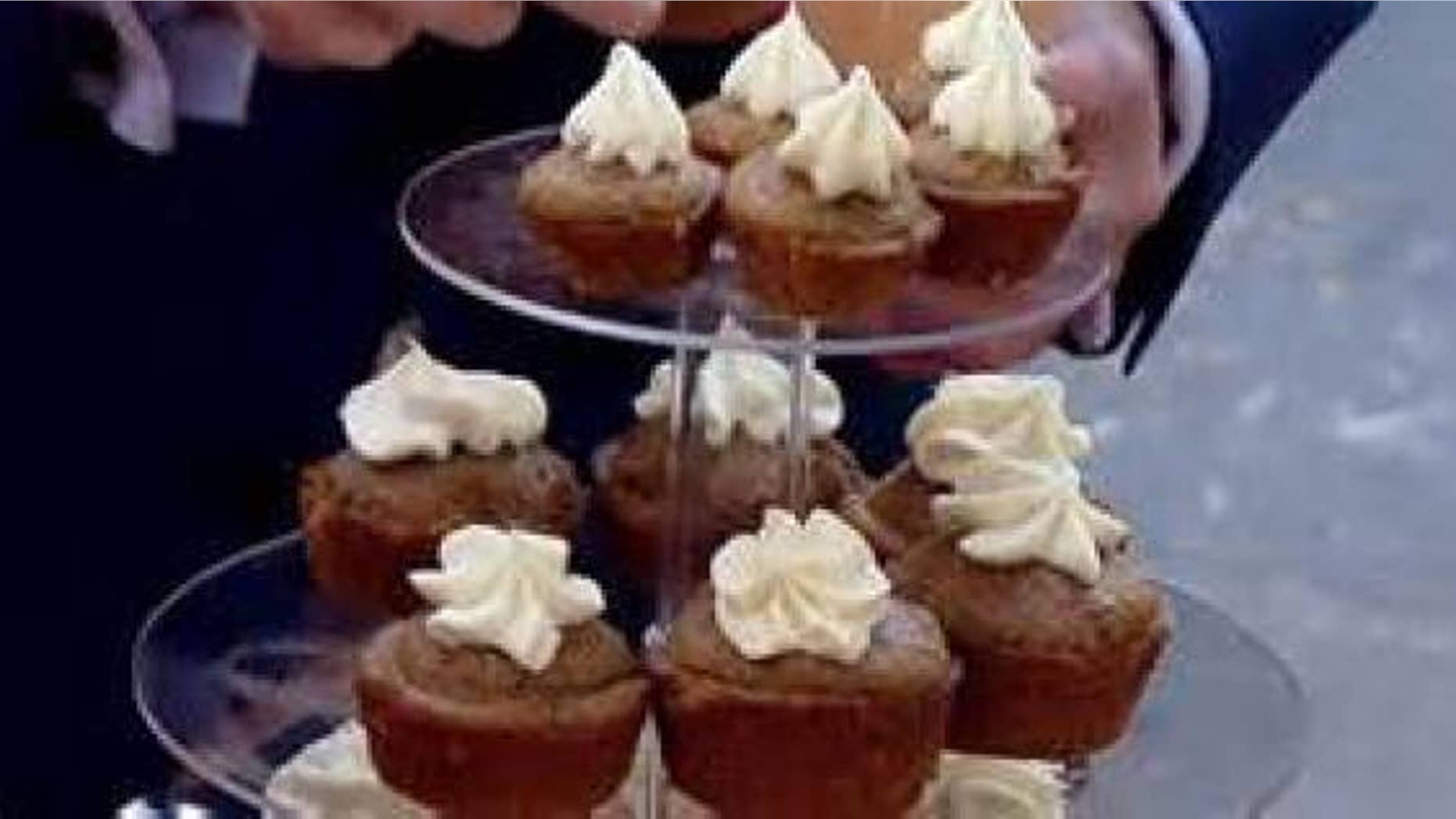 Fall Apple & Bacon Grilled Cheese Bites

2 tablespoons cream cheese, softened to room temperature
2 pieces scallion, thinly sliced
½ teaspoon garlic powder
4 slices crisp bacon, crumbled
1/2 crisp apple, very thinly sliced
1 cup Sartori Montamore cheese, grated
1 cup Sartori Asiago cheese, grated
8 slices of bread (white or wheat)
softened butter, as needed

Blend together cream cheese, scallion, garlic powder, and bacon in a medium
bowl. Fold in grated cheese until well mixed. Store mixture in refrigerator if not using
immediately. Keeps 1 week.

Spread the cheese/bacon mixture between two slices of bread. Add 3-4 slices of apple. Spread the softened butter on the
outside of the bread. Preheat a grill pan or cast-iron skillet to low. Place the sandwich on the skillet over low heat,
turning once until both sides are well browned and the cheese melted. Cool slightly before serving.


Slow Cooker Apple Cider Pulled Pork

3 pounds pork shoulder (butt), cut into 2-inch pieces
1 tablespoon brown sugar
1 tablespoon smoked paprika
1 tablespoon chili powder
1 teaspoon ground cumin
1 tablespoon kosher salt
¼ cup apple cider vinegar
12fl oz apple cider
6 cloves garlic, peeled and smashed
1 onion, thinly sliced
2 bay leaves
*Slider buns

Place the pork cubes in a bowl, add the brown sugar, smoked paprika, chili powder, cumin, kosher salt and apple cider vinegar.
Toss well to evenly coat the meat. Wrap tightly and refrigerate overnight. The next day, transfer the pork to a slow cooker. Add the apple cider, onion, garlic, and bay leaves. Cook covered on low for 8 hours or on high for 4 hours. Shred the cooked meat with forks.

Mini-Melon Baller Caramel Apples

4 large, crisp apples (*We like Granny Smith)
1 package Kraft caramels
melon baller
sucker sticks
wax paper
decorations of your choice (i.e. sprinkles, chocolate bits, nuts)

In a sauce pot over low heat, melt the caramels, making sure not to burn them. Remove from heat and allow to cool.

While caramel is cooling, scoop the apples with the melon baller. This is a great place in the recipe to involve the kids! Scooping is fun and easy. (If scooping in advance, place apple balls in Ziplock bag and squeeze fresh lemon juice over the balls. Will keep for one day.)

Place scooped apple balls on a baking sheet or large platter covered in wax paper. Pierce with sucker sticks. Swirl/rotate apple balls in melted caramel and place on wax paper for a minute or two. Leave plain or decorate with sprinkles. Enjoy!

Cream Cheese-Filled Pumpkin Cupcakes

1 large egg
1 cup pumpkin puree
1/2 cup light brown sugar, packed
1/4 cup granulated sugar
1/4 cup canola oil
1/4 cup sour cream
2 teaspoons vanilla extract
2 teaspoons cinnamon
1 teaspoon pumpkin pie spice
1/2 teaspoon ground nutmeg
1 cup all-purpose flour
1/2  teaspoon baking powder
1/2  teaspoon baking soda
pinch salt, optional and to taste

Cream Cheese Filling
1 large egg
4 ounces cream cheese
1/4 cup granulated sugar
3 tablespoons all-purpose flour

Preheat oven to 350F. Butter a 12/muffin pan and lightly coat with flour.

In a large bowl, add the the first ten ingredients, through ground nutmeg, and whisk to combine.
1.        Add the flour, baking powder, baking soda, optional salt, and fold with spatula or stir gently with a spoon until just combined; don't overmix; set aside.
2.        Spoon out batter into the muffin cups, filling them about two-thirds of the way full. Smooth the tops lightly with a spatula and set aside.
3.        In a large bowl, add all cream cheese filling ingredients and whisk to combine.
4.        Pour cream cheese filling mixture over the batter in each muffin cup. Smooth the top lightly with a spatula.
5.        Top the cream cheese filling with remaining pumpkin batter and smooth.
6.        Bake for about 25 minutes or until the tops of the muffins are domed and the center is set, and a toothpick inserted in the center comes out clean, or with a few moist crumbs.
7.        Allow pumpkin cupcakes to cool in muffin pan for about 15 minutes before turning out on a wire rack to cool completely.
To learn more from The Couple's Kitchen, please click HERE