Aaron Carter: I need to get over Hilary Duff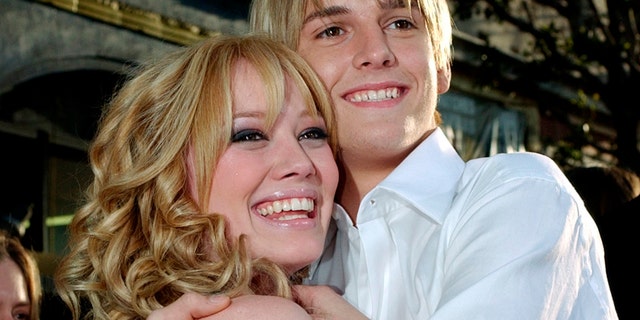 Aaron Carter knows he has to tone it down when it comes to ex-girlfriend Hilary Duff.
After his declarations of love for Hilary upon learning of her separation from husband Mike Comrie in January didn't quite get him the response he wanted, Aaron says it's now time to stop being so "open" about his feelings.
"If I'm too open about how I feel, then people wanna nag and pick and poke at me," he recently told Wenn. "I don't know Hilary either. She don't know me and I don't know her. I just need to shut up now about it. I think it's time... "
NEWS: Hilary Duff Responds to Aaron Carter's Declarations of Love
Hilary responded to Aaron's romantic statements toward her earlier this month, in an awkward BuzzFeed interview.
"I keep seeing that, that he keeps doing that," she said. "I don't know how I feel. I mean, that was so long ago, and obviously I'm still married, and I have a baby and we kind of just … Yeah, don't know each other … so … yeah."
Though whatever her response may be, Aaron does say that the "So Yesterday" singer will "always have a special place" in his heart.
"She's got a kid and she's married and I'm not trying to be that dude. That's not my intention," he says. "Hilary will always hold a very special place in my heart."
VIDEO: Aaron Carter on Hilary Duff -- I Would Sweep Her Off Her Feet
Hilary and Aaron dated when they were just 13 years old. Aaron was famously caught in a love triangle in 2002 between the Lizzie McGuire star and Lindsay Lohan, whom he started dating after her.
"I don't know who she is today, she doesn't know who I am today but I would sweep her off her feet if I ever got a chance to again and fix what I did wrong," Aaron told ET in April about his ex, now 26. "I'm going to do everything in my power to fix those relationships in my life just like I want to fix the relationship I had with the love of my life. I'm not gonna give up on Hilary ...ever."
Watch the video below for the intense interview.