FOX NEWS FIRST: Trump could revoke clearances of other ex-Obama officials 'soon'; Hundreds of more Omarosa tapes?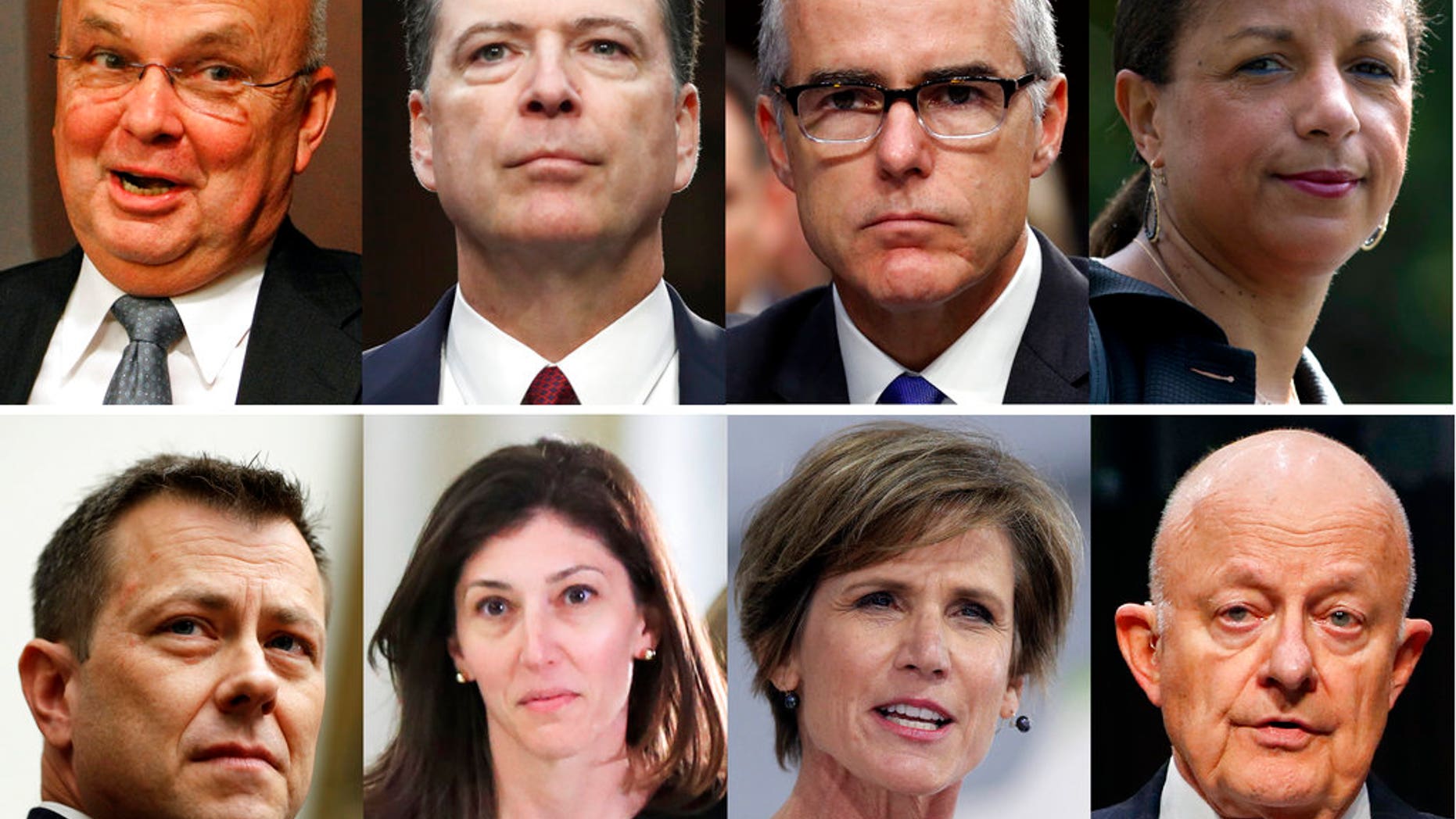 Welcome to FOX News First. Not signed up yet? Click here.
Developing now, Friday, August 17, 2018
President Trump could revoke the security clearances of more former Obama-era administration officials and critics 'soon,' despite criticism of his action against former CIA Director John Brennan, according to a report
Trump's daughter-in-law, Lara Trump, has blasted a new secret recording released by Omarosa that appears to show her offering the former reality star a job on Trump's re-election campaign; Omarosa reportedly could have hundreds of more secret recordings, sparking concern among White House officials
Jurors in the fraud trial of Paul Manafort ended the first day of deliberations Thursday without a verdict but had a series of questions for the judge -- which encouraged lawyers for the ex-Trump campaign manager
Colorado authorities believe they may have found the bodies of two missing girls allegedly killed, along with their pregnant mother, by their father in the family's residence  
THE LEAD STORY - WHOSE SECURITY CLEARANCE WILL BE REVOKED NEXT? - President Trump could act soon against several other top Obama-era intelligence and law enforcement officials whose security clearance credentials are under review, the Washington Post reports ... On Wednesday, Trump revoked the security clearance for former CIA Director John Brennan, and suggested in an interview that he based his decision on Brennan's role in starting the Russia collusion investigation. The White House is looking into the clearances of several other former officials and Trump critics, including: former FBI director James Comey; former deputy FBI director Andrew McCabe; former director of national intelligence James Clapper; former national security adviser Susan Rice; former CIA director Michael Hayden (who also worked under President George W. Bush); Justice Department official Bruce Ohr; recently fired FBI agent Peter Strzok and former FBI general counsel Lisa Page.
Two White House officials who spoke on the condition of anonymity to the Washington Post said Trump is eager to act on the security clearances review list and believes he has emerged looking strong in his public feud with Brennan. Meanwhile, group of 12 former CIA directors, including retired Army Gen. David H. Petraeus, and a former director of National Intelligence showed support for Brennan late Thursday and issued a joint statement calling Trump's move "an attempt to stifle free speech."
DEEPER OMAROSA 'BETRAYAL'? Lara Trump tore into her old friend Omarosa Manigault Newman, accusing her of betrayal  Thursday after she released a tape of the president's daughter-in-law apparently offering her a job on the 2020 campaign shortly after being fired from the White House ... Lara, who is married to Eric Trump, fired back after Manigault Newman appeared on MSNBC and aired excerpts from a tape that appeared to show her offering her a job at $180,000 a year to join Trump's re-election campaign.
On the tape, Lara Trump appears to make reference to a New York Times story that reported Manigault Newman was preparing to tell her story, and tells her that could not happen if she joined the campaign. Manigault Newman told MSNBC she saw it as an attempt to "buy my silence, to censor me" and claimed it is more proof that what she details in her new book is accurate.
And there could be more secret tapes to come. The New York Times reported that Manigault Newman could have as many as 200 tapes from her time in the Trump administration, leaving White House aides concerned.
'WE'RE IN THE GAME':  Defense lawyers for former Trump campaign manager Paul Manafort believe they have a reason to be optimistic as jurors enter their second day of deliberations on Friday ... The jury ended the first day of deliberations Thursday without a verdict, but did ask the judge a series of questions before breaking -- a development the defense took as good news ...One source close to the Manafort team told FOX News, "We're in the game." Before court was adjourned in the afternoon, U.S. District Judge T.S. Ellis III announced that jurors would continue their work on Friday morning. Ellis read aloud a note detailing four questions from the jury, which covered foreign financial accounts, shell companies, the definition of reasonable doubt and other evidence in the case.
GRIM DISCOVERY: Colorado authorities announced they found "two bodies" that are thought to be the two young girls reported missing along with their pregnant mother, who was found dead earlier Thursday, officials said ... Officials in Frederick tweeted that "police have strong reason to believe" that the bodies are Celeste Watts, 3, and Bella Watts, 4. The girls' father, Chris Watts, is accused of killing them and their mother, Shanann Watts, and is thought to have committed the alleged murders at the family's residence, prosecutors said Thursday.
Chris Watts, 33, was ordered to be held without bond by Judge Marcelo Copcow during a court appearance following his arrest. He is expected to be charged with three counts each of murder and tampering with evidence. The judge gave prosecutors a Monday deadline to charge him formally.
AS SEEN ON FOX NEWS
BRENNAN'S ALLEGED COMMUNIST TIES: "Bruce and Nellie Ohr were like the Bonnie and Clyde of collusion ... [The Ohrs] seem far more relevant to foreign interference in the election than whether Paul Manafort paid his taxes in the '80s and '90s."  - U.S. Rep. Matt Gaetz, on "The Story with Martha MacCallum," he's "far more concerned" with the FBI's actions linked to the "Steele dossier" on President Trump and less worried about the fraud trial of former Trump campaign chairman Paul Manafort.  WATCH
MEDIA 'GROUPTHINK': "Trump accuses them of groupthink, and they respond with groupthink. This, after sleeping through Obama's terms [and] ignoring Iran, the DOJ." –  Greg Gutfeld, on "The Five" on the approximately 300 newspapers that published "coordinated" op-eds criticizing President Trump on Thursday. WATCH
TRENDING
Ohio couple's 'empty nest' photos go viral.
Sick WhatsApp 'Momo suicide game' infiltrates 'Minecraft.'
UFO speculation surges after North Carolina lake video goes viral.
REMEMBERING THE 'QUEEN OF SOUL' ARETHA FRANKLIN - R-E-S-P-E-C-T
Music icon Aretha Franklin dead at 76.
Looking back on Franklin's iconic moments.
Franklin remembered as 'Queen of Soul' with 'special gifts.'
Former President Obama: Aretha Franklin 'helped define the American experience.'
Trump on U.S. pastor jailed in Turkey: 'We will pay nothing for the release of an innocent man.'
U.S. military parade originally scheduled for November is delayed to 2019, Pentagon says.
Trump declares opioids from Mexico, China 'almost a form of warfare,' tells Sessions to sue drug makers.
Dem. Rep. Jim Dem Clyburn confirms intention to run for speaker if Pelosi wobbles.
ACROSS THE NATION
GM John Elway says Colin Kaepernick 'had his chance to be' a Bronco.
Vatican responds to Pennsylvania priest abuse scandal with 'shame and sorrow.'
Supermarket tycoon linked to grisly killing of wife's lover arrested in Spain, authorities say.
MINDING YOUR BUSINESS
Number of 401(k), IRA millionaires continues to surge.
SEC probes Tesla over Model 3 production disclosures.
Stocks rebound, boosted by earnings and hopes of a U.S.-China trade deal.
After Supreme Court labor union ruling, non-members want dues payments back.
The top 10 highest-paying jobs in the U.S. are ...
FOX NEWS OPINION
Carrie Severino: Red state Democratic senators should listen to constituents and support Kavanaugh for Supreme Court.
Cal Thomas: Omarosa tries to channel Anita Hill.
Marc Thiessen: Cardinal Wuerl must go.
HOLLYWOOD SQUARED
NYPD paid frequent critic Spike Lee $200K for the director's work on an ad campaign
Sophia Loren says 'it's very difficult' to discuss the #MeToo moment: 'It does give me the chills thinking about it.'
'Queer Eye's' Jonathan Van Ness under fire for saying 'not all Republicans are racist.'
DID YOU HEAR ABOUT THIS?
Mysterious fur covered sea 'monster' washes up on beach.
Great white shark suspected in Cape Cod beach attack.
'Wheelie dogs' enjoy a game of tag at Moroccan animal sanctuary.
STAY TUNED
On Facebook:
Check out 'FOX News Update,' our new Facebook-exclusive news program!
On FOX News: 
FOX & Friends, 6 a.m. ET: Counselor to President Trump Kellyanne Conway sounds off on Omarosa, Trump revoking ex-CIA Director John Brennan's security clearance and more; Rachel Campos-Duffy and Diamond & Silk weigh in on the morning's biggest headlines; actor Zachery Ty Bryan discusses Hollywood's approach to the 2018 midterms; Bob Massi explains why sometimes you shouldn't pay off your mortgage; and Scotty McCreery visits the All-American Summer concert stage!
Your World with Neil Cavuto, 4 p.m. ET: Special guest: House Majority Whip Steve Scalise.
On FOX Business:
Mornings with Maria, 6 a.m. ET: RNC Chair Ronna McDaniel.
Cavuto: Coast to Coast, Noon ET: Wis. Gov. Scott Walker.
Lou Dobbs Tonight, 7 p.m. ET: Interior Secretary Ryan Zinke.
On FOX News Radio:
The FOX News Rundown podcast: With 80 days left until the 2018 midterm elections, and the rise of New York congressional candidate Alexandria Ocazio-Cortez, many within the Democratic Party are struggling to balance the ideas of socialism in their campaigns. FOX News contributor Jessica Tarlov dives in on the debate. Aretha Franklin, the "Queen of Soul," died Thursday at age 76. Rock & Roll Hall of Fame legend, "Soul Man" Sam Moore, joins the podcast to reflect on the music icon's legacy. Plus, commentary by "FOX News Sunday" host Chris Wallace.
Want the FOX News Rundown sent straight to your mobile device? Subscribe through Apple Podcasts, Google Play, and Stitcher.
The Brian Kilmeade Show, 9 a.m. ET: A ham-packed show with include the following guests and more: House Majority Leader Kevin McCarthy; David Bossie; Chris Wallace; HUD Secretary Ben Carson; Kassem Eid on his new book, "My Country"; Chris Stirewalt; and Stuart Varney.
On FOX News Weekend: 
Cavuto Live, Saturday, 10 a.m. ET: Guests include: Sen. John Thune on President Trump revoking the security clearance of ex-CIA Director John Brennan; Sen. Tim Scott on Trump's relationship with the media.
OBJECTified, Sunday, 8 p.m. ET: UFC President Dana White talks to Harvey Levin about his journey to the Ultimate Fighting Championship and more.
The Next Revolution with Steve Hilton, 9 p.m. ET: Don't miss a "Next Revolution" special with guest Dr. Jordan Peterson and more!
#OnThisDay
2013: The first settlement is reached among dozens of claims in the Jerry Sandusky child sex abuse case at Penn State.
1999: More than 17,000 people are killed when a magnitude 7.4 earthquake strikes Turkey.
1987: "Dirty Dancing," starring Jennifer Grey and Patrick Swayze, premieres in New York.
FOX News First is compiled by FOX News' Bryan Robinson. Thank you for joining us! Enjoy your day and weekend! We'll see you in your inbox first thing Monday morning.