FOX NEWS FIRST: Panhandle braces for 'monster' Hurricane Michael; Speculation about Nikki Haley's successor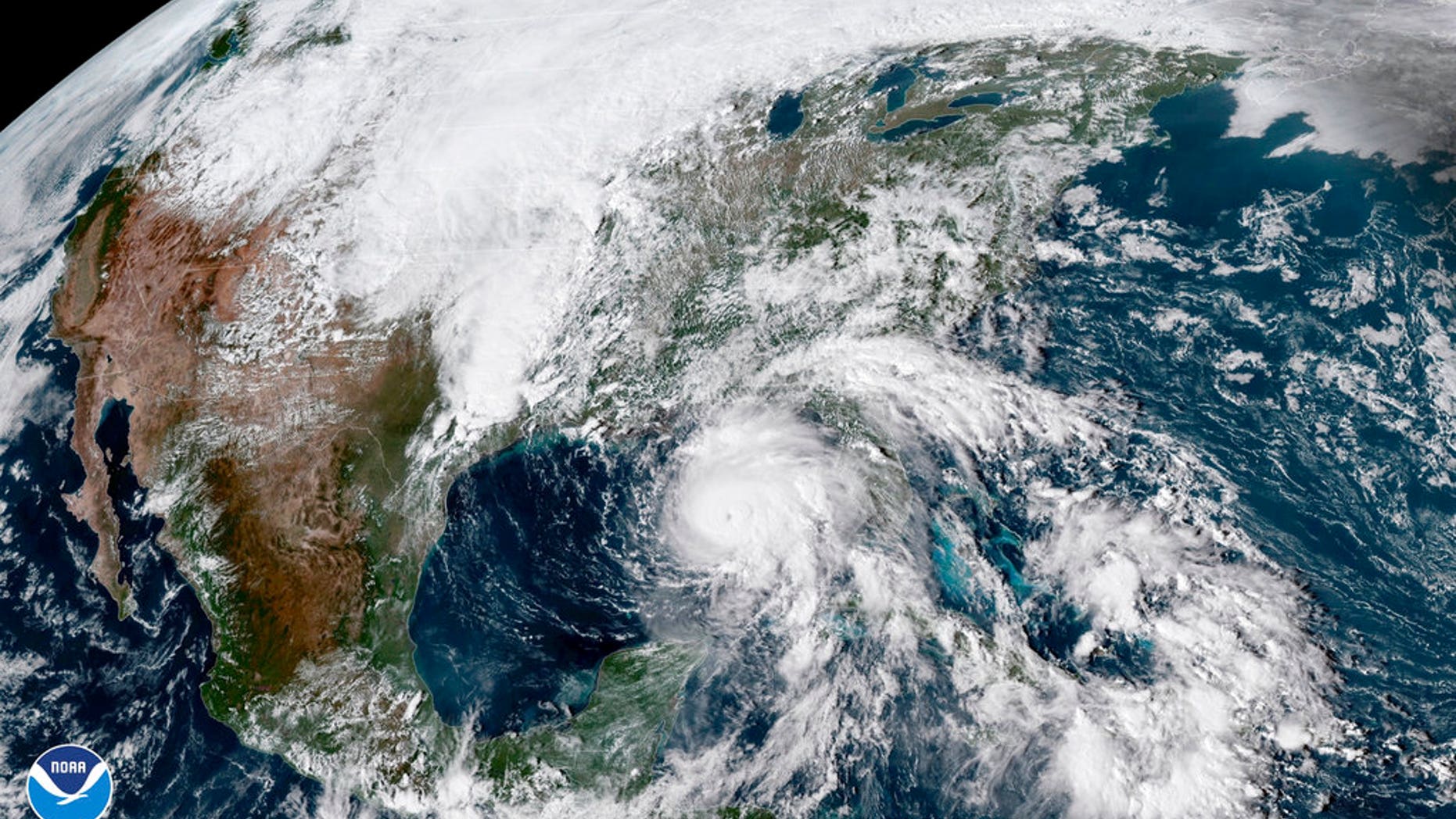 Welcome to FOX News First. Not signed up yet? Click here.
 
Developing now, Wednesday, Oct. 10, 2018.
Hurricane Michael strengthened into a 'monster' Category 4 storm early Wednesday as it continued to bear down on the Florida Panhandle
Nikki Haley has announced she is resigning as U.S. ambassador to the United Nations, and President Trump says he has narrowed down his list of potential successors to five candidates
In a TV interview Tuesday, Hillary Clinton said Democrats can't be civil with Republicans, as GOP lawmakers are increasingly targeted by violent, radical leftists
In an interview with FOX Business, Republican Senate candidate Marsha Blackburn broke her silence on Taylor Swift's political jab against her
FOX Nation revealed its programming lineup for subscribers when streaming service launches later this year
THE LEAD STORY - PREPARING FOR MICHAEL'S ONSLAUGHT: Hurricane Michael was upgraded to "an extremely dangerous" Category 4 storm early Wednesday as it continued its approach toward the Florida Panhandle, forecasters said ... The storm's winds have increased to about 130 mph with higher gusts, the National Hurricane Center said. The agency said it is possible the storm could strengthen further before it makes landfall later Wednesday. The Panhandle could see storm surges of up to 13 feet, life-threatening hurricane winds, heavy rainfall and flash-flooding, the NHC said. The chance of tornadoes will also increase into Wednesday over parts of the Panhandle, the northern Florida Peninsula and southern Georgia, the agency said. The storm, which formed off the coast of northern Honduras, has already killed at least 13 people in Honduras, Nicaragua and El Salvador. Evacuations of about 375,000 people have been called for ahead of the fast-strengthening storm, Florida officials said.
WHO'LL SUCCEED NIKKI HALEY?: President Trump told reporters aboard Air Force One that he has narrowed his list of potential replacements for outgoing United Nations Ambassador Nikki Haley to five people, after his daughter Ivanka removed herself from consideration for the post earlier in the day ... Trump has said he'll name a successor for Haley in the next few weeks, amid widespread speculation. Haley surprised staff and lawmakers alike with her abrupt resignation announcement Tuesday, saying it's time to step aside though she'll stay through the end of the year. She did not give further explanation for her resignation and has not announced her future plans. Speaking alongside Haley in the Oval Office, Trump said there "are a number of people" who would like to be U.S. ambassador to the U.N.
So far, the president has revealed only one name that's definitely on his shortlist: former deputy national security adviser Dina Powell, who Trump said Tuesday is "certainly a person I would consider" appointing. Powell, who departed the White House in January, has worked as a managing director for Goldman Sachs and served as a senior official in President George W. Bush's administration.
HILLARY'S DONE BEING CIVIL: Hillary Clinton, in a television interview Tuesday, rejected the idea that Democrats should be "civil" with Republicans in the age of Donald Trump, embracing a more confrontational and aggressive political approach ... "You cannot be civil with a political party that wants to destroy what you stand for, what you care about," Clinton said. Speaking to CNN's Christiane Amanpour, the 2016 Democratic presidential nominee said, "That's why I believe, if we are fortunate enough to win back the House and/or the Senate, that's when civility can start again. But until then, the only thing Republicans seem to recognize and respect is strength." Clinton's comments come amid escalating attacks against Republican lawmakers and Trump administration officials by left-wing activists.
BLACKBURN SHAKES OFF TAYLOR SWIFT: U.S. Rep. Marsha Blackburn, R-Tenn., who's running for the Senate in the Volunteer State, responded Tuesday to Taylor Swift's social media dig against her, and the pop star's announcement that she would be voting for Democrats in the midterm elections ... Swift slammed Blackburn on Instagram on Sunday, saying that even though she would "like to continue voting for women in office," she wouldn't be voting for Blackburn.
However, in an interview with FOX Business' Connell McShane, Blackburn insisted that she is an advocate for women's causes. "Of course I support women and I want violence to end against women," Blackburn said. "I've been very active in abuse shelters and child advocacy centers. I've been advocating for women in equal pay since I was 19 years old and making certain that woman have the opportunity for maximum pay and have a good record on that."
"We're getting ready the Music Modernization Act that I helped steer through Congress," Blackburn added. "It's going to be signed on Thursday by the president. I've been very active in that and Taylor Swift will benefit by that."
FOX NATION LINEUP UNVEILED: FOX Nation has revealed its lineup of long-form programming - including documentaries, investigative series and patriotic specials - that will be available to members when the subscription-based streaming service launches later this year ... John Finley, Fox News' senior vice president of development of production, announced the following programs:
"Borked" chronicles the epic 1987 battle for control of the U.S. Supreme Court when Judge Robert Bork's name entered the dictionary as a verb – meaning "to systematically and savagely defame and vilify your opponent."
"Gregg Jarrett's: The Russia Hoax" will be hosted by FOX News legal analyst Gregg Jarrett, author of the New York Times bestselling book "The Russia Hoax: The Illicit Scheme to Clear Hillary Clinton and Frame Donald Trump," providing an in-depth analysis of the FBI investigation into collusion between the Trump campaign and Russia.
"Hannity's America: The Clarence Thomas Story" will detail the highly contentious confirmation hearings in 1991 and Thomas' book, "My Grandfather's Son," about his own background and the events that brought him to the Supreme Court.
CLICK HERE to take a sneak peek at the rest of the FOX Nation lineup.
AS SEEN ON FOX NEWS
DANGEROUS TIMES FOR TRUMP SUPPORTERS -  "It's really anyone who sits right of center, anyone who's a Trump supporter. We're all targets of this."  –  FOX Nation host Tomi Lahren, on "FOX & Friends," sounding off on the increasingly aggressive attacks from the radical left on conservatives. WATCH
THE 2018 MIDTERMS
Kavanaugh clash fuels fundraising bonanza in final midterm stretch.
Liberal billionaires pour hundreds of millions into midterms hoping for Blue Wave.
Romney dodges questions on past Trump attacks during Utah Senate debate.
Unclear if noncitizens voted in primary, California's top election official says.
2018 Midterms: Stay with FOX News for full coverage and analysis.
TRENDING
Here are the winning numbers in Tuesday's $470M Mega Millions drawing.
Tar Heels coach 'dumbfounded' after NCAA rejects plan for hurricane-relief charity game.
WATCH: Wedding photographer pushes stepmother out of the way to get shot.
THE SWAMP
Trump, at Iowa rally, slams Democrats: 'They want to destroy everything.'
Grassley vows to help raise $3M for Collins to counter progressive campaign.
Democratic staffer accused of doxxing GOP senators denied bail.
ACROSS THE NATION
DOJ opposes proposed Chicago consent decree; Sessions urges city not to 'repeat the mistakes of the past.'
Fortune hunters say FBI tricked them out of $250M in Civil War gold.
Serial rape suspect had hundreds of videotapes at home that could point to new crimes, prosecutor says.
MINDING YOUR BUSINESS
Sears hires advisers to prepare bankruptcy filing: report. 
Walmart may pass Amazon as top online grocer.
Trump lifting ethanol restrictions, could lower gas prices.
Trump's ethanol move is good news for motorists: Pacific Ethanol CEO.
Trian considers a takeover of Papa John's: report.
Protein bar makers turn $10,000 into $600M.
Drew Brees is NFL's third-highest paid player ever -- here's how much he's earned.
Money.net exec found dead in his apartment.
FOX NEWS OPINION
Gregg Jarrett: Rod Rosenstein should immediately stop overseeing the Mueller 'collusion' investigation.
Tucker Carlson: Lessons the activist left have learned from the Kavanaugh experience.
Marc Thiessen: Kavanaugh fight shows we have not yet plumbed the depths of Democratic ruthlessness.
HOLLYWOOD SQUARED
List of winners at the 2018 American Music Awards.
Hollywood Hypocrisy: Jamie Lee Curtis wields firearms in new 'Halloween' movie despite advocating for gun control.
Robert Redford says 'I feel out of place in the country I was born into'
Miss America Organization terminates licenses of states that oppose new leadership.
DID YOU HEAR ABOUT THIS?
Frogs and toads 'falling' from above in North Carolina as populations explode. 
Grisly discovery: Bones reveal Neanderthal child was eaten by large bird.
Mysterious 'keeper of the secret' tomb found in Egypt.
STAY TUNED
FOX Nation is coming! - Sign up now and find out about its exciting launch!
On Facebook:
Check out 'FOX News Update,' our new Facebook-exclusive news program!
On FOX News: 
 
FOX & Friends, 6 a.m. ET: A look at the potential candidates to replace Nikki Haley as U.S. ambassador to the U.N. "Breakfast with Friends" in Erie, Pa. Fla. Gov. Rick Scott on preparing the Sunshine State for Hurricane Michael. Other special guests include: Kellyanne Conway, counselor to President Trump; Arizona Senate candidate Rep. Martha McSally; U.S. Sen. Rand Paul, R-Ky.
On FOX Business:
Mornings with Maria, 6 a.m. ET: Special guests include: U.S. Agriculture Secretary Sonny Perdue; U.S. Rep. Francis Rooney, R-Fla.; Pensacola, Florida's Mayor Ashton Hayward.
Varney & Co., 9 a.m. ET: Ronna McDaniel, RNC chairwoman; Asra Nomani, author of "Standing Alone in Mecca: A Pilgrimage Into the Heart of Islam"; Juanita Duggan, NFIB president and CEO.
The Intelligence Report, 2 p.m. ET: Jon Summers, Democratic strategist.
Countdown to the Closing Bell, 3 p.m. ET: Stephen Harper, former prime minister of Canada.
On FOX News Radio:
The FOX News Rundown podcast: Nikki Haley surprised Washington when she announced Tuesday she was stepping down as U.S. ambassador to the United Nations. Rich Edson, FOX News' State Department correspondent and former State Department spokeswoman Marie Harf weigh in on her replacement. October is "National Cyber Security Awareness Month," which is an effort to make sure consumers stay safe and secure from online cyber threats. Paul Benda, senior vice president of risk and cybersecurity policy at the American Bankers Association, explains how to protect financial and banking information online. Plus, commentary by Brian Kilmeade.
Want the FOX News Rundown sent straight to your mobile device? Subscribe through Apple Podcasts, Google Play, and Stitcher.
The Brian Kilmeade Show, 9 a.m. ET: The midterms and Nikki Haley's resignation will be the hot topics of discussion with special guests: A.B. Stoddard, RealClearPolitics associate editor; Eli Lake, columnist for the Bloomberg View; Chris Stirewalt; and Kennedy.
The Tom Shillue Show, 3 p.m. ET: Podcast star Hitha Herzog and comedian Clayton Fletcher join Tom Shillue's nightly panel to discuss Kanye West's meeting with President Trump and the latest news of the day!
#OnThisDay
 
2008: Bank bailout - Treasury Secretary Henry Paulson announces the government has decided to go forward with a plan to buy a part ownership in a broad array of American banks in response to the financial meltdown.
1973: Vice President Spiro T. Agnew, accused of accepting bribes, pleads no contest to one count of federal income tax evasion, and resigns.
1845: The U.S. Naval Academy is established in Annapolis, Md.
FOX News First is compiled by FOX News' Bryan Robinson. Thank you for joining us! Enjoy your day! We'll see you in your inbox first thing Thursday morning.