Jamie Lee Curtis wields firearms in new 'Halloween' movie despite advocating for gun control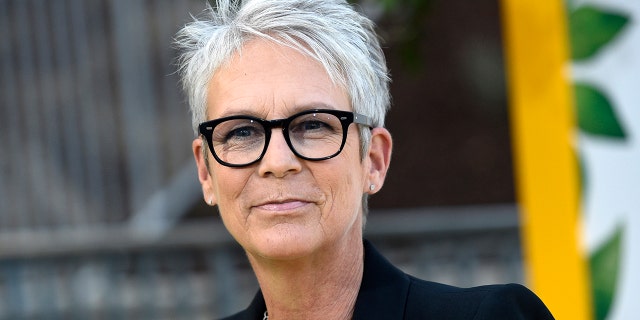 NEWYou can now listen to Fox News articles!
Jamie's got a gun in the latest "Halloween" reboot.
In the 11th installment of the horror film series, Jamie Lee Curtis's character, Laurie Strode, is seen wielding firearms in her quest to kill the film's legendary villain, Michael Myers.
At one point, she shoots him as he's standing in front of a window.
But Curtis's on-screen actions stand in contrast to her real-life persona as an advocate for gun control -- one of several Hollywood actors who use firearms in their films while preaching against them away from the set.
In light of several high-profile mass shootings, Curtis has voiced her support for gun reform legislation. But she's also appeared in films such as "True Lies," "Virus," "Halloween II" and "Blue Steel" where she uses firearms multiple times.
A poster for "Blue Steel" (1990) features her holding a handgun.
When a gunman killed multiple people at Santa Fe High School in Texas earlier this year, Curtis took to Twitter to advocate for stronger gun reform. She's also voiced support for an assault weapons ban.
Following the Pulse nightclub shooting in Orlando, Fla, she appeared in a video to honor one of the 49 victims.
But while Curtis is in favor of gun control legislation, she apparently isn't entirely anti-gun.
For the "Halloween" reboot, Curtis tweeted a photo of a paper shooting target and said: First shot. 357. Feels good to have Laurie back on set for @halloweenmovie. #halloweenmovie."
The conundrum applies to other Hollywood A-listers like George Clooney, Matt Damon, Don Cheadle, Julianne Moore, Sally Field and Jim Carey, who have all made their living portraying gun-toting characters while calling for stricter gun reform.
Some politicians have seized on the issue to call out what they perceive is Hollywood's hypocrisy.
"Hollywood liberals on gun control is akin to Hollywood liberals on global warming," U.S. Sen. Ted Cruz, R-Texas, told TMZ. "Which is they fly their private jets to a conference, step out and say, 'Global warming is terrible. Let's take away everything from the working men and women.' And then they get back on their private jet and fly back. Same thing on gun control. If you have a bevy of armed security officers protecting you, maybe you shouldn't be trying to strip Second Amendment rights from law-abiding citizens."
Actor Ethan Hawke, while discussing his career on "Late Night with Seth Meyers," said there's no money in films that don't feature firearms, noting that he earned more for films where his character had a gun.
"I noticed recently if you put in a column of every movie I ever did where I carry a gun, and every movie where I don't, and my salary ... I really think it would be about 92 percent to 8 percent."
"Halloween" hits theaters Oct. 19.