Rihanna, One Direction top MTV VMAs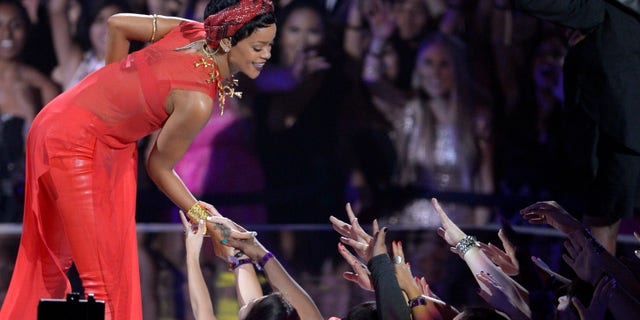 One Direction had the girls screaming, Frank Ocean gave a soft, poignant performance and Chris Brown and Drake were in the same venue with not a bottle thrown. Save for a saucy Rihanna number and a few off-color jokes, the MTV Video Music Awards were a rather tame affair this year.
Perhaps that's to be expected with a group of teenagers at the center of things.
Rihanna started the show with a sexy medley performance before capping it with a win for the night's top honor, video of the year.
One Direction owned the rest of the show. The heartthrob British boy band quickly changed the focus Thursday night, winning three awards and stealing the attention from Rihanna.
"We've grown up watching this show and to even be here is an honor," Niall Horan said from the stage.
Rihanna kicked off the party sitting regally upon a throne as she performed her new song "Cockiness (I Love It)" with A$AP Rocky and two groups of dancers. She then made her way into the pit at the Staples Center in Los Angeles and launched into her hit "We Found Love" as she weaved through the crowd, touching hands with dozens of fans.
"Doesn't my girl Rihanna look sexy tonight?" Katy Perry asked the crowd after the performance.
The camera was on her all night -- when it wasn't highlighting One Direction. The group quickly took the overall spotlight, bringing high-pitched screams from the crowd upon winning best pop video. It was the night's first televised award and one of five top-nominee Rihanna was up for. They also won best new artist and the most share-worthy moonman.
The quintet, put together by Simon Cowell after "The X Factor" auditions and the first British act to debut atop the Billboard 200 album chart, seemed stunned as fans screamed upon announcement of their win.
The group performed later, rising to a stairwell surrounded by screaming, reaching female fans on an elevated platform and bringing most attendees to their feet. Members of the U.S. gymnastics team sang along to their song "One Thing" and cameras caught Perry and Rihanna whispering to each other.
"This has been unbelievable," Harry Styles said backstage. "This was our favorite performance we've ever done. For us to be here in the first place is amazing, and to perform and win a moonman is amazing."
While there was no easily identifiable signature moment early on, there were a few interesting sights. Pink floated above the crowd on a pair of oversized lips as she performed her new song "Blow Me (One Last Kiss)" before Ocean wowed with a somber, moonlit version of his song "Thinking About You." Then there was Olympic champion Gabby Douglas flipping on stage to a new Alicia Keys song.
Brown pulled off something of an upset in the best male video category. Rihanna's former boyfriend won for his self-directed video "Turn Up The Music," beating out several top stars, including Drake, who tied Rihanna for most nominations. Brown also won for best cinematography. M.I.A. was the night's only other multiple winner, taking two off-camera awards for direction and cinematography.
Drake, though, won best hip-hop video for "HYFR," which featured Lil Wayne. He talked about his black and Jewish roots growing up in Toronto and his sometimes outsider status.
"I want to dedicate this award to any kid that's ever had a long walk home by yourself," Drake said. "This is for you, man, for real. We made it."
Host Kevin Hart, who promised no one would be spared his comedic barbs, opened up old wounds between Brown and Drake in his opening monologue, spoofing the two for the bar brawl that took place between their entourages in June.
Drake and friends Nicki Minaj and Lil Wayne sat stone-faced as Hart joked: "Nip it in the bud, guys. I'm tired of it. Fix it tonight."
Minaj, dressed in a skintight full-body outfit, won best female video for "Starships." And Coldplay won best rock video for "Paradise."
MTV tried something new this year, unveiling a double-decker red carpet that featured two stories of stars and celebrities. Thousands of fans lined up outside the show's new home, the Staples Center in Los Angeles.
In a bit of foreshadowing, One Direction drew the loudest cheers of the day -- something even rivals The Wanted acknowledged -- even though fans had to labor under a scorching sun with the temperature at 90 degrees.
The sun was especially hot for Amber Rose, who accentuated her pregnant belly with a black lace gown as she and fiance Wiz Khalifa showed off a baby bump.
"I'm hot, and my feet hurt, but I look gorgeous," Rose said.
While touching, the moment didn't rise to the level of The Baby Bump, when Beyonce showed her unannounced pregnancy on the red carpet last year, Taylor vs. Kanye or The Kiss.
Lil Wayne had one of the night's most tweeted performances when he debuted his heavily bleeped new song "No Worries." Taylor Swift crowd-surfed after closing the show with a spunky version of "We Are Never Ever Getting Back Together Again." And Keys, who debuted "Girl on Fire," drew attention well before she took the stage. The singer and her producer husband Swizz Beatz were spotted with their almost 2-year-old son, Egypt, bobbing up and down on Beatz' lap during Pink's expletive-laden performance of "Blow Me (One Last Kiss)."
There was hubbub on Twitter where several of Keys' fans noted the bawdy nature of the VMAs. Others just thought Egypt was cute.