Justin Bieber will have a date with police when he gets back to US, experts say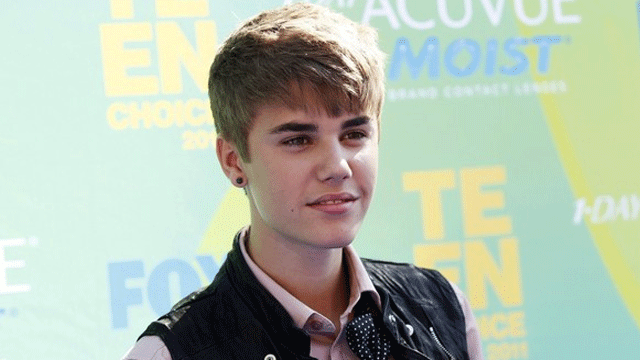 LOS ANGELES – Justin Bieber is returning to the United States this week after weeks touring overseas. Bieber is scheduled to perform on the Today Show this Friday in New York City, but he may also have to pencil in a chat with police in Los Angeles.
Last month the pop music sensation was involved in an alleged altercation with paparazzi while leaving a shopping center in Calabasas, California. Sheriff Lt. Robert Wiard said a paparazzo was attempting to photograph Bieber and his girlfriend, Selena Gomez, when a physical scuffle took place, resulting in the pap being taken to hospital, where he was treated and released.
The famous couple left the scene before deputies arrived, and although authorities announced that he was wanted for questioning over the incident, Bieber instead abruptly left the country to embark on a world tour.
A rep for the L.A County Sheriff's Department confirmed to FOX411's Pop Tarts column that the case is still under investigation, but declined to comment on when or if they would be speaking to the "Baby" singer.
Legal experts say a meeting is all but assured.
"He will definitely be called in for questioning. This is a high-profile case which has gotten a ton of media attention. The police will have to dot their i's and cross their t's for sure. However, Bieber is under no legal obligation to talk to the police," said Los Angeles-based civil litigator, Anahita Sedaghatfar. "He likely will speak to them nevertheless, of course with his attorneys' guidance, and the police will have to get his side of the story in order to determine whether to dump the case or turn it over to prosecutors. They certainly cannot press charges based on the little evidence they have now."
Sedaghatfar predicts that the alleged attack, which is yet to be turned over to prosecutors, will likely boil down to a matter of money.
"The paparazzo will likely file a civil suit against Bieber (or threaten to do so) seeking monetary compensation. It is unlikely there will be any criminal charges filed and Bieber's camp will make sure of that," she added. "We've seen this time and time again, celebrities being accused of minor crimes like this. I already envision the song which will be put out by Bieber regarding this whole ordeal."
A rep for Bieber did not respond to a request for comment.
Danielle Jones-Wesley contributed to this report.