'Rock of Ages' star Catherine Zeta Jones: I never wanted to be a groupie, I wanted to be the rock star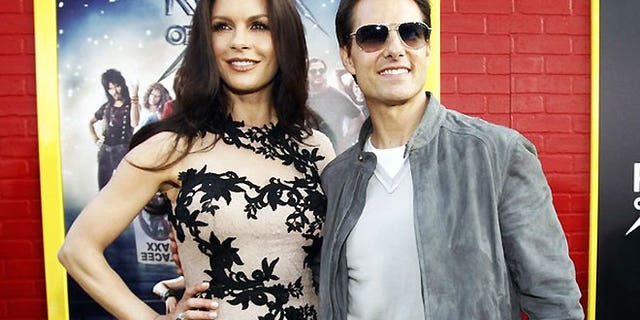 NEWYou can now listen to Fox News articles!
Catherine Zeta-Jones is no stranger to movie musicals, having brought her talents to the silver screen in "Chicago." But for "Rock of Ages," the famed actress had a blast bringing to life a character "very different" to her real self – a suit-wearing, church-going, staunchly conservative mayor's wife determined to stop the "sin" of the Sunset Strip.
"It was so much fun getting to play a conservative, but she has a history," Zeta-Jones told Fox411's Pop Tarts column at last week's premiere, in reference to her character's less-than-holy past.
Zeta-Jones claimed that she never obsessed over rock stars herself, but aimed for something even higher.
"I was working all through my teen years so unfortunately missed out on all that (groupie) behavior, but I always loved music but I was never throwing myself at rock stars. I was never a groupie," she said. "I always wanted to be the rock star, never the groupie."
And while co-star Tom Cruise was top of his game when it came to making movies, when it came to making music it was a least a little out of his comfort zone. So how did he avoid getting intimidated by taking on revered 80's hits?
"I was trying to figure out with the character how are we going to do it because I really admire those artists, then starting singing and learning what they did and I didn't think about it," he told us. "I just thought, 'I'm going to throw myself into it…' (The challenges) never ended. The dancing, the singing…"
And although the A-lister does manage to pull off a number of hot and heavy hits from Def Leppard's "Pour Some Sugar On Me" to the Guns n' Roses smash "Paradise City," he maintains that no musician makes him starstruck and following bands around was never his first love.
"I admire what they do. There is nothing like trying to do what they do, and I've developed a greater respect for them," he continued. "I don't remember what my first rock concert was; we traveled around a lot... The money I got I spent on going to see movies."
Cruise attended the star-studded world premiere sans wife Katie Holmes, but we overheard him telling co-star Malin Ackermann that she was in China and "sends her love." Perhaps Holmes's absence was for the better, given that those two get down and dirty with the quite the comedic love/strip scene centered on a pool-table in the flick.
"That was actually so much fun, but there was so much rehearsal to choreograph that scene," Ackerman laughed.
Director Adam Shankman is also confident that Cruise gave a "brilliant" performance as a partied-out rock sensation and that he is something of a "human special effect," while Russell Brand rated him "a fountain of sex appeal."
However, the faces of the film are going to want to hope that audiences are able to overlook the onslaught of not-so-upbeat reviews rumbling in from critics.
So far the film has scored only a 33 percent from movie reviewers on aggregator site RottenTomatoes.com, with the Hollywood Reporter noting such things as "(Shankman) succeeds in draining most of the fun from a vehicle that was all about the winking humor of its flagrant cheesiness," while Variety referred to the "spectacle of aspiring young singers belting out an umpteenth cover of Journey" as offering "little in the way of novelty value."
But with "Rock of Ages" hitting big screens this Thursday, the box office will be the biggest test for the highly-anticipated summer film.