'Jeopardy!' host Alex Trebek may leave show over cancer battle
"Jeopardy!" host Alex Trebek said his ongoing battle with pancreatic cancer may cause the end of his run as host of the popular game show.
Trebek spoke with CTV News on Friday, when he revealed that his chemotherapy treatment is causing sores in his mouth that are making it difficult for him to enunciate his speech.
"I'm sure there are observant members of the television audience that notice also, but they're forgiving," Trebek said. "But there will come a point when they (fans and producers) will no longer be able to say, 'It's OK.'"
'JEOPARDY!' HOST ALEX TREBEK RENEWS CONTRACT THROUGH 2022 AFTER HINTING AT RETIREMENT
Trebek also shared that he's "not afraid of dying."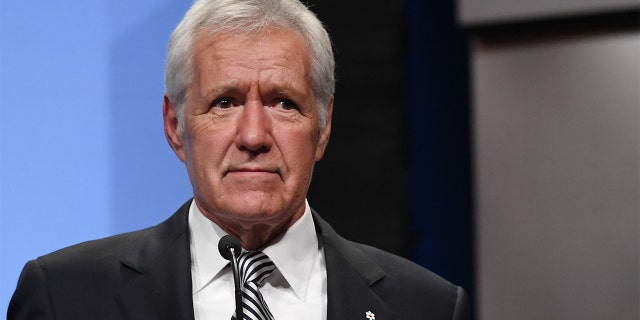 "I've lived a good life, a full life, and I'm nearing the end of that life… If it happens, why should I be afraid of that?" he said.
The game show host explained that he's committing to his treatment, but also recognizes that he can't do it forever.
"I'm hanging in," the father of two said. "So we're back on the chemo and we'll see if the numbers go down. And if they do... they can't keep doing it forever of course.
"They'll have to find a new protocol or whatever to administer. We'll play it by ear and keep chugging along until we either win or lose."
The 79-year-old has hosted the show since 1984. Trebek revealed in March that he was diagnosed with stage 4 pancreatic cancer but assured fans that he planned to fight the illness and continue working.
ALEX TREBEK WAS 'WRITHING IN PAIN' BETWEEN 'JEOPARDY!' TAPINGS BATTLING CANCER
The "Jeopardy!" host updated his fans about his ongoing battle with cancer in May, sharing with People that his doctors were shocked at how well his tumors were responding to his chemotherapy treatment.
"It's kind of mind-boggling," he said at the time. "The doctors said they hadn't seen this kind of positive result in their memory… some of the tumors have already shrunk by more than 50 percent."
He returned to hosting in September noting that he was done with chemotherapy. However, he soon revealed that doctors wanted him to undergo more treatment after his prognosis took a turn.
CLICK HERE TO GET THE FOX NEWS APP
"I lost about 12 pounds in a week. And my numbers went sky high, much higher than they were when I was first diagnosed," he told ABC News. "So the doctors have decided that I have to undergo chemo again and that's what I'm doing."