Chris Pratt shares touching post about cutting down a tree with his son for Nick Offerman to craft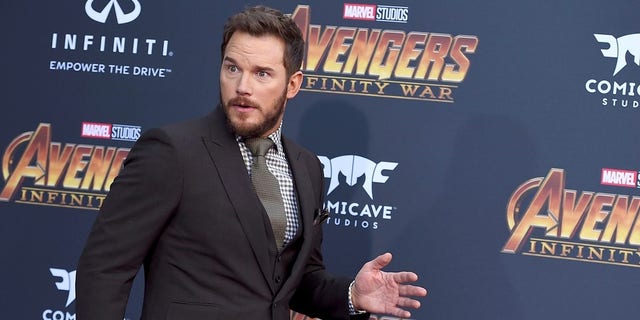 Chris Pratt and his son, Jack, had a pretty exciting day together.
The 39-year-old "Jurassic World" star took to Instagram on Friday to share a special story about a Douglas fir tree on his farm that he and his 5-year-old son cut down after it was struck by lightning. The massive tree, he explained, would be shipped to his former "Parks and Recreation" co-star Nick Offerman's wood shop, "where he will Ron Swanson the hell out of it" to make him a table for his family.
"Another extraordinary day at the farm!! Today we cut down this gorgeous old growth Douglas Fir. 181 years old!! She was struck by lightning and her top had begun to rot. So instead of becoming bug food she'll be made into furniture for my house in LA," the actor wrote on Instagram. "We used a chainsaw mill to cut 5' thick x 20' long slabs which will be shipped to @nickofferman 's wood shop in LA where he will Ron Swanson the hell out of it and make me the dopest table in history fit for a family of Vikings!!! #farmlife #KeAkua."
The actor also posted a sweet snap of himself holding Jack's hand as they admired the massive natural beauty.
Chris Pratt and Katherine Schwarzenegger Are 'Casually Dating,' Have 'Hit It Off' (Exclusive)
"Jack and I share a moment of appreciation on the last day of this amazing tree's life," the "Guardians of the Galaxy" stud captioned the sentimental shot. "Born in 1837 (the same year as 'Wild Bill' Hickok!!!) She lived through the civil war, both world wars, the San Juan Island Pig war and more. Mother Nature struck her down."
"Now this first generation Douglas Fir will be made into beloved pieces of art, mantles and a table from which my family will enjoy moments and meals for, God willing, many generations. I live for moments like these. #farmlife," he concluded.
Last month, ET caught up with the movie star where he gushed about the moments he cherishes most with his son, whom he shares with his ex-wife, Anna Faris.
Chris Pratt Reveals the Time With Son Jack He Cherishes Most (Exclusive)
"I think my love language is quality time, so when we can sit down and just be together and spend time together, just me and him," Pratt shared. "That's probably when I'm the happiest and when he looks up to me the most."
He also admitted that he would totally be up for returning to Pawnee and reuniting with his "Parks and Rec" cast.
Chris Pratt Continuously Fools Jimmy Fallon While Playing 'Box of Lies': Watch
"I've heard rumors. I'd be down. Let's do it! Yeah, that'd be great!" Pratt said, adding, "I know everybody involved would be eager and dying to get back together. It'd be a lot of fun, so, hey, give me a call. They know my number!"