Anderson Cooper may replace Matt Lauer on 'Today' show, reports say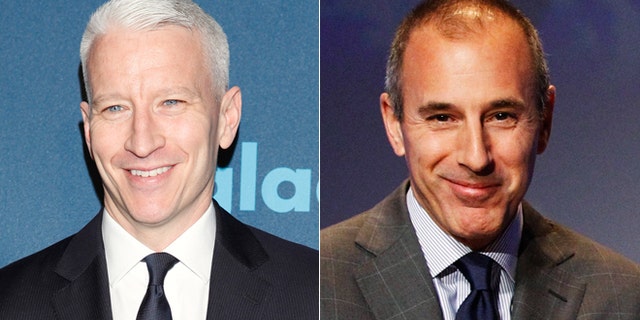 Could Anderson Cooper be the next face of the "Today" show?
A new report from Deadline.com claims Cooper is being considered to replace Matt Lauer on the struggling morning show.
Deadline reported NBC execs have already reached out to Cooper to discuss the possibility. The report claims once Lauer got wind of the idea he was very unhappy.
Sources, however, told TMZ the opposite, saying Lauer is in favor of Cooper stepping in to replace him. The "Today" star has reportedly planned a meeting with Cooper to discuss the possible transition.
Either way, an NBC executive confirmed to The Hollywood Reporter that reps at the network spoke with Cooper, saying NBC had "exploratory talks with talent inside and outside of the network. But to read anything specific into that is presumptuous."
And a big change for the show may not be a bad idea.
During its upfront presentation in New York earlier this month, "Today" anchors Lauer and Savannah Guthrie addressed the slew of negative publicity that has followed them in recent months.
"I would like to tackle a teeny white elephant in the room… We hate being in the news," Lauer said. "We want to go back to being the most-watched morning program – and least talked about morning program."
Lauer's fading fan base and attempts to reform his public image have been daily fodder in the media ever since Ann Curry was unceremoniously axed as his co-anchor last June.
Recently, he addressed the issue in an interview with Daily Beast, in which it was revealed that at one point last year he offered to leave the show if NBC thought it would boost ratings.
NBC News executive Alex Wallace, who oversees the troubled morning show, said Lauer is "the best in the business" and that NBC wants him on "Today" for many years to come.
However a recent New York Magazine article revealed the network has a backup plan ready should Lauer decide to end his run on "Today."
Lauer is also reportedly being considered as a potential replacement for "Jeopardy" host Alex Trebek if he steps down in 2016.
Reps for Cooper's show, "Anderson Cooper 360," and the "Today" show did not immediately return FOX 411's request for comment.
The Associated Press and Fox News' Hollie McKay contributed to this report.