MORNING BRIEF: Trump, first lady set to visit Texas as Harvey continues to ravage state
WATCH FOX NEWS CHANNEL FOR LIVE COVERAGE OF PRESIDENT TRUMP'S VISIT TO TEXAS: Air Force One departs Joint Base Andrews en route to Corpus Christi International Airport at 8:50 AM ET. President Trump and the first lady will be briefed by local officials on the relief efforts. At 2:30 PM ET, Air Force One departs Corpus Christi International for Austin, where he will be briefed on the storm's latest updates from state officials.
FAMILY FEARED DEAD
A family of six trying to escape the floodwaters produced by Harvey has been counted among the 14 victims who died in the historic storm, authorities said.
The four children and their great-grandparents likely died Sunday afternoon while attempting to escape floodwaters in a van, authorities said.
OVERNIGHT STORM UPDATES: Donations overwhelm drop-off center | Looters are warned | Hotel worker missing | Shelters overcrowded | Bass Pro Shops donates boats 
FOX BUSINESS: Key flood insurance underwriter sinks further into debt as Harvey slams Texas
NORTH KOREA SENDS BALLISTIC MISSILE OVER JAPAN
North Korea on Tuesday-- in an act of defiance-- fired a midrange ballistic missile designed to carry a nuclear payload over Japan for the first time, sending a clear message to Washington and Seoul.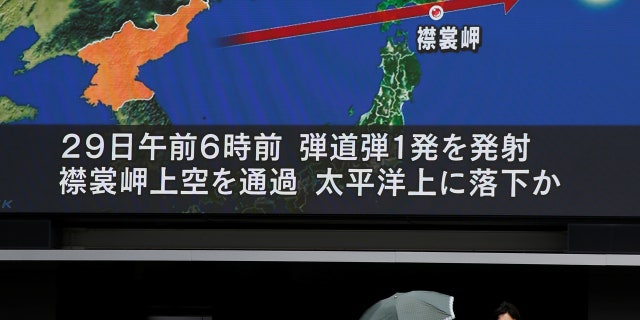 The distance and type of missile test seemed designed to show that North Korea can back up a threat to target the U.S. territory of Guam, if it chooses to do so, while also establishing a potentially dangerous precedent that could see future missiles flying over Japan.
'THE STORY'
More than a dozen people were arrested in Berkeley, California, after members of the Antifa movement allegedly attacked peaceful protesters over the weekend -- and one of those protesters opened up to Fox News on Monday about the violent threats she heard.
"They came with black masks, they carried weapons, they were pounding people down with their fists and their feet," Berkeley College Republican Ashton Whitty said on "The Story with Martha MacCallum."
TRUMP LOOKS TO MNUCHIN, COHN 
President Trump has reportedly tapped two former Goldman Sachs bankers to sell his tax plan to lawmakers  in what many see as an important political win for an administration that has unsuccessfully grappled with Congress in the past.
Trump set an ambitious tax agenda in April. The White House said it wanted to cut the corporate tax rate to 15 percent from the current 35 percent, eliminate the estate tax, also known as the "death tax," close loopholes for state and local deductions as well as simplify the overall tax code.
FOX BUSINESS: Debt ceiling showdown, conservatives at odds on conditions for deal
COMING UP ON FOX BUSINESS
7 AM ET: John Hofmeister, former Shell Oil president, will be on 'Mornings with Maria'
9 AM ET: Rep. Mike Johnson will appear on 'Varney & Company'
10:30 AM ET - Rep. Brian Babin will be a guest on 'Varney & Company'
NOON: Joe Allbaugh, former FEMA director, will be on 'Cavuto: Coast to Coast'
2 PM ET: Rep Kevin Brady will be a guest on 'The Intelligence Report'
5 PM ET: Ken Paxton, Texas Attorney general, will be a guest on 'Risk & Reward'