FOX NEWS FIRST: Shooting massacre in Las Vegas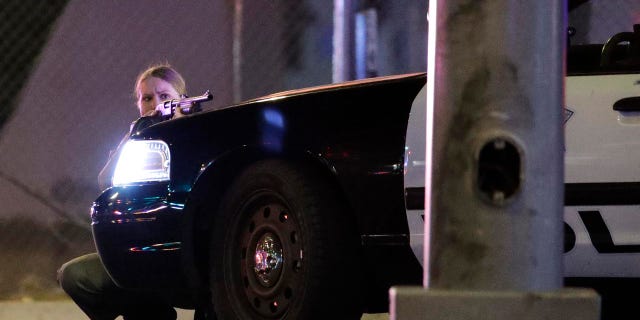 TOP OF THE MORNING
It's Monday, Oct. 2, 2017. Welcome to Fox News First, your stop for all the news you need to start the day. To have your early morning news emailed directly to your inbox, subscribe by clicking here.
Here's your Fox News First 5 - the first five things you need to know today:
At least 20 people are dead, more than 100 injured in Las Vegas shooting
President Trump doubles-down on critics of his Puerto Rico hurricane response
Dozens of NFL players take a knee during national anthem in Week 4 of the season
The Supreme Court faces full plate of hot-button cases in new session
TUNE IN: Fox News Channel launches its new daytime lineup today
Let's take a closer look at these stories ...
THE LEAD STORY: At least 20 people are dead and more than 100 are injured after a mass shooting during a country music concert in Las Vegas, police say... The gunman, whose identity was not released, is dead. He fired down on the concert from a room inside the Mandalay Bay casino. Police said they are looking for a person of interest believed to be the gunman's roommate, Marilou Danley. Investigators believe the gunman was a "lone wolf" in the shooting. Authorities first received calls about an active shooting at about 10:08 p.m. local time. Country music star Jason Aldean was performing during the Route 91 Harvest Festival when the gunfire erupted. One witness told KSVN that he heard "hundreds of shots." The gunfire was rapid and initially confused for firecrackers. The entire Las Vegas strip was put on lockdown with a massive police response to the scene.
This is a developing story ... stay with Fox News for further developments.
TRUMP STANDS BY PUERTO RICO RESPONSE: President Trump continued to reject criticism of his hurricane relief response to the devastation in Puerto Rico, saying things were getting done "at a record clip." ... Returning to the White House Sunday night from the Presidents Cup golf tournament Sunday night, Trump told reporters: "We're doing really well on Puerto Rico. I'll be going there on Tuesday. Tremendous progress being made. We're getting the roads open, we're getting a lot of things done — really at a record clip." The president spent much of the weekend blasting critics and "politically motivated ingrates" who have questioned his administration's commitment to relief efforts in Puerto Rico. He is scheduled to visit the ravaged island on Tuesday.
NFL'S NEW "NORMAL": Dozens of NFL players took a knee during the national anthem as others sat or raised their fists before the games on Week 4 of the season Sunday, a day after President Trump tweeted that it that it was "very important" for players to stand ... Among the players who kneeled Sunday: half of the San Francisco 49ers, unemployed quarterback Colin Kaepernick's former team. The Niners released a video of the athletes with the caption: "Together." Their opponents, the Arizona Cardinals, stood. So much for things returning to normal in the NFL. Still, the number of kneeling players was down from last weekend, when more than 200 athletes took a knee after Trump lashed out at athletes who protest during the national anthem.

THE HIGH COURT'S BACK IN SESSION: The U.S. Supreme Court is back in session today after summer recess and it faces a number a high-profile cases that could prove pivotal for President Trump and his agenda ... Among the issues facing the new session of the Supreme Court: (1) Religious liberty, and whether a Colorado baker can be sanctioned for refusing to create a wedding cake for a same-sex couple, in violation of his stated Christian beliefs (2) Voter redistricting, and just how much state legislatures can use partisan gerrymandering, maneuvers that have benefitted Republicans in recent years (3) Privacy rights, testing the limits of police tracking a suspect from his cell phone digital footprint
What about President Trump's so-called "travel ban"? - That case is on hold for the moment, as Trump's initial order for a 90-day pause in travel from six nations has lapsed and the president has issued a new policy restricting travel indefinitely from nine nations. The high court cancelled scheduled oral arguments and is likely to toss the issue back to the lower courts.
Why does this matter? - Trump has a lot riding on what the Supreme Court does – and the possibility of another vacancy. Sources close to Justice Anthony Kennedy say he has been seriously considering retirement and may not stay on the bench for Trump's entire first term. Rumors about Kennedy's retirement were at a fever pitch last June. However, the new term begins with the 81-year-old justice still on board, his unique influence as the court's "swing" vote member intact.
FOX NEWS' NEW DAYTIME LINEUP PREMIERES TODAY: Two new shows will premiere today as Fox News Channel launches its powerful revamped daytime lineup ... Sandra Smith will make her debut as the permanent co-anchor alongside Bill Hemmer of "America's Newsroom," airing weekdays at 9:00 a.m. ET. The new Fox News daytime lineup will also feature two premieres: Harris Faulkner will anchor "Outnumbered Overtime with Harris Faulkner," airing weekdays at 1:00 p.m. ET; Dana Perino will anchor "The Daily Briefing with Dana Perino," weekdays at 2:00 pm ET. Faulkner and Smith will continue as co-hosts of "Outnumbered," which airs at 12 noon ET, while Perino will continue on "The Five," at 5:00 p.m. ET.
THE WEEKEND THAT WAS
ENTIRE TOWNS "GONE" IN PUERTO RICO: "All have said that the president did everything in a pace that they've never seen before as far as him releasing money and releasing assets into these theaters. The execution on the ground has been horrifying in some cases ... I've never seen anything like this. There are towns that are gone." – Baseball great Curt Schilling, on "Fox & Friends Weekend," recalling what he has seen while helping with relief efforts in Puerto Rico. WATCH
CONSERVATIVE COLLEGE STUDENT PUT ON HATE GROUP LIST: "They're trying to silence me, as for years they've been trying to silence conservatives. It's a bully tactic." – College student Hannah Scherlacher, on "Fox & Friends Weekend," recalling how the left-wing advocacy group the Southern Poverty Law Center put her on a hate group list for a sole radio interview she did with the Family Research Council. WATCH
MINDING YOUR BUSINESS
Sunday Morning Futures: Gary Cohn breaks down the details of Trump's tax reform framework.
Disney, Altice reach deal that avoids ABC, ESPN blackout.
Oil prices lower after strong third quarter as Sept. OPEC output rises.
Prescription drug price gouging: What seniors need to know.
NEW IN FOX NEWS OPINION
Supreme Court's in session with Gorsuch on board, gay wedding cake case on deck
Judge Jeanine: Roy Moore's primary victory means Americans will dump "lying, thieving slugs" establishment Republicans.
Michael Goodwin: Trump knows how to read the crowd but hasn't learned to govern.
Catalonia vote chaos in Spain holds lesson for US -- bitterness, division means nobody wins.
HOLLYWOOD SQUARED
Kathy Griffin to Colin Kaepernick: "Proud of you" for your activism.
It edges out Tom Cruise's American Made at box office.
Country artists release song to help with hurricane relief.
Jennifer Garner posts makeup free selfie to make a statement about being a parent.
DID YOU HEAR ABOUT THIS?
National Breast Cancer Awareness Month: Key terms you should know.

Costco offers $1,000 emergency food kit that lasts 25 years.
Whole Foods selling cake for Yom Kippur, a Jewish holiday that requires fasting.
How to stop your devices from listening to (and saving) everything you say.
STAY TUNED
On Fox News:
Fox & Friends, 6 a.m. ET: We'll have the latest updates from the mass shooting in Las Vegas; Baltimore Ravens tight end Benjamin Watson will give his perspective on the NFL national anthem protest controversy
Tucker Carlson Tonight, 8 p.m. ET: Columnist Tammy Bruce has a response for Hillary Clinton and Michelle Obama scolding female voters who supported Trump
Hannity, 9 p.m. ET: Laura Ingraham takes on the critics attacking Trump for his response to the catastrophe in Puerto Rico
On Fox Business:
Mornings with Maria, 6 a.m. ET: Former AIG CEO Hank Greenberg addresses his legal battles with former New York Attorney General Eliot Spitzer; David Stockman, Former Reagan Budget Director, tackles tax reform; Alan Dershowitz, former "Dream Team" member, gives his perspective on O.J. Simpson being released from prison
Cavuto: Coast to Coast, 12 noon ET: Former Gov. Tim Pawlenty takes on the chances for bipartisan support behind the Trump-GOP tax overhaul plan
Countdown to the Closing Bell, 3 p.m. ET: Chad Sweet, co-founder, of the Chertoff Group, sounds off on the hot topics of the day
The Brian Kilmeade Show, 9 a.m. ET to 12 noon ET: Major League Baseball Hall of Famer Mike Schmidt tells Brian about his involvement in an awareness campaign designed to help cancer victims and their loved ones; New York Post columnist Michael Goodwin on why President Trump knows how to read a crowd, but falls short of governing
#OnThisDay
2002: The Washington, D.C.-area sniper attacks begin, setting off a frantic manhunt lasting three weeks. (John Allen Muhammad and Lee Boyd Malvo were finally arrested for 10 killings and three woundings; Muhammad was executed in 2009; Malvo was sentenced to life in prison.)
1985: Actor Rock Hudson dies at his home in Beverly Hills, Calif., after battling AIDS
1967: Thurgood Marshall is sworn as an associate justice of the U.S. Supreme Court.
1959: Rod Serling's The Twilight Zone premieres on CBS with the episode "Where Is Everybody?" starring Earl Holliman.
Thank you for joining us on Fox News First! Enjoy your day and we'll see you in your inbox first thing Tuesday morning.