FOX NEWS FIRST: New poll suggests midterm 'blue wave' hopes may be going bust; U.S-bound migrant caravan grows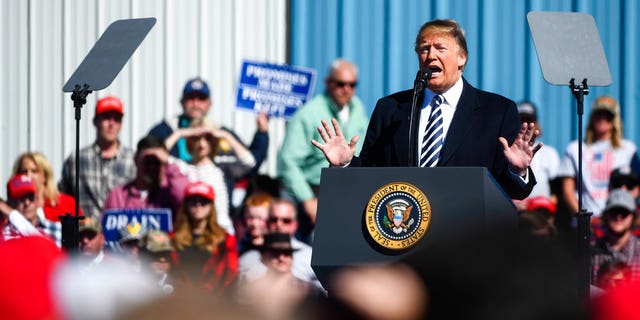 Welcome to FOX News First. Not signed up yet? Click here.
Developing now, Monday, Oct. 22, 2018
THE LEAD STORY - "BLUE WAVE" BUST? - A new national poll a few weeks before the midterm elections shows the chances of a "blue wave" are far from a slam dunk for the Democrats ... The NBC News-Wall Street Journal poll released Sunday shows 48 percent of registered voters would prefer having the Democrats in control of Congress, compared to 41 percent supporting the GOP. That 7-point gap has narrowed from the 12-point gap the Democrats had in September. The poll also showed President Trump's approval ratings at their highest yet: 47 percent. The poll showed 49 percent disapprove. "The current data shows that the Democratic advantage has ebbed but still with a large advantage. And the GOP shows some life," Democratic pollster Fred Yang, who conducted the poll alongside Republican pollster Bill McInturff and Hart Research Associates, told the Wall Street Journal.
Why are Democrats apparently losing ground? Troubled candidates and distractions may play a role. Rep. Keith Ellison, D-Minn., on Sunday evening, had to fend off allegations of domestic abuse during his debate against his GOP rival for state attorney general. In her debate, Sen. Elizabeth Warren, D-Mass., had to defend taking a DNA test in an attempt to prove her Native American heritage. Warren said that she took the DNA test in an effort to rebuild "trust in the government" through transparency. Critics remain dubious about Warren's Native American heritage and the jury is out of whether the Massachusetts senator rebuilt any trust.
ICYMI: FOX NEWS EXCLUSIVE - SAUDI FOREIGN MINISTER GRILLED ON ACTIVIST'S DEATH: Saudi Arabia's foreign minister sent his condolences on Sunday to the family of Jamal Khashoggi but offered no new information on how - or why - the Saudi activist was killed in the country's consulate in Turkey almost three weeks ago ... Speaking during an exclusive interview with FOX News' Bret Baier, Saudi Foreign Minister Adel Al-Jubeir said that the country is currently investigating Khashoggi's death and that the 18 people implicated in his slaying would be punished appropriately. He said Khashoggi was killed by operatives who went "rogue." "This was an operation that was a rogue operation," he said. "This was an operation where individuals ended up exceeding the authorities and responsibilities they had. They made the mistake when they killed Jamal Khashoggi in the consulate and they tried to cover up for it."
Al-Jubeir added that none of those involved in Khashoggi's death had close ties to Saudi Crown Prince Mohammed bin Salman. Al-Jubeir noted that the investigation was still in its early stages and said that Saudi officials currently don't know the exact cause of Khashoggi's death or where his remains are. Still, critics suspect Saudi authorities are trying to covering up the circumstances of Kashoggi's killing to shield the powerful crown prince.
President Trump says he wants to wait for the outcome of the Saudi investigation. Meanwhile, Turkey said it will announce details of its own investigation on Tuesday. Hatice Cengiz, Khashoggi's fiancée, reportedly has been placed under Turkish police protection.
CARAVAN CAMPAIGN ISSUE: A growing caravan of Honduran migrants streamed through southern Mexico on Sunday heading toward the United States, after making an end-run around Mexican agents who briefly blocked them at the Guatemalan border ... They received help at every turn from sympathetic Mexicans who offered food, water and clothing. Hundreds of locals driving pickups, vans and cargo trucks stopped to let them clamber aboard. The caravan of Central American migrants has anywhere from 5,000 to 10,000 people — mainly from Honduras — according to estimates. President Trump tweeted on Sunday that border security officials continued their "full efforts ... to stop the onslaught of illegal aliens" attempting to travel to the U.S. southern border via a large migrant caravan — while also describing such caravans as "a disgrace to the Democrat Party."
GROWING TENSION WITH RUSSIA (WHAT HAPPENED TO THE ALLEGED COLLUSION?): National Security Adviser John Bolton is expected to meet with Russian President Vladimir Putin and other officials in Moscow Monday in the first of two days of talks ... The talks could be tense as they come after President Trump announced the U.S. will pull out of a decades-old bilateral nuclear agreement that he said Russia had been "violating for many years." Top Russian officials called the president's move a "very dangerous" provocation that would lead to "full chaos."
COMING IN 2020: HILLARY-TRUMP 2 - Will there be a presidential election rematch between Hillary Clinton and Donald Trump? Michael Goodwin, New York Post columnist and FOX News contributor, predicts it is inevitable ... The list of potential Democratic candidates to oppose President Trump is growing, but none are "compelling." That's why Clinton has never truly faded out of the spotlight. "Which is why Clinton, despite her enormous flaws and two presidential defeats, can't be ruled out as the party's best hope," Goodwin writes in his column on FOXNews.com. "God knows she wants it more than anybody else. It's also why I have been saying for months that she was keeping her options open and might actually seek a rematch with Trump. And that was before she and Bill Clinton announced their six-month speaking tour."
AS SEEN ON FOX NEWS WEEKEND
'A DANGEROUS TIME FOR AMERICANS' - "When you cross the border into these United States illegally, expect to be arrested. You do not have the right to come here. We did not invite you here. You cannot stay here. And on your way out, you can tell the Democrats, George Soros and the angry mob that's coming here [that] you either come the right way like everyone else or be ready to face the military and a one-way ticket back to where you came from." – Judge Jeanine Pirro, in her "Opening Statement" on "Justice with Judge Jeanine," arguing that the issue of border protection is a security and safety issue and "not a left or right issue." WATCH
TRENDING
Paula Abdul falls off stage during live performance.
Photographer takes stunning picture of Yosemite engagement, searches for couple.
Lyft driver has mental breakdown during ride, passenger says.
THE SWAMP
Goodlatte previews Rosenstein interview with House lawmakers behind closed doors.
Trump administration mulls rollback of Obama-era transgender protections, report says.
Seattle gun storage law 'eminently reasonable,' judge says in tossing NRA, gun group's lawsuit.
ACROSS THE NATION
NYPD pulls 3,000 body cams off street after one exploded.
WATCH: Moment floor collapses at college party revealed.
Ohio student's essay about being raped sends attacker to prison.
MINDING YOUR BUSINESS
Earnings, earnings and some Fed speakers headline the week ahead.
How Trump tariffs affect Ford, GE, Harley Davidson earnings.
Oil rises on looming Iran sanctions.
CBS interim chairman Parsons resigns due to ill health.
Mega Millions jackpot: Here's what $1.6B can buy.
Amazon just revisited these cities as second headquarters decision is imminent.
America's most expensive colleges revealed.
How to tell if your company retirement plan is a good one.
FOX NEWS OPINION
Liz Peek: How about Trump-Haley in 2020?
Mary Anne Marsh: Women have the potential to change the political landscape in 2018.
Brian Kilmeade: Here's why it's so important to fight back in the war on American history.
HOLLYWOOD SQUARED
'Halloween' tops the box office after 40 years of horror, forces 'First Man' to fifth place.
Dwayne 'The Rock' Johnson dismisses CNN reporter's tweet about Saudi prince as 'clickbait.'
Actress Selma Blair, 46, reveals MS diagnosis: 'I am disabled.'
DID YOU HEAR ABOUT THIS?
Ancient inscription discovery thrills archaeologists in Israel.
Snake names honor Darwin, fire god, college professor.
Video shows devastating damage drones can inflict on planes.
STAY TUNED
FOX Nation is coming! - Sign up now and find out more about its exciting launch!
On Facebook:
Check out 'FOX News Update,' our new Facebook-exclusive news program!
On FOX News:

FOX & Friends, 6 a.m. ET: Special guests will include: Candace Owens, Turning Point USA communications director; U.S. Sen. Tim Scott, R-S.C.; Amb. Richard Grenell, U.S. ambassador to Germany; Jessie James Decker shares her new lifestyle book, "Just Jessie."
The Five, 5 p.m. ET: The co-hosts of "The Five" will be in Dallas looking at the pivotal races in Texas, with the midterms two weeks away.
Special Report with Bret Baier, 6 p.m. ET: More of Bret Baier's exclusive interview with Saudi Foreign Minister Adel Al-Jubeir, reaction, and a special look on location at the pivotal midterm races in Florida.
On FOX Business:
Mornings with Maria, 6 a.m. ET: Special guests include: U.S. Rep. Chuck Fleischmann, R-Tenn.; Liam Fox, U.K. Secretary of State for International Trade and President of the Board of Trade.
Varney & Co., 9 a.m. ET: Alex Azar, Health and Human Services secretary; Chele Farley, Republican New York Senate candidate; David Stockman, former budget director under President Reagan.
Cavuto: Coast to Coast, Noon ET: Amb. Paul Bremer, former chairman of the Committee on Terrorism and presidential envoy to Iraq.
After the Bell with Melissa Francis and Connell McShane, 4 p.m. ET: Amb. Danny Danon, Israeli ambassador to the United Nations.
On FOX News Radio:
The FOX News Rundown podcast: Election Day is almost two weeks away, and the nation will soon find out whether Republicans will hold the House and Senate. House Majority Whip Steve Scalise discusses the midterm elections and what could happen if Democrats gain control of the House. Last week, a caravan from El Salvador, Guatemala and Honduras traveled towards the U.S.-Mexico border, some of them turning around halfway through the trip. FOX News Radio's Washington correspondent Rachel Sutherland spoke with FOX News' Griff Jenkins, who is on the border in McAllen, Texas. Plus, commentary by FOX News contributor Kat Timpf.
Want the FOX News Rundown sent straight to your mobile device? Subscribe through Apple Podcasts, Google Play, and Stitcher.
The Brian Kilmeade Show, 9 a.m. ET: New York Post columnist and FOX News contributor Michael Good win on why he believes Hillary Clinton will run for president again in 2020. Geronimo Gutierrez, Mexican ambassador to the United States, on the looming caravan showdown. Quanta Ahmed on Saudi Arabia and the diplomatic tension over the killing of activist Jamal Khashoggi. Gen. Stanley McChrystal on his new book, "Leaders: Myth and Reality."
#OnThisDay

2002: Bus driver Conrad Johnson is shot to death in Aspen Hill, Md., in the final attack carried out by the "Beltway Snipers."
1979: The U.S. government allows the deposed Shah of Iran to travel to New York for medical treatment — a decision that precipitates the Iran hostage crisis.
1962: In a nationally broadcast address, President John F. Kennedy reveals the presence of Soviet-built missile bases under construction in Cuba and announces a quarantine of all offensive military equipment being shipped to the Communist island nation.
FOX News First is compiled by FOX News' Bryan Robinson. Thank you for joining us! Enjoy your Monday! We'll see you in your inbox first thing Tuesday morning.