Dwayne 'The Rock' Johnson dismisses CNN reporter's tweet about Saudi prince as 'clickbait'
Dwayne "The Rock" Johnson has no time for one journalist's critical tweet.
CNN senior media reporter Oliver Darcy took to Twitter on Friday, where he posted a screenshot of an April 2018 post from Johnson's Instagram account.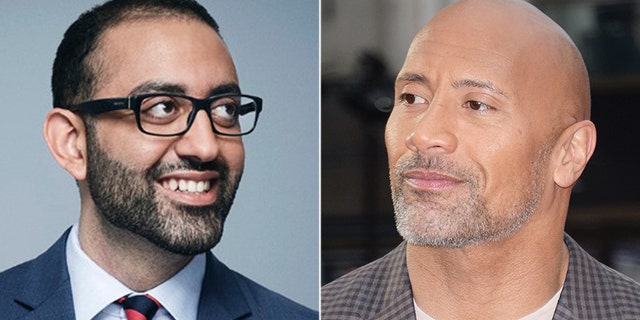 Johnson's post featured a screenshot from an article from The Hollywood Reporter, which said he and the prince were among those who dined at Rupert Murdoch's home.
"Historic night it was," Johnson wrote on Instagram. "A pleasure to have a private dinner with the Crown Prince of Saudi Arabia, Mohammed bin Salman, his royal family and distinguished cadre."
The star added, "Fascinating experience to hear his deep rooted, yet modern views on the world and certainly the positive growth he desires for his country. As always, I asked a lot of questions. Listened and learned."
"This Instagram post from @TheRock did not age well," Darcy said. "Reached out to his publicist several times today to see if he has any new thoughts on MBS, but no response."
WHITE HOUSE CORRESPONDENTS' ASSOCIATION CONDEMNS TRUMP'S RHETORIC TOWARDS JOURNALISTS
It's wasn't long before Johnson addressed Darcy's tweet on the social media platform.
"Such a silly, clickbait post, Oliver," he wrote. "Im surprised you'd post this."
He continued, "Go back and really read my words. I listened and learned then. As I listen and learn now. C'mon man."
However, Darcy didn't stop the conversation there.
"You had dinner with a brutal authoritarian, playing a role in his PR campaign to convince the West that he was, as you'd say, someone with 'modern views,'" he tweeted. "Then you gushed about it on social media. Ppl look up to you. Do you regret giving him a platform? Has your opinion changed?"
POLITICO CHIEF IMPLIES TRUMP IS 'WHITE NATIONALIST,' BRUSHES IT OFF AS 'WISECRACKS' LOST IN TRANSLATION
As of Sunday afternoon, Johnson has yet to reply to Darcy's tweet.
Pro-government media in Turkey have reported that a hit squad traveled from Saudi Arabia to kill Saudi critic Jamal Khashoggi, who vanished after entering the Saudi consulate in Istanbul on Oct. 2.
Saudi Arabia gave a different version of events on Saturday, saying Khashoggi died in a "fistfight" in the consulate and that 18 Saudi suspects were in custody and intelligence officials had been fired. Although officials close to Prince Mohammed were targeted, Saudi Arabia stopped short of implicating the heir-apparent of the world's largest oil exporter.
The Saudi account was met with widespread international skepticism and allegations of a cover-up, as well as calls for an international investigation led by a U.N.-appointed panel.
The Associated Press contributed to this report.