Busted Alabama inmate Casey White planned to possibly start shoot-out with police during chase: Sheriff
Alabama fugitive Casey Cole White has waived extradition from Indiana, is expected to be returned to Lauderdale County by end-of-day Tuesday, DA says
FLORENCE, Ala. – Casey White, the Alabama fugitive who escaped a county jail allegedly with the help of a senior corrections employee, told officers he likely would have engaged in a shootout with law enforcement had the pair's vehicle not crashed, officials said Tuesday.
The fugitives were inside a Cadillac on Monday evening as they allegedly tried to evade law enforcement who had been surveilling the Evansville, Indiana, Motel 41, where they had been staying. They led police on an approximately mile-long pursuit before U.S. Marshals "basically rammed the vehicle and pushed it into a ditch," Vanderburgh County Sheriff Dave Wedding told reporters.
CASEY WHITE ESCAPE: TIMELINE FOR ALABAMA MURDER SUSPECT ON THE RUN WITH CORRECTIONS OFFICER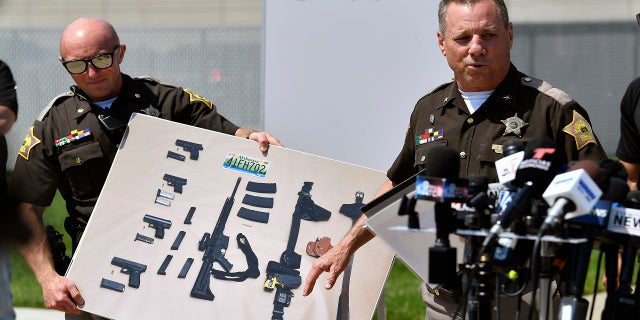 "We later found out had they not done that, the fugitive was going to engage in a shootout with law enforcement," Wedding said, explaining that Casey White had admitted his intentions during a subsequent police interview. "He said that he was probably going to have a shootout at the stake of both of them losing their lives."
He added: "Their plan was pretty bold. They're criminals. Their plan was faulty. And it failed. Thank God."
ALABAMA INMATE CASEY WHITE CALLED VICKY WHITE HIS 'WIFE' AFTER SHE APPARENTLY SHOT HERSELF DURING CRASH: FEDS
Fox News Digital learned that Lauderdale County Sheriff's deputies were en route to Evansville, Indiana on Tuesday morning to take custody of White, who was currently being detained by by Indiana' Vanderburgh County Sheriff's Office.
"I expect him to be back in Lauderdale County by the end of the day," District Attorney Chris Connolly told Fox News Digital.
The Vanderburgh County Sheriff's Office is located about 286 miles north of Alabama's Lauderdale County Jail, roughly four hours and 40 minutes by car.
Casey White was serving a 75-year sentence for a slew of crimes from 2015, including carjacking, a home invasion and a police chase. He had been serving his sentence at the William E. Donaldson Correctional Facility in Bessemer, Alabama, but had been transferred to the Lauderdale County jail while he awaited trial for the 2015 murder of 58-year-old Connie Ridgeway.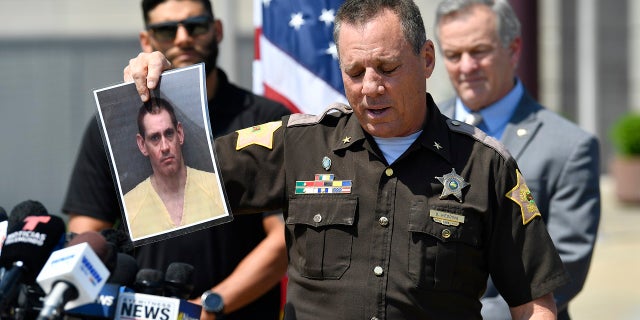 During a Tuesday emergency status conference related to White's murder case, Lauderdale County Circuit Court Judge Ben Graves said an arraignment related to the escape was expected to be held on Tuesday.
Graves also said White would be transferred to a state facility immediately after the arraignment and added: "White will not be held for another hour in our jail."
White's attorney in the murder case, Jamy Poss, said he would be representing White at the arraignment. Poss has not responded to Fox News Digital's request for comment.
ALABAMA PRISON ESCAPE: INMATE CASEY WHITE SEEN IN NEW MUGSHOT PHOTO
Casey White, 38, and 56-year-old Vicky White, who were not related, were allegedly in the throes of a "jailhouse romance" when they escaped on April 29. Their ruse lasted 11 days.
At the time, Vicky left alone with Casey claiming she was taking him to an evaluation at the county courthouse.
But, no evaluation was scheduled for that morning. April 29 – the day of the escape – was also supposed to be Vicky's last day on the job before her retirement.
FORMER ALABAMA CORRECTIONS OFFICER VICKY WHITE DIES OF SELF-INFLICTED INJURIES IN CASEY WHITE MANHUNT
After slipping away from the jail in Vicky's marked police vehicle, the pair switched to driving an orange-colored Ford Edge SUV that Vicky had previously purchased. But they abandoned the SUV shortly thereafter, roughly two hours away in Williamson County, Tennessee, officials said.
During Tuesday's press conference, Wedding said Vicky White purchased the Ford F-150, possibly from Tennessee, sometime after they fled from the Alabama jail. They then hopped into the Ford F-150 and continued north.
Wedding said an officer spotted the vehicle while driving through parking lots on May 2. The officer ran the license plate through the Department of Motor Vehicles database, as he was proactively "running plates just to see if they were stolen."
The vehicle did not come back stolen. Law enforcement then received a call on May 4th about an abandoned vehicle, the Ford F-150, at the Evansville car wash. But because the vehicle was abandoned – not stolen – officers were limited in what they could do at that time, Wedding said. Officers told the owner of the car wash that he would have to have the vehicle towed himself, which he did on May 4.
"It was just an abandoned vehicle for us at that point," Wedding continued.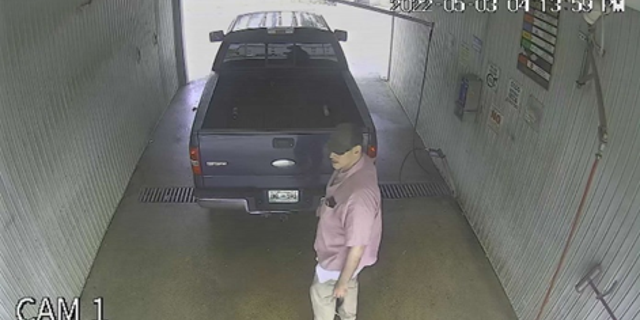 The sheriff said he believed Casey White was just "trying to ditch the vehicle" at the car wash.
Wedding said the pair had paid to stay at the hotel for 14 days. He did not believe they had any friends or acquaintances in Evansville.
AUTHORITIES PREPARING TO EXTRADITE ESCAPED INMATE CASEY WHITE BACK TO ALABAMA AFTER DRAMATIC MANHUNT ENDS
"They were just trying to contemplate where they could go and kind of be discreetly away from the public eye," he said. The pair had wigs – "they had multiple wigs," he continued.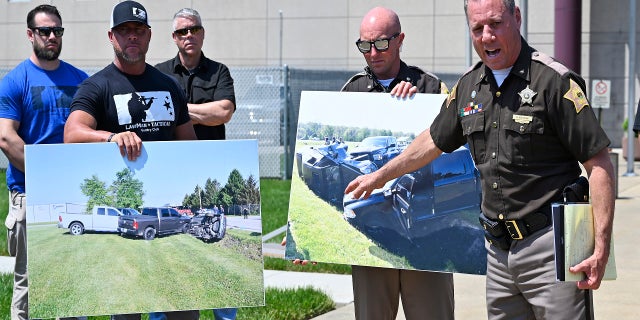 Wedding said Vicky White shot herself after their vehicle was intercepted by law enforcement. Officers tried to save her and medics rushed her to an area hospital, but she had suffered a brain injury and ultimately died.
An autopsy was scheduled to be conducted on Tuesday.
As Casey White exited the vehicle, he told officers his "wife" had shot herself, a spokesperson for the U.S. Marshal Service confirmed to Fox News Digital on Tuesday. The spokesperson did not have Casey's exact statement to officers and could not confirm whether the couple was actually married.
Wedding told reporters the Whites were not married.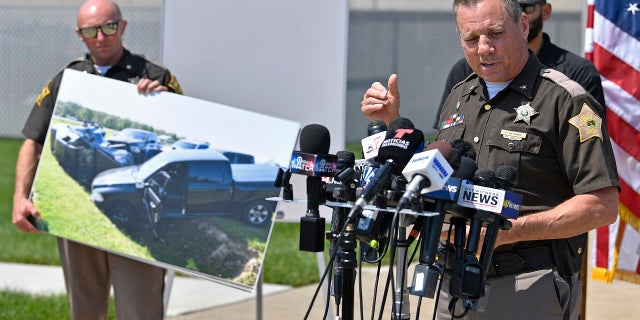 Investigators discovered at least four handguns, and semi-automatic firearms, including an AR-15, Wedding said. They also located Vicky White's duty belt.
CLICK HERE TO GET THE FOX NEWS APP
In the months before the escape, Vicky sold her home for about half of what she could have gotten and allegedly had about $90,000 in cash when she and Casey Fled. Wedding said they had $29,000 leftover when they were busted.
Vicky White was facing charges including forgery, identity theft and permitting/aiding an escape.
Fox News' Haley Chi-Sing contributed to this report.