Pope Francis to canonize California missionary during September trip to the U.S.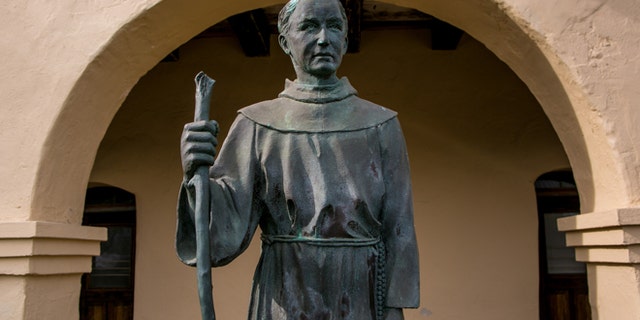 NEWYou can now listen to Fox News articles!
On Thursday, Pope Francis announced he plans to canonize Father Junípero Serra, an 18th-century Spanish Franciscan priest who founded the first Catholic missions in California.
While traveling from Sri Lanka to Manila, Francis announced that in September, when he travels to Philadelphia for the World Meeting of Families, "God willing, I will canonize Junipero Serra in the United States."
Francis called Serra "the evangelizer of the West in the United States" and indicated that he would seek to bypass the usual canonization requirement of a second miracle.
The selection is not without controversy.
"He was a very assertive and aggressive missionary," Steven Hackel, the author of "Junipero Serra: California's Founding Father" and a history professor at UC Riverside, told the Los Angeles Times. "What he symbolizes in the Catholic Church is their attempt to teach Indians to live as Spanish Catholics rather than who they were born as."
Serra was born on the Spanish island of Mallorca in 1713. He volunteered for duty in Mexico at age 36.
He worked in what is now Queretaro state in central Mexico, before heading north as the head of a group of Franciscan missionaries in Baja and Alta California—as California was then known.
In 1769, he came to San Diego and founded the Mission San Diego de Alcalá. In the next 15 years before his death in 1784, he founded Catholic missions in Carmel, Jolon in Monterey County, San Gabriel, San Luis Obispo, San Juan Capistrano, San Francisco, Santa Clara and San Buenaventura near Ventura.
At the time Serra arrived in California, it's estimated that there were around 300,000 Native Americans in the region; when it became part of the United States in 1846, the number was half that.
Some Native Americans are perplexed by Pope Francis' decision to canonize Serra.
"I am a practicing Catholic and a great fan of Pope Francis, but I am disappointed in what [Serra] did," Vincent Medina, an Ohlone Indian, told the San Francisco Chronicle. The future saint, Medina said, "was a leader of a disastrous genocidal system."
While much of the decrease in the number of indigenous people that followed the arrival of Serra and his fellow missionaries was attributable to exposure to new diseases the Europeans brought with them, Serra biographer Hackel points out that "most Indians who came to missions didn't live very long."
"It was an oppressive system," he added. "Indians were told to pray a certain way, act a certain way, dress a certain way… Once baptized, native peoples could not leave the compound without permission."
Which hasn't dimmed the enthusiasm at the pope's announcement in all quarters.
The archbishop of Los Angeles, Jose Gomez, issued a statement that called Serra one of his "spiritual heroes."
"It's wonderful to think that this new saint once walked the road that is now the Hollywood Freeway and called it El Camino Real, 'The King's Highway,'" the archbishop added.
Serra was beatified by Pope John Paul II in 1988.
Like us on Facebook
Follow us on Twitter & Instagram