Pope Francis weighs in on Paris attacks, says there are limits to freedom of expression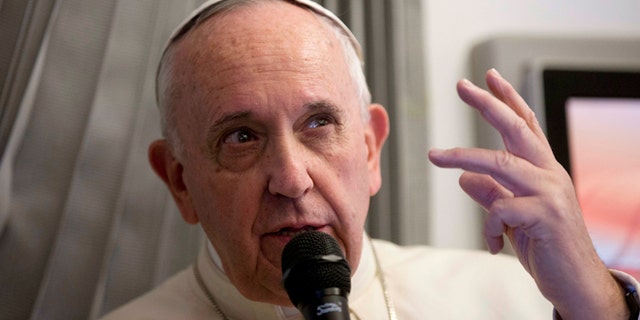 ABOARD THE PAPAL PLANE (AP) – Pope Francis says there are limits to freedom of expression, especially when it insults or ridicules someone's faith.
Francis spoke Thursday about the Paris attacks while en route to the Philippines. He defended freedom of expression as not only a fundamental human right but a duty to speak one's mind for the sake of the common good.
But he said there were limits.
By way of example, he referred to Alberto Gasparri, who organizes papal trips and was standing by his side. He said: "If my good friend Dr. Gasparri says a curse word against my mother, he can expect a punch. It's normal. It's normal. You cannot provoke. You cannot insult the faith of others. You cannot make fun of the faith of others."
Ecstatic crowds greeted Pope Francis when he arrived later on Thursday in the Philippines, Asia's most populous Catholic nation, for the first papal visit in 20 years.
Church bells tolled across the country and hundreds of children danced and waved small Philippine and Vatican flags as the pontiff emerged from the plane and was welcomed by well-wishers led by President Benigno Aquino III. A sudden gust of wind blew off his papal cap seconds after he appeared, and Francis grabbed futilely for it and then smiled and descended the stairs from the plane.
Young Filipinos in matching white T-shirts gave him a rousing, thumping hip-hop welcome that drew the flight attendants from the plane out onto the stairwell to watch.
On the tarmac, a boy and a girl from a house for street children handed flowers to the pope, who embraced them.
"I told him bienvenido (welcome in Spanish)," 9-year-old Lanie Ortillo said, adding the pontiff smiled and replied, "Yes, bienvenido."
Francis then boarded his white, open-sided popemobile and his motorcade began rolling along the 11-kilometer (6.8-mile) route to the Apostolic Nunciature in Manila, where he will stay.
Tens of thousands of people called his name and snapped pictures from behind concrete barriers topped by iron fencing and guarded by policemen along the entire stretch in a trip beamed live on TV nationwide. Francis constantly shifted from left to right, smiling and waving.
The government has declared national holidays during the pope's visit, which runs through Monday. He will be in the capital, Manila, and fly Saturday to eastern Leyte province, where he plans to meet survivors of Typhoon Haiyan that left thousands of people dead in 2013.
Cardinal Luis Antonio Tagle, archbishop of Manila, said he hopes the visit by Francis, the first Latin American head of the 1.2 billion-strong Roman Catholic Church, would be festive and spiritually uplifting and nurture compassion at a time when the country is still recovering from recent deadly disasters, including Haiyan.
"It's like a big, big, big, big national fiesta," a beaming Tagle said in an interview on the eve of the pope's arrival. The visit, he said, "comes at that point when people would really be helped by a moral and spiritual boost coming from someone who really cares."
Francis will meet on Friday with Aquino, who has waged a campaign against poverty, an issue close to the pope's heart, but has clashed with Catholic leaders over a reproductive health bill that promoted use of artificial birth control. Congress, which is dominated by Aquino's allies, passed the bill in 2012.
Meetings with Filipino families, Catholic Church leaders and the youth were also slated.
During his time in Sri Lanka, the pope traveled to the jungles of the war-torn north for a show of solidarity with the victims of the country's 25-year civil war, urging people to forgive one another "for all the evil which this land has known."
"It is very important to keep our country peaceful and have our religious strength become more and more after this visit," said Sumith Periera, an engineer who came to see the pope off.
The pope's trip has given Philippine authorities daunting security challenges, including an outdoor Mass in a historic Manila park on Sunday that officials say could draw a record 6 million people.
About 50,000 policemen and troops have been deployed to secure the pope in a country where relatively small numbers of al-Qaida-inspired militants remain a threat in the south despite more than a decade of U.S.-backed military offensives.
Spanish colonialists introduced Christianity in the 16th century and today just over 80 percent of the Philippines' 100 million people are Catholics, with other Christians making up about 12 percent. Muslims account for 5.6 percent, most of them in the south.
Like us on Facebook
Follow us on Twitter & Instagram