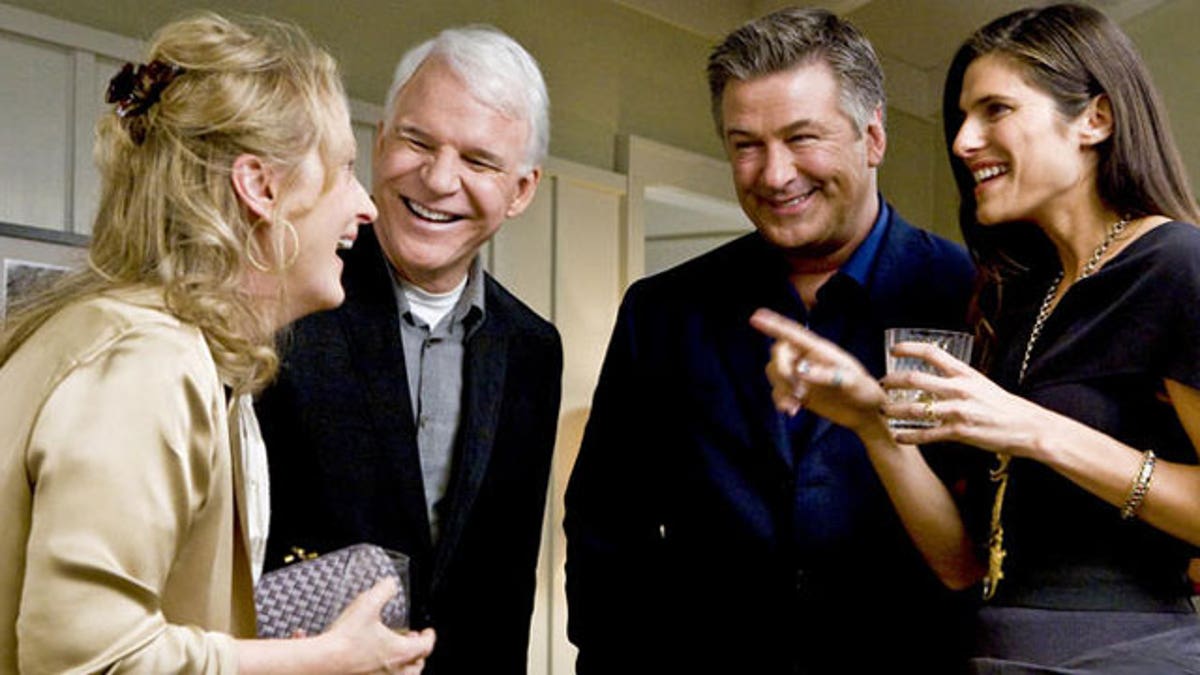 Didn't the 2010 Oscars watch the 2008 Emmys?
The Academy Awards are being co-hosted this year by "It's Complicated" co-stars Alec Baldwin and Steve Martin.
But history shows that multiple hosts can lead to multiple headaches.
Tom Bergeron, who hosts "Dancing With the Stars" all by himself, notoriously co-hosted the 2008 Emmy Awards with four other co-hosts: Heidi Klum, Howie Mandel, Jeff Probst and Ryan Seacrest.
It bombed.
Big time.
"We each had an opinion of what we should do on stage," Bergeron told FOX411.com. "No two approaches were alike. And I decided to scout the exits."
SLIDESHOW: 10 Worst Oscars Hosts of All Time.
But Academy of Motion Picture Arts and Sciences president Tom Sherak thinks the co-hosting idea is perfect for a telecast whose slogan is "expect the unexpected."
"You've got two very popular people playing off of each other," Sherak said. "Early on Steve said, 'I'm looking forward to doing this with my enemy,' and Alec said, 'I'm glad I'm doing this even though I don't know how to play a banjo.'"
"One of the things that's important about doing this show is you have to have fun with what you're doing," Sherak adds. It would be uncomfortable if they needed to get to know each other, but they don't."
Martin also has some previous experience on his resume. This will be his third shot as Oscar host (his other two were in 2003 and 2001), but first time sharing the stage. Baldwin is a newcomer to this particular hosting slot.
Both are skilled comedians, but not all funny people can share a stage. "With two hosts you can lose some of your focus," said Fandango.com editor Chuck Walton. "It may make it seem like a less formal atmosphere, with more of a Golden Globes feel."
Before his Emmys disaster, Bergeron had co-hosted an awards show with better results; in 2006 he shared duties with soaper Kelly Monaco at the Daytime Emmys. "If two people have already worked well together, it's probably fine," he says. "Five, however, is never a good number. Ask Zeppo Marx."
Oscar has used multiple hosts in the past, but not since the 1950s has it employed merely two. And after a few recent years of ups (Ellen Degeneres) and downs (Jon Stewart) with yakkers at the helm, producers seem to have settled into hiring actors to play the part of the jolly hosts. Last year, Hugh Jackman brought an almost over-the-top joy to his hosting duties.
"That is significant," said Walton of the hiring of actors. "There is a difference between having a movie star rather than a 'host.' They'll have to walk that fine line of being able to poke fun at the industry without being too critical. Ricky Gervais [who hosted this year's Golden Globes] might not work as host of the Oscars, but Steve Martin has."
Sherak remains upbeat about the experience. If it succeeds, great; if it flops, it's a learning experieince.
"If you do the same thing every single year, you start to feel tired," he says. "We are not in the business of feeling tired."
Bergeron certainly took home a useful lesson from his awards show disaster: "Like the last scene in 'Dr. Strangelove,' sometimes riding a bomb can be perversely entertaining."