'Avatar,' 'Hurt Locker' Lead Academy Award Nominations With Nine Each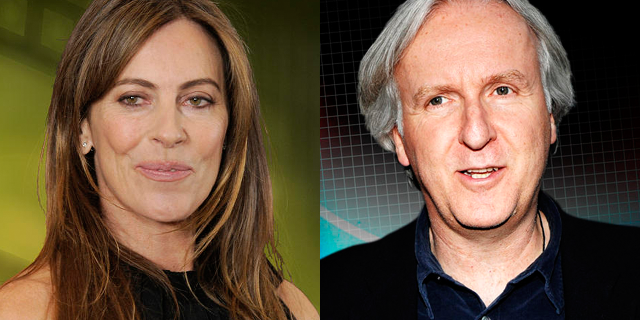 NEWYou can now listen to Fox News articles!
This could be one awkward Academy Awards show.
The Oscar nominations were announced Tuesday morning in Beverly Hills, California, and James Cameron's 'Avatar' and his ex-wife Kathryn Bigelow's 'The Hurt Locker' tied for the most nominations.
The ex-spouses' films will be going head-to-head in nine different categories, including Best Picture and Best Director.
SLIDESHOW: 2010 Nominees in All Major Categories.
That means on Oscar night at least nine live camera shots going from Cameron, to Bigelow, and back again. Not to mention any victory speeches each might have to give graciously acknowledging the other nominee.
At least they have some practice, as both films and directors have already taken home some of this year's top prizes.
Cameron's "Avatar" won best drama and director at the Golden Globes, while Bigelow's "The Hurt Locker" beat out Cameron at the Directors Guild of America Awards.
OPINION: Why 'Hurt Locker' Has Oscar Edge.
No woman has ever won the directing Oscar, and until Bigelow, no woman had ever won the Director's Guild honor.
Cameron and Bigelow were married from 1989-91. She was his third wife, he was her first (and only) husband.
Lee Daniels, who made "Precious," became only the second black filmmaker nominated for best director, after John Singleton for 1991's "Boyz N the Hood."
RELATED: Complete List of 2010 Academy Award Nominees.
Also nominated for best director are Jason Reitman for "Up in the Air" and Quentin Tarantino for "Inglourious Basterds." "Up in the Air" co-writer Reitman also had a nomination for adapted screenplay, while Tarantino also earned a nomination for original screenplay.
For the first time, the Oscars feature 10 best-picture contenders instead of the usual five.
Also nominated for best-picture Tuesday: "District 9"; the animated comedy "Up"; the World War II saga "Inglourious Basterds"; the football drama "The Blind Side"; the recession tale "Up in The Air," the 1960s drama "A Serious Man," and the teen tales "An Education," and "Precious."
Acting nominees include the four stars who have dominated early awards shows: Lead players Sandra Bullock for the football drama "The Blind Side" and Jeff Bridges for the country-music tale "Crazy Heart" and supporting performers Mo'Nique for "Precious" and Christoph Waltz for "Inglourious Basterds."
Longtime audience darling Bullock has never been nominated for an Oscar before but is considered the best-actress front-runner, playing a wealthy woman who takes in homeless teen Michael Oher, now a star with the Baltimore Ravens.
Bullock is up against past Oscar winners Meryl Streep as chef Julia Child in "Julie & Julia" and Helen Mirren as Leo Tolstoy's bullheaded wife in "The Last Station," along with first-time nominees Carey Mulligan as a British teen involved with an older man in "An Education" and Gabourey Sidibe as a Harlem teen overcoming horrible abuse and neglect in "Precious."
Sidibe made her screen debut in "Precious," earning an Oscar nomination for her first professional acting job.
Bridges, nominated four times previously without winning an Oscar, is viewed as the man to beat this time for his role as a boozy country singer trying to clean up his act in "Crazy Heart."
Also nominated for best actor are past Oscar winners George Clooney as a frequent-flyer junkie in "Up in the Air" and Morgan Freeman as South African leader Nelson Mandela in "Invictus," Colin Firth as a grieving gay academic in "A Single Man" and Jeremy Renner as a bomb disposal expert in Iran in "The Hurt Locker."
Mo'Nique and Waltz were nominated for wicked roles, she as a reprehensible welfare mother in "Precious," he as a gleefully garrulous Nazi in "Inglourious Basterds." They were breakout roles for both, Mo'Nique leaping into the awards elite after a career of mainly lowbrow comedy, Waltz making his first Hollywood splash after working mostly in European theater and television.
Also up for supporting actress are "Up in the Air" co-stars Vera Farmiga as Clooney's frequent-flyer soul mate and Anna Kendrick as his reluctant business protege. The other nominations went to past Oscar winner Penelope Cruz as a filmmaker's needy mistress in the musical "Nine" and Maggie Gyllenhaal as a single mom involved wit Bridges' character in "Crazy Heart."
Joining Waltz in the supporting-actor lineup are Matt Damon as a South African rugby player in "Invictus," Woody Harrelson as a military man giving bad news to next of kin in "The Messenger," Christopher Plummer as aging author Tolstoy in "The Last Station" and Stanley Tucci as a serial killer in "The Lovely Bones."
Freeman got the news of his nomination while in Rome.
"This is my fifth nomination and I'm more proud of that than all the rest of it I think," he said, also approving of the expansion of the best picture category although it did not include "Invictus."
"I think it's a good call, a good call, some good pictures. We didn't get a best picture nomination? Well that's a big letdown. Well there you go. That's my problem, I thought we should get a best picture nomination. But it's OK."
Blockbuster best-picture contenders usually translate to better ratings for the Oscar broadcast, whose TV audience peaked with Cameron's "Titanic" triumph 12 years ago. Ratings have been so-so ever since, hitting an all-time low two years ago.
Luckily for Oscar overseers, the show this time includes the biggest thing since "Titanic." Cameron's "Avatar" has soared past "Titanic" to become No. 1 on the box-office charts, with $2 billion and climbing worldwide.
"Up," a travel adventure about a lonely widower who flies his house off to South America suspended from helium balloons, is only the second animated film ever to earn a best-picture nomination, following "Beauty and the Beast" in 1991, when the category had only five contenders.
Along with best picture, "Up" was nominated for animated feature, along with "Coraline," "Fantastic Mr. Fox," "The Princess and the Frog" and "The Secret of Kells." Pixar Animation, which made "Up," has produced four of the eight winners since the animated-feature category was added in 2001, including "Finding Nemo" and "WALL-E."
Along with "Avatar" and "District 9," a third sci-fi hit, "Star Trek," had been considered a likely best-picture nominee, but it missed out, scoring only technical nominations, including visual effects and makeup.
Best-picture nominee "The Blind Side" was a huge hit but generally viewed as a longshot for a nomination in the top Oscar category.
Actors snubbed for acclaimed performances included Emily Blunt for "The Young Victoria," Julianne Moore for "A Single Man" and Diane Kruger for "Inglourious Basterds."
Oscar nominees are chosen in most categories by specific branches of the Academy of Motion Picture Arts and Sciences, such as actors, directors and writers. The academy's full membership of about 5,800 was eligible to vote for best-picture nominations and can cast ballots for the winners in all categories at the Oscar ceremony itself.
The 82nd Oscars will be presented March 7 in a ceremony airing on ABC from Hollywood's Kodak Theatre.
- The Associated Press contributed to this report.