Ted Danson says he and wife Mary Steenburgen are 'madly in love': 'I'm having the best time'
At age 71, Ted Danson is still head over heels in love with his wife of nearly 25 years, Mary Steenburgen.
"We wake up and celebrate literally every day," the actor recently gushed to Closer Weekly. "If we didn't, we'd be idiots because we're so lucky. We have great kids and grandkids, and we have each other. We're madly in love."
Danson credited his upbringing for inspiring him to have such a blissful union with the 66-year-old actress.
TED DANSON: 'IT FEELS LIKE HEAVEN ON EARTH'
"I consider myself a family man, partially because my parents did it so damn well," said Danson to Closer Weekly about his parents' nearly 40-year marriage.
During his early acting days, Danson was previously married to college sweetheart Randall Gosch from 1970 until 1975. According to the magazine, it's a relationship he still declines to discuss all these years later. In 1977 he married a second time to Casey Coates.
"It was love at first sight," the star said of his second wife.
MARY STEENBURGEN WOULD 'SIGN UP FOR 100 MORE LIFETIMES'
The pair endured a terrifying time when Coates nearly died from a stroke while giving birth to their daughter Kate Danson in 1979. Danson, who is also a father to daughter Alexis Danson with Coates, put his acting career on hold to care for his wife.
His career took off in the early '80s when he starred as bartender Sam Malone on "Cheers." The show aired from 1982 until 1993.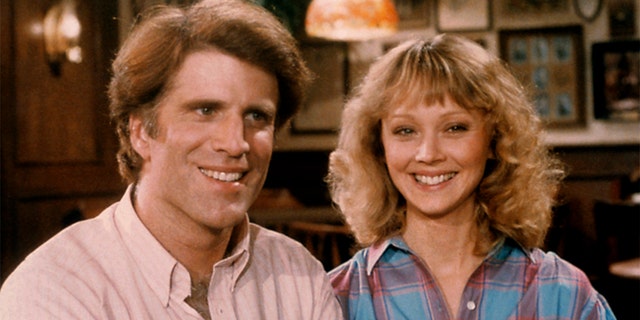 "I'm forever grateful — it was an amazing 11 years of my life," said Danson about appearing in the sitcom alongside Woody Harrelson, Kirstie Alley and Kelsey Grammer, among others.
"I walk around and people smile at me because they're remembering something funny that I was a part of on 'Cheers,'" he added.
KELSEY GRAMMER TALKS 'FRASIER'
But things would quickly take a nosedive for Danson. According to Closer Weekly, Danson's marriage to Coates "crumbled" after his affair with "Made in America" co-star Whoopi Goldberg went public. The scandal reportedly led to Coates and Danson's $30 million divorce in 1993 — one of the most expensive in Hollywood history.
Once the dust settled, Danson had no interest in remarrying again — until he met Steenburgen in the mid-'90s.
"We found each other when I was 45 and she was 40," Danson explained, adding the pair bonded over their past failed marriages. "We had lived a bit. Both of us stared down some demons within ourselves, and it was lucky that we met then."
Things have never been the same for Danson. The couple tied the knot in 1995.
"I'm still madly in love with Mary," said Danson. "She's a remarkable human being, so I'm just incredibly blessed. It feels like heaven on Earth."
Danson also insisted their children and grandchildren give the couple great joy. Steenburgen shares a son and daughter with actor Malcolm McDowell, to whom she was married from 1980 until 1990.
CLICK HERE TO GET THE FOX NEWS APP
"Mary says it's like eating ice cream with no consequences," said Danson about the couple spending time with their grandchildren. "It's brilliant. You don't have that adrenaline going through you. You're not multitasking and wondering, 'Can I have my place in the world?' It's delicious — you feel like an anthropologist. You get to look at them and go, 'Wow, look at that. They're thinking and talking!'"
Danson has kept busy pursuing acting — but for him, his family will always come first.
"I'm kind of a Pollyanna," he explained. "I'm having the best time. I have great kids and grandkids, and I'm married to the most beautiful, funny wife. It's really my bucket list to enjoy every second I have with these astonishing people around me. My life is brilliant, and I'm very grateful."
Back in 2017, Steenburgen told Closer Weekly she credited Danson for helping her overcome a dark past.
"My dad had a series of heart attacks when I was a little girl, and our world was shaped by these huge traumatic events," she explained at the time. "I spent my childhood waiting for my dad to die. From the age of 8, my response to that insanity was to bury myself in books, where if people died, they could get back up again."
She added that during tough times, she watched her future second husband on TV.
"I always thought Ted was brilliant," she said. "When I was going through sad times, I'd watch 'Cheers' at the end of the day to make me feel better. Then I discovered it was easier to just sleep with Sam the bartender."
Steenburgen insisted she's happier than ever with the "ridiculously talented" star.
The latest issue of Closer Weekly is currently on newsstands.