Judge Jeanine Pirro, Whoopi Goldberg dispute from 'The View' spills into second day
The ongoing feud between Fox News host Judge Jeanine Pirro and "The View" co-host Whoopi Goldberg spilled into its second day on Friday, with each telling her version of Pirro's headline-grabbing appearance on the ABC News talk show.
Pirro appeared on "The View" Thursday morning to promote her new book, "Liars, Leakers & Liberals," and the heated exchange occurred when the Fox News host accused Goldberg of suffering from "Trump Derangement Syndrome." A visibly angry Goldberg ended the segment by shouting, "Say goodbye. I'm done."
A verbal disagreement occurred off-camera following Pirro's appearance on the program.
Pirro has appeared on both "Hannity" and "Fox & Friends" to tell her side of the story, while Goldberg offered her rebuttal at the opening of Friday's episode of "The View."
Pirro called the backstage altercation "abuse." Goldberg has admitted to using profanity – while also accusing Pirro of using inappropriate language – during the intense exchange.
Pirro has denied doing anything to provoke the liberal panel before the chaos ensued – but Goldberg claims she was upset that CNN's Ana Navarro was a guest co-host, filling in for Joy Behar.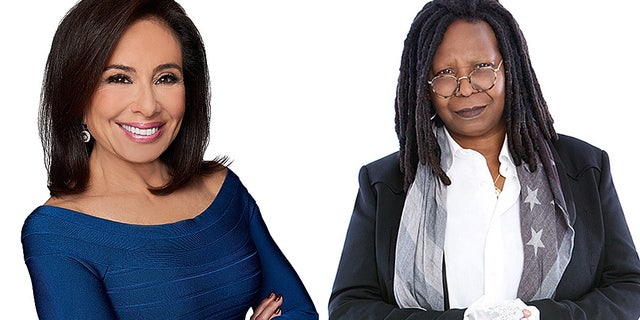 Pirro didn't deny that she was peeved over the swap – but blamed ABC News for a lack of transparency.
"'The View' was disingenuous in not telling us who was hosting," Pirro told Fox News. "They didn't tell anyone that one of the most rabid anti-Trump, anti-Fox people was going to be sitting next to me and interviewing me."
Pirro said during her "Fox & Friends" appearance that an ABC News producer called her after the incident. Fox News has confirmed that ABC News attempted to speak with Pirro to no avail.
"I haven't had a chance to return the call," Pirro said. "I've always liked you, Whoopi, and I don't understand where the anger comes from. I went to have a conversation and I wasn't allowed to have a conversation. I didn't deserve to be thrown out. We can't treat people like that."
ABC News declined comment.