Malcolm McDowell reflects on devilish role in 'American Satan', his raunchy film and big regret
Malcolm McDowell is really good at playing the bad guy.
The British actor has starred as a charismatic psychopath, a murderous Roman emperor and "the man who killed Captain Kirk" among his many villainous roles. So it's no surprise that for his next film, he's luring a wannabe rock band to the dark side, leading them down a path of fame, fortune and inevitably — destruction.
The 74-year-old told Fox News becoming a mastermind of mayhem has plenty of perks, especially for the upcoming thriller, titled "American Satan".
"We shot in the most iconic places on the Sunset Strip… all of these incredible clubs that are so iconic in American culture," said McDowell. "The same place where Linda Ronstadt sang with her band, which very soon became the Eagles. Where Janice Joplin was. Where John Lennon sat in the audience and I'm sure got up on the stage. I was really fascinated with all of that because I love that period and I love those songs. That music really did define my generation."
McDowell also boasted, "I was shown in the Rainbow Room the table where Joe DiMaggio took Marilyn Monroe on their first date. I sat in both chairs. You imagine those? It was really cool."
McDowell was also eager to take on something completely different for the big screen. "American Satan" features several young actors or "kids" as McDowell calls them, including John Bradley of "Game of Thrones" fame, as well as Andy Biersack, BooBoo Stewart, and Mark Boone Jr.
The film was directed by Ash Avildsen, the son of Academy Award-winning director John Avildsen, who is still celebrated for his work in "Rocky" and "The Karate Kid". McDowell was eager to collaborate with a new generation of talent from Hollywood.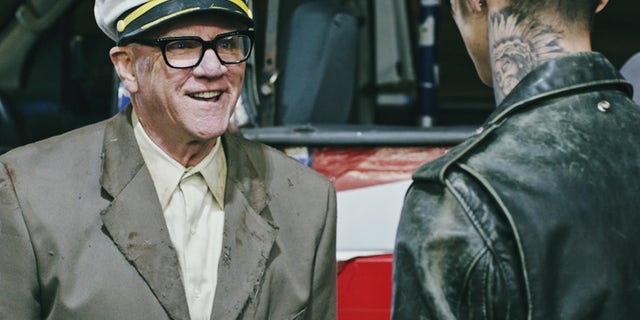 "It's fun to work with these young people in their early 20s," he explained. "That was the age when I first started doing movies. And so, I always liked to work with young actors and I thought it was an interesting premise about these rock singers, who were taken with the influence of the devil. It just sound sounded like a lot of fun… And I thought I could do something with the part."
McDowell is aware he still gets recognized for his most iconic character, that of Alex, a sadistic gang leader in 1971's "A Clockwork Orange". Still, nearly 50 years later, McDowell is grateful for the chance to take on one of Hollywood's most recognizable bad boys.
"… I have to say I'm more than thrilled that I did it all those years ago with a great director who was an amazing co-conspirator if you like," he explained. "It was great fun working with [director] Stanley [Kubrick], and I really loved him. We produced an incredible piece of work that's there for all time… It defines my career... which is fine! And listen, I'm very happy to have an iconic movie. It's a great piece of work. And I'm very proud of it. And it opened many doors for me."
While McDowell considered Kubrick to be a wonderful collaborator, their friendship would ultimately dissolve. McDowell wouldn't give specific details on what caused the relationship to crumble, but he admitted they never stayed in touch after an incident tore them apart. Kubrick died in 1999 at age 70.
"We fell out and I think this is something I regret," admitted McDowell. "My pride prevented me from picking up the phone and just saying, 'Hi Stan, how are you doing?' It was silly, really… I was really pissed with him, I thought what he did to me was really an injustice… I felt very injured by him and I was really annoyed for many, many years. But you know what? I made a mistake… And I had my wife begging me to call him, but I went, 'Nope, he can call me! Why can't he call? Why should it always be me?' But you know, that's so stupid. That kind of pig-headed… I admit it. I was wrong."
When Kubrick died in his home in England, McDowell didn't know how to cope with the news.
"The family then reached out," he said. "And I was very glad to go see them. "Christiane, his widow, took me to where he's buried in the back garden basically. And I burst into tears. And I realized, it all came out. The thing that I buried and stuffed inside me. And I realized what an idiot I've been… Unfortunately, I can't change it now, but at least I realized how stupid I was."
McDowell would later chuckle looking back at his other recognizable, more infamous film, 1979's "Caligula". The erotic drama was produced by Penthouse and was labeled "insanely pornographic" at the time of its release. McDowell suspects his son, film director Charlie McDowell, may have seen it at some point.
"He once came to me when he was 12 and said, 'Hey dad. I went to Blockbuster with my friends,'" recalled McDowell. "I said, 'Oh yeah?' And he goes, 'And you know dad, we ended up in the porno section.' I said, 'Oh, really?' And he goes, 'And dad, you're in the porno section!' And I went, 'Nooo! What did your friends think about that?' He said, 'Oh, they thought it was so cool!' I went, 'Yeah, it's pretty cool.' It is what it is."
These days, McDowell has zero plans to slow down. Instead, McDowell hopes he can continue to captivate audiences with new, intriguing stories.
"I just hope they're entertained," said McDowell. "Because at the end of the day, that's what it's about. Entertaining people. That's all we do. That's all we are — entertainers. If we can make people happy for a moment in their lives than we succeeded."
"American Satan" premieres Friday, October 13.