Sarah Hyland mocks Khloe Kardashian, Tristan Thompson's split over alleged cheating scandal
"Modern Family" star Sarah Hyland made her opinion on Tristan Thompson perfectly clear on Tuesday, when news broke that the Cleveland Cavaliers star allegedly cheated on girlfriend Khloe Kardashian with her sister Kylie Jenner's best friend Jordyn Woods over Valentine's Day weekend.
The 28-year-old actress praised Kardashian, 34, for appearing to finally split from the 27-year-old NBA player.
"Seems like Khloe is finally out of the Woods... that was too soon. I apologize," Hyland joked in a tweet, garnering thousands of likes.
WHO IS JORDYN WOODS, KYLIE JENNER'S MODEL BEST FRIEND? 3 THINGS TO KNOW
Hyland's pun received mixed reviews online — some added to the joke while others slammed the star for being a "bully."
"Wow, agreed. I winced when she was going to give it a shot. I do not understand how they get there!" one Twitter user replied.
"She should have known better than to try and trust him again NBA players are shady," another added.
"Bahaha I'm dead," a third joked.
But others weren't as thrilled by Hyland's commentary.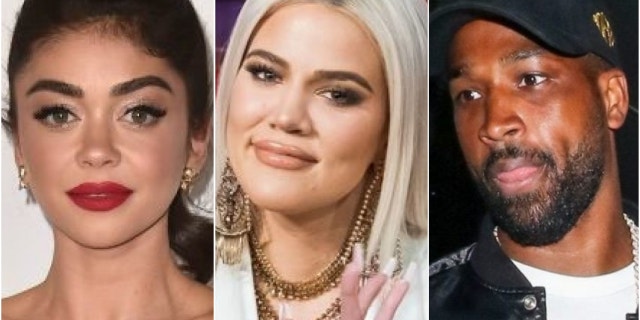 "This is NOT uplifting other women! You should be ashamed of yourself. I would hope something like this doesn't happen to you," one woman argued.
"Completely agree. She's preaching that online bullying is unacceptable and has had suicidal thoughts due to it. Then she does this? Hypocrite much? No need," another woman replied.
'MODERN FAMILY' STAR SARAH HYLAND SHARES SHOCKING PHOTO OF SWOLLEN FACE AFTER HOSPITALIZATION
"I know first hand what it's like to be hurt, and the pain and confusion that comes with it. Ever since I have felt that there must be something wrong with me, I deserve to hurt. I don't want anyone to feel like that. Let's send @khloekardashian our love, no one deserves hurt," one user added.
Woods was allegedly caught cheating with Thompson during a party at his Los Angeles home last week. Several entertainment sites confirmed this week that the pair, who had been dating publicly since 2016 and share a 10-month-old daughter, True, split because of Tristan's infidelity.
The NBA star was booed at games after news first broke that he cheated on a pregnant Kardashian last spring.
Photos of Thompson kissing a woman at PH-D Lounge in New York City were posted by The Daily Mail days before Kardashian gave birth. TMZ also shared video from October 2017 that appears to show the basketball star kissing a woman at a DC hookah lounge. The same video also seemingly showed Thompson touching and engaging with two other women. Kardashian was three months pregnant at the time.
Afterward, Kardashian defended her decision to stay with Thompson, telling a concerned fan in October 2018 that she has "no knowledge of what goes on in our household or the enormous rebuilding [it] takes to even coexist."
"I'm proud of my strength," she later tweeted.