Ryan Lochte eliminated from 'DWTS' while Laurie Hernandez continues to shine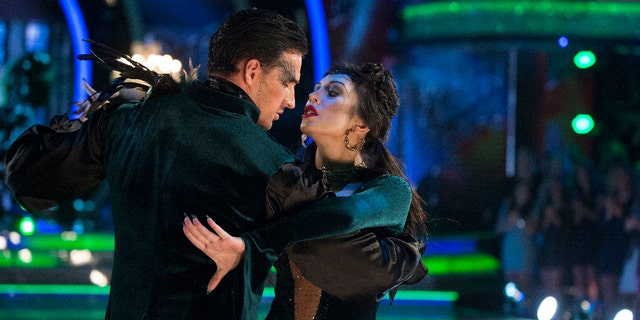 NEWYou can now listen to Fox News articles!
Ryan Lochte gave his final bow on "Dancing with the Stars."
The Olympic swimmer, who continued progressing on the show even after two protesters stormed the stage at the beginning of the season, was eliminated Monday night.
"I knew it was going to happen, eventually. The people, the friendships that I've made here -- we're pretty much a second family now. Now I'm saying goodbye, it's sad. I will be back in two weeks for the finale so I can't say all my goodbyes yet," Lochte told People magazine after the show. "I learned a lot about myself. No matter how hard people knock me down, I can still get up and keep fighting no matter what and keep moving forward and staying positive."
Lochte, with pro partner Cheryl Burke, showed much improvement when they tackled the tango Monday night. But it got mixed reviews from the judges. He earned a 23 out of 30 possible points.
After the show, the 12-time Olympic medalist, who is part Cuban on his mother's side, took to Instagram to commemorate his time on the dance competition. He praised Burke for everything she did to make him a dancer.
"We had a great run. Thank you for being so patient with me and teaching me how to dance. Ur truly amazing person and dancer. Our friendship will last forever. Thank you!!!" he captioned a funny photo of the pair.
Lochte is on a 10-month suspension after he was caught fabricating the details of an alleged robbery while he was in Rio de Janiero during the Summer Olympics.
In her own post, Burke said she was so happy the world got to see another side of Lochte that was overshadowed by his actions in Rio.
"I couldn't have asked for a better homecoming season. I'm glad that the audience got to know Ryan as I got to know him – a man who was looking for redemption, acceptance and growth. While he may not have been the best dancer in the competition, he definitely had the biggest heart. I will forever be grateful for having gotten to know @RyanLochte and his beautiful family," she wrote in a long post.
Surviving Monday night's elimination were fellow Olympian Laurie Hernandez, IndyCar Series racer James Hinchcliffe, actress Marilu Henner, reality TV star Terra Jole, former NFL wide receiver Calvin Johnson Jr. and singer and actress Jana Kramer.
Hernandez, 16, with a stunning Viennese Waltz inspired by "Charlie and the Chocolate Factory,"tied for the top score (30) with Hinchcliffe and Johnson.