Robby Krieger: The Doors are done rocking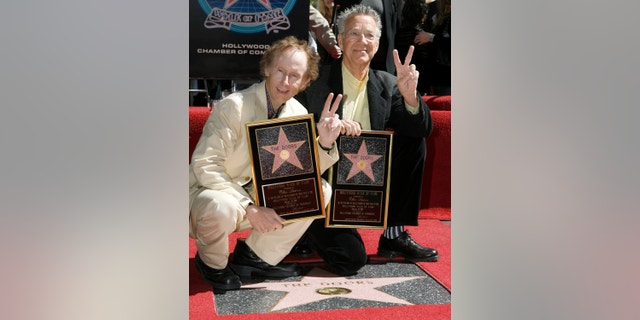 LOS ANGELES – It's been almost 50 years since the band The Doors formed in Los Angeles, but it seems the rockers have finally decided to call it quits.
"I doubt (we'll doing do anything) as The Doors. But we are talking about doing a tribute to Ray, some kind of a show. Something to say goodbye to Ray, maybe in he fall," founding member, guitarist Robby Krieger told FOX411 Pop Tarts column at an intimate Malibu gathering to celebrate the launch of the upcoming "108 Rock Stars Guitars" coffee table book by Lisa S. Johnson.
Manczarek died last month after a long battle with bile duct cancer, and of course original lead singer Jim Morrison died at 27 years old in 1971 - leaving just Krieger and drummer John Densmore.
But if he could go back to just one moment, one performance with the beloved band he knows exactly what occasion that would be.
"We did a show in England The Roundhouse, quite a good show. It was the first time we went to Europe," Krieger said of the 1968 tour. "It was us and Jefferson Airplane, they went on at about 2 a.m. and we went on at 4 a.m. Everyone was kind of sleeping in the audience."
But even at 67 with The Doors days seemingly behind him, Krieger --who wrote some of the band's best known songs including "Light My Fire" and "Love Me Two Times"-- isn't planning on retiring from the stage any time soon.
"I still get the same rush (performing) probably more now," he enthused. "I have a thing called Robby Krieger's Jam Kitchen and we're going to be going out in August."
And the fans haven't got any less crazy over the years either.
"I'm driving down the street and I'm stopped at a stop sign and some guy comes up and says 'hey, you're Robby Krieger... We have to take acid and die together,'" he recalled with a laugh. "I told him 'maybe next week, not right now.'"
Considered by Rolling Stone magazine to be one of the greatest guitarists of all time, Krieger said there's no magic formula when it comes to the difference between being very good and great.
"You have to have your own style. If your mother can recognize you on the radio, then you have your own style," he explained. "Either you have it, or you don't... I wasn't a good enough guitar player to copy anyone else so I had to develop my own... But I loved the blues guys. Muddy Waters and Robert Johnson."
The mild mannered musician joined photographer and author Lisa S. Johnson to celebrate her upcoming book, which offers fans an up-close look at the six-stringed guitars belonging everyone from Les Paul, Eric Clapton and Keith Richards, to Jimmy Page, Bruce Springsteen and Jack White.
But for Krieger, all the guitar talk brought back the memory of his very first...
"Well, it was a Mexican guitar. It cost $180 which was a lot for a Mexican guitar. Flamenco," he added. "My dad bought it for me, it was not cheap in those days."