Report: 'Home Alone' star Macaulay Culkin addicted to prescription drugs, heroin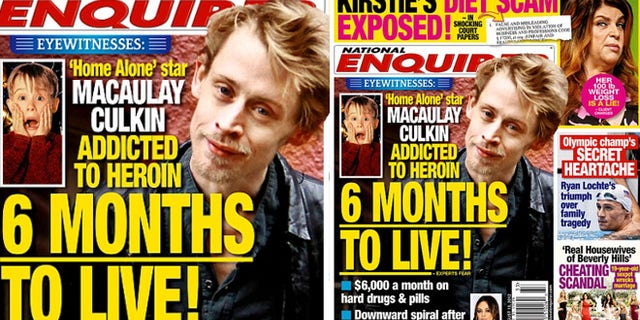 Macaulay Culkin, who has been photographed recently looking incredibly thin, has a serious drug problem, the National Enquirer reports.
The tabloid cites eyewitnesses who say Culkin, 31, has shot up with the prescription painkiller oxycodone and heroin, and once almost overdosed.
The Enquirer reports that Culkin spends up to $6,000 a month on prescription and illegal drugs, and that his New York City apartment is a drug den.
The actor's lawyers deny that Culkin almost overdosed, and that he spends thousands of dollars on drugs.
The tabloid cites his breakup with actress Mila Kunis, who is now dating her former 'That '70s Show' co-star Ashton Kutcher, as the impetus for Culkin's decline.
"He's been hooked for a year and a half, and his drug of choice is either heroin or oxycodone," the Enquirer quotes a source as saying. "Mac is surrounding himself with junkies and lowlifes. It's a real tragedy."
Another source listed even more drugs.
"He's addicted to heroin, oxycodone, Percocet and Vicodin," said the magazine's eyewitness. "I have witnessed his drug taking, which has escalated over the past year and a half to the point where he needs serious help."
Culkin was a child star of the popular "Home Alone" and its sequels, but has done little acting of late.