'Twilight' actress Christian Serratos says Kristen Stewart's affair won't affect the film, hopes its stars can patch things up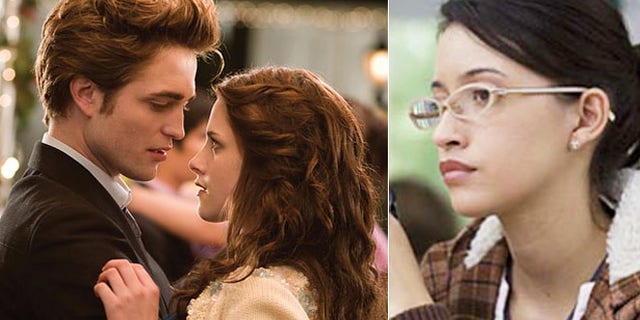 The flip was just about to be switched on the promotional machine behind the "Twilight" movies when the bombshell hit that one-half of its onscreen couple, Kristen Stewart, had cheated on the other, Robert Pattinson, in real life.
The final installment in the massively successful series -- the previous installment made $380 million alone -- is slated to open worldwide in November, which means Pattinson, Stewart and its other stars are scheduled to start promoting the series in September, which is now just a few short weeks away.
But at least one star, Christian Serratos, who has played a pal of Stewart's character Bella in all five of the "Twilight" films, says Stewart's admission that she slept with the director of her last film wouldn't mean a thing to "Twilight" fans.
"Of course people are fans of us now, but I think above anything, they're fans of these characters," she told Us Weekly on Tuesday. "I don't think anyone's really gonna give a s**t. They're gonna see the movie; it's going to be awesome."
Serratos said she's pulling for the stars to put this ugly scandal behind them.
"I support anyone who's in love," she said.
HOT SHOTS: Christian Serratos in Maxim.
Fallout from the Kristen Stewart/Rupert Sanders affair bombshell has indeed started to drift over Hollywood.
"Snow White and the Huntsman" star Charlize Theron is furious with both the film's director and co-star, RadarOnline.com reports.
"Charlize is absolutely fuming with Kristen for having an affair with Rupert," an insider told the website. "She is very tight with Liberty, has often socialized with the family over dinner, and cannot believe Kristin has done this."
Liberty Ross, Sanders' wife, also starred in the film as Kristen Stewart's (Snow White) mom.
Sanders and Ross have two young children.
The source said the cheating scandal puts Theron in an "difficult position."
That difficult position also has career ramifications, as there is a studio option for a sequel to the successful fantasy film, an option that may now not be exercised thanks to the scandal involving two if its stars and its director.
Meanwhile, Stewart's longtime boyfriend and "Twilight" co-star Robert Pattinson is said to have moved out of the home he shares with her, and is "heartbroken and humiliated" after her shocking admission that she slept with Sanders, according to People magazine, which reports Pattinson is now hold up at pal Reese Witherspoon's California ranch
After Us magazine obtained photos of her kissing Sanders, Stewart issued an apology.
"I am deeply sorry for the hurt and embarrassment I've caused to those close to me and everyone this has affected," Stewart, who has been dating her "Twilight" co-star Rob Pattinson for several years, said in a statement. "This momentary indiscretion has jeopardized the most important thing in my life, the person I love and respect the most, Rob. I love him, I love him, I'm so sorry."