WWE slams John Oliver for 'Last Week Tonight' segment on wrestlers' health, says he 'ignored the facts'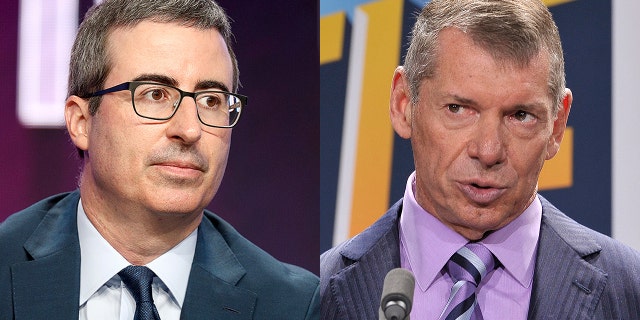 NEWYou can now listen to Fox News articles!
"Last Week Tonight" tackled the alleged disastrous health of WWE performers and alums, as well as the company talents' lack of health insurance.
"Wrestlers dying early is a troubling trend," host John Oliver said, citing a 2014 FiveThirtyEight study of wrestler death rates. Oliver placed the blame on WWE Chairman and CEO Vince McMahon and the contracts the company has with its talent.
"While the character Vince is an a—hole, it's important to know that the real Vince is also an a—hole," Oliver said. "Many fans legitimately hate him. While the WWE has made him a billionaire, many wrestlers say he's treated him terribly."
WWE AND PRESIDENT TRUMP: WHAT TO KNOW
Oliver pointed out that WWE wrestlers are considered independent contractors, despite being held in exclusive contracts to only perform for McMahon's company. He then played several accounts from former wrestlers denouncing the WWE and McMahon's treatment of their talent.
WWE LEGEND KING KONG BUNDY DEAD AT 61
"Vince McMahon has always had this mentality about treating wrestlers like circus animals," Bret "The Hitman" Hart, whose brother Owen died wrestling for WWE, said. "There are all these wrestlers who have broke their backs making this living for years, end up with nothing when it's over and then they sort of take you out back, put a slug in the back of your head and dump you out ... That's the life of a professional wrestler."
WWE LEGEND DYNAMITE KID DIES ON 60TH BIRTHDAY
Jesse Ventura told Howard Stern that he tried to unionize WWE wrestlers during his tenure with the company but that McMahon "stamped it out hard."
"How are they self-employed when you're signed exclusively? You can't work for nobody else," Ventura said. "They tell you when and where you'll work, they tell you who you'll work, they totally control your life, yet they call you an independent contractor. How has the government let them get away with that for 30, 40 years?"
CM Punk said on the "Art of Wrestling" podcast in November 2014 that he got a concussion and a WWE doctor "was leaning on me, going, 'Do you have a concussion or can you leave for Europe?' kind of thing." He also said that when he was vomiting and dry heaving before matches, WWE doctors gave him Z-Packs (antibiotic azithromycin), which led him to defecate himself during an episode of "Smackdown" in December 2013.
McMahon and the WWE reportedly do not provide health insurance for wrestlers outside of injuries that occur in the ring.
In a 2003 episode of HBO's "Real Sports," McMahon denied any responsibility for the untimely deaths of wrestlers who'd work for him, saying, "I would accept no responsibility whatsoever for their untimely deaths." He then made a face at the interviewer and slammed his papers.
Also in the episode, "Rowdy" Roddy Piper explained he went back to wrestling through his 40s and 50s because "there's no exit plan" and he couldn't make a living otherwise, saying he couldn't touch his pension plan until he was 65 and that he doubted he'd survive to 65. He was right: He died at 61 in 2015.
However, after Piper's death, the WWE said in a statement, "Unfortunately, some past performers were part of a generation of wrestlers who made unhealthy and poor personal lifestyle choices, which in some cases continued beyond their years in the ring."
Other medical experts surveyed concurred, blaming steroid use and substance abuse for the death rates of former professional wrestlers.
WWE STAR MATT CAPPOTELLI DEAD AT 38 AFTER BATTLE WITH CANCER
Oliver pointed out that in some wrestlers' contracts include clauses saying the company is released from liability if a performer suffers permanent injury or death, even if caused by the company's own negligence. The company also reserves the right to terminate a performer's employment if they suffer an injury that keeps them from performing for six weeks or longer. There are no off-seasons for wrestlers with which to recover as in other sports. The company does offer annual physicals for its talent, as well as cardiovascular and brain testing, as well as addiction treatment for former wrestlers.
WRESTLING LEGEND 'ROWDY' RODDY PIPER DEAD AT 61
He also blasted the WWE and McMahon for not funding retired performers.
"Even the NFL, for all its massive faults, now offers players health reimbursement accounts and has legitmate funding for older players who may be dealing with health issues," Oliver said. "When you have lost the moral high ground to the f—king NFL you are morally subterranean."
In 2016, several former WWE performers sued the organization over their alleged brain injuries suffered during their time in the ring. WWE denied responsibility for the alleged CTE suffered by the performers. A federal judge dismissed the case in 2018.
CLICK HERE TO GET THE FOX NEWS APP
A rep for WWE told Fox News in a statement, "John Oliver is clearly a clever and humorous entertainer, however the subject matter covered in his WWE segment is no laughing matter. Prior to airing, WWE responded to his producers refuting every point in his one-sided presentation. John Oliver simply ignored the facts."
"The health and wellness of our performers is the single most important aspect of our business, and we have a comprehensive, longstanding Talent Wellness program," the statement continued. "We invite John Oliver to attend WrestleMania this Sunday to learn more about our company."