Fox News' Ed Henry among winners of prestigious 2019 WHCA Journalism Awards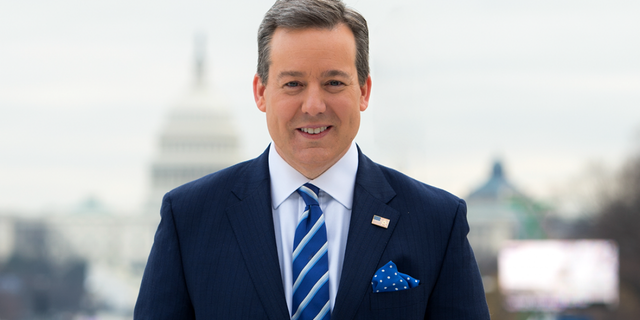 The White House Correspondents' Association has announced the winners for its 2019 journalism awards, and Fox News' Ed Henry was among the reporters to receive top honors.
Henry, who was recognized for his interview with Environmental Protection Agency Administrator Scott Pruitt last April, is set to receive the Merriman Smith Award for broadcast at the White House Correspondents' Dinner at the end of the month.
"EPA Administrator Scott Pruitt was already in trouble over ethical matters when he sat down for an interview with Fox News White House Correspondent Ed Henry," the judges said in an announcement on Tuesday. "If he thought he was going to get softball questions, he soon learned otherwise.
FOX NEWS DOMINATES SUNDAY, MONDAY COVERAGE OF MUELLER REPORT FINDINGS
"Henry, in the words of the Washington Post, lobbed question after question at Pruitt to ask him about big pay increases for cronies and a sweetheart deal for renting an apartment from a lobbyist," the announcement continued. "Pruitt struggled to answer and soon found himself out of a job. Henry was prepared, knew his facts and marshaled them for a penetrating interview, which made news, all under deadline pressure."
Along with Henry, the Merriman Smith Award for print went to Josh Dawsey of the Washington Post, while The Atlantic's McKay Coppins won the Aldo Beckman award, and the Edgar A. Poe award went to Joshua Schneyer, Michael Pell, Andrea Januta and Deborah Nelson of Reuters.
EPA'S SCOTT PRUITT PUSHES BACK ON PAY RAISE, CONDO CONTROVERSY IN FOX NEWS EXCLUSIVE
"Congratulations to these excellent journalists!" Olivier Knox, WHCA president and chief Washington correspondent for SiriusXM, said. "The WHCA looks forward to honoring them at our annual dinner, a celebration of the First Amendment and the importance of a free and independent news media to a healthy republic."
The WHCA represents the White House press corps in its dealings with the administration, as well as advocates for journalists' ability to report on the president and his staff.
The awards are set to be presented at the White House Correspondents' Dinner on Saturday, April 27 at the Washington Hilton.