Suspect in shooting of California deputies had 2003 arrest in Utah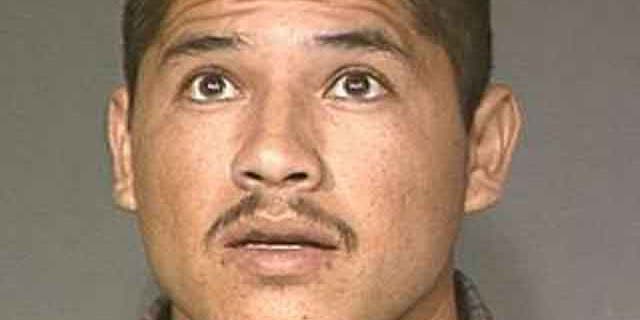 NEWYou can now listen to Fox News articles!
SACRAMENTO, Calif. – A man accused in a shooting rampage that left two sheriff's deputies dead in California had been arrested in Utah nearly 10 years ago, but authorities didn't connect him with his criminal past or his previous deportations.
Police in West Valley City, Utah, said they took a fingerprint from a man using the name Marcelo Marquez during a misdemeanor hit-and-run arrest in 2003.
However, Utah authorities say fingerprints from such suspects are not regularly entered into a database that would flag other arrests in the U.S. or deportations.
Marquez flew under the radar until he and his wife were arrested Friday after the deadly California shootings.
Immigration authorities say the fingerprints have been matched to biometric records showing the suspect's real name is Luis Enrique Monroy-Bracamonte, and he had been living in the U.S. illegally after being convicted in Arizona for selling drugs in 1997 and deported to Mexico twice.
He appeared to be living quietly with his wife in a suburb of Salt Lake City until his arrest in California. Investigators were trying to determine how he avoided scrutiny.
Monroy-Bracamonte and his wife, Janelle Marquez Monroy, 38, are accused of leading authorities on a six-hour chase that began after Sacramento County sheriff's Deputy Danny Oliver, 47, was shot in the forehead as he checked out a suspicious car in a motel parking lot.
Monroy's father said his daughter was trying to talk to Oliver in California before he was shot and killed.
The couple were arguing loudly in their parked car when they were approached by Oliver and his partner, Mauro Marquez told The Sacramento Bee in an interview in Spanish from his home in Phoenix.
Marquez said his daughter told him from her jail cell that she had wanted to leave Monroy-Bracamonte "because of the madness he had and drugs."
After Oliver was gunned down, a motorist who resisted surrendering his car keys was shot in the face. Two deputies who approached the couple on a road were shot with an AR-15-type assault weapon, police said.
Homicide Detective Michael David Davis Jr., 42, died at a hospital.
Monroy-Bracamonte was being held on suspicion of two counts of murder, two counts of attempted murder and two counts of carjacking. Monroy was being held on suspicion of attempted murder and carjacking. They were scheduled to make their court appearance Tuesday, and officials said they would announce formal charges. No attorneys were listed for either suspect in jail records.
Immigration officials say Monroy-Bracamonte was last deported in 2001 -- and that his fingerprints match those of the man held in the California rampage.
Two years after the deportation, court records show, Marcelo Marquez was arrested on April 21, 2003, in West Valley City for misdemeanor hit-and-run and making a false police report. He pleaded guilty, received a year of probation and was fined about $500.
Police spokeswoman Roxanne Vainuku said an index finger print of the suspect was taken and sent to state authorities.
In Utah, fingerprint data is entered into a biometric database for all suspects booked into jail. But for those who are cited and released, police take a print from a single finger that's kept in state criminal records.
But unless there's a request from an investigator, the print is not run against the biometric database to determine whether the person has a prior record outside Utah or is using an alias, said Alice Moffat, director of the Bureau of Criminal Identification.
"We get hundreds of those misdemeanor citations every day," she said.
Records show Marquez obtained a driving privilege card for persons without proof of legal immigration status in June 2011 -- the month before the state began requiring fingerprints for the cards. When the identification card expired the following year, he didn't renew it, said Utah Department of Public Safety spokesman Dwayne Baird.
Sacramento County sheriff's spokeswoman Sgt. Lisa Bowman said her department still has been unable to confirm information released by U.S. Immigration and Customs Enforcement that Marquez is really Monroy-Bracamonte.
"We understand Marquez has many aliases," Bowman said in an email, without confirming any alternate identities. "People do this every day with false birth records, false identifications, scams with Social Security numbers. It could have been a number of any of these but I cannot confirm at this time; it is part of this case investigation."
Investigators still have not been unable to unearth a motive for the shootings, nor why the couple was in Sacramento, Bowman said.