Supreme Court halts execution of Missouri inmate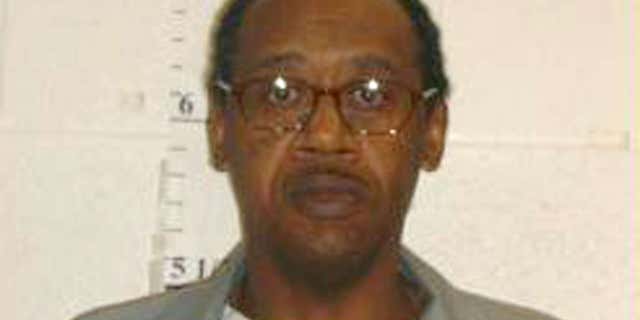 NEWYou can now listen to Fox News articles!
ST. LOUIS – The U.S. Supreme Court put on hold the execution of a Missouri man at the last minute, sending the case back to an appeals court for further review.
Death row inmate Ernest Lee Johnson, who was convicted of beating three people to death with a claw hammer, was scheduled to die at 6 p.m. Tuesday at the Missouri state prison in Bonne Terre. But the Supreme Court on Tuesday night granted a stay while the 8th U.S. Circuit Court of Appeals considers whether a complaint from Johnson was properly dismissed.
Johnson, 55, claims that the execution drug Missouri uses could cause painful seizures because he still has part of a benign tumor in his brain, and surgery to remove the rest of the tumor in 2008 forced the removal of up to 20 percent of his brain tissue.
It wasn't immediately clear how quickly the appeals court might rule, but Mike O'Connell, a spokesman for the Missouri Department of Corrections, sent media witnesses who had already gathered Tuesday night for the execution home.
"There is no indication of any kind that this is going to be resolved tomorrow," O'Connell added.
In Missouri, the state has 24 hours — in this case, until 6 p.m. Wednesday — to fulfill the execution warrant or the execution has to be rescheduled.
A second appeal, to the Missouri Supreme Court, claims Johnson's life should be spared because he is mentally disabled.
The Missouri Attorney General's Office says both claims are without merit.
Johnson was convicted of three counts of first-degree murder for killing 46-year-old Mary Bratcher, 57-year-old Mable Scruggs and 58-year-old Fred Jones during a closing-time robbery of a Casey's General Store in Columbia on Feb. 12, 1994. Johnson wanted money to buy drugs, authorities said.
All three workers were beaten to death with a claw hammer, but Bratcher was also stabbed at least 10 times with a screwdriver and Jones was shot in the face.
Johnson was arrested after police found a bank bag, stolen money and store receipts at Johnson's home.
Johnson grew up in a troubled home and his attorney, Jeremy Weis, said his IQ was measured at 63 while still in elementary school. Testing after his conviction measured the IQ at 67, still a level considered mentally disabled.
He was already on death row in 2001 when the U.S. Supreme Court ruled that executing the mentally disabled was unconstitutionally cruel and a new sentencing hearing was ordered. Johnson was again sentenced to death in 2003. The Missouri Supreme Court tossed that sentence, too, forcing another sentencing hearing. In 2006, Johnson was sentenced to death for a third time.
The brain tumor was removed in an operation in 2008. While benign, doctors could not remove the entire tumor. Weis said the combination of the remaining tumor and the fact that Johnson lost about one-fifth of his brain has left him prone to seizures and with difficulty walking.
Missouri's execution drug is a form of pentobarbital believed to be manufactured by a compounding pharmacy — the state won't say where it gets it. Weis cites a medical review by Dr. Joel Zivot, who examined MRI images of Johnson's brain and found "significant brain damage and defects that resulted from the tumor and the surgical procedure," according to court filings.
"Mr. Johnson faces a significant medical risk for a serious seizure as the direct result of the combination of the Missouri lethal injection protocol and Mr. Johnson's permanent and disabling neurologic disease," Zivot wrote.
Court filings by the Attorney General's office note that Missouri has carried out 18 "rapid and painless" executions since it went to the one-drug method in November 2013.
Other death row inmates have had mixed success in pursuing claims that medical conditions should preclude them from execution.
In May 2014, the U.S. Supreme Court stopped the execution of Missouri inmate Russell Bucklew, who claimed the execution drug could cause suffering due to a rare congenital condition that causes weakened and malformed blood vessels as well as tumors in his nose and throat. The case was sent back to U.S. District Court but remains unresolved.
In March, Cecil Clayton claimed a sawmill accident that damaged his brain in the 1970s should prohibit execution. The courts disagreed, and Clayton, 74, was put to death.