Saint Bernard gets on porcupine's bad side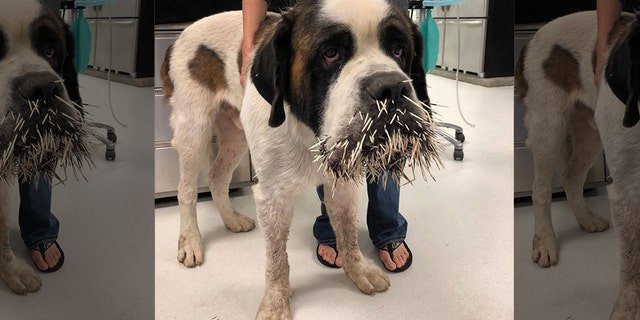 A dog in New York who recently came face-to-face with a defensive porcupine was surrendered to a local animal rescue so he could receive treatment.
Ruckus, a Saint Bernard, experienced the encounter in September, and the Humane Society of Greater Rochester said it "wasn't his first run-in with a porcupine."
DOG IN OKLAHOMA PRETENDS TO BE STRAY TO GET FREE MCDONALD'S HAMBURGERS, OWNER SAYS
In photos posted online, "poor Ruckus" was spotted with porcupine quills covering his face, jowls and nose — even deep inside his mouth.
The Fairport farm said Ruckus underwent the necessary treatment to remove the quills, and even found a new home following the ordeal.
Porcupines, according to National Geographic, are the "prickliest of rodents" with a single animal having around 30,000 quills or more. Porcupines use their quills as a defense mechanism and while they don't shoot them off their bodies, the quills "do detach easily when touched."
Ruckus "left the shelter and headed to his new home" on Oct. 16, the farm said. "We are so happy for Ruckus, and hope that he never crosses the path of a porcupine again."