Navy Captain Ignored Lewd Conduct in Blue Angels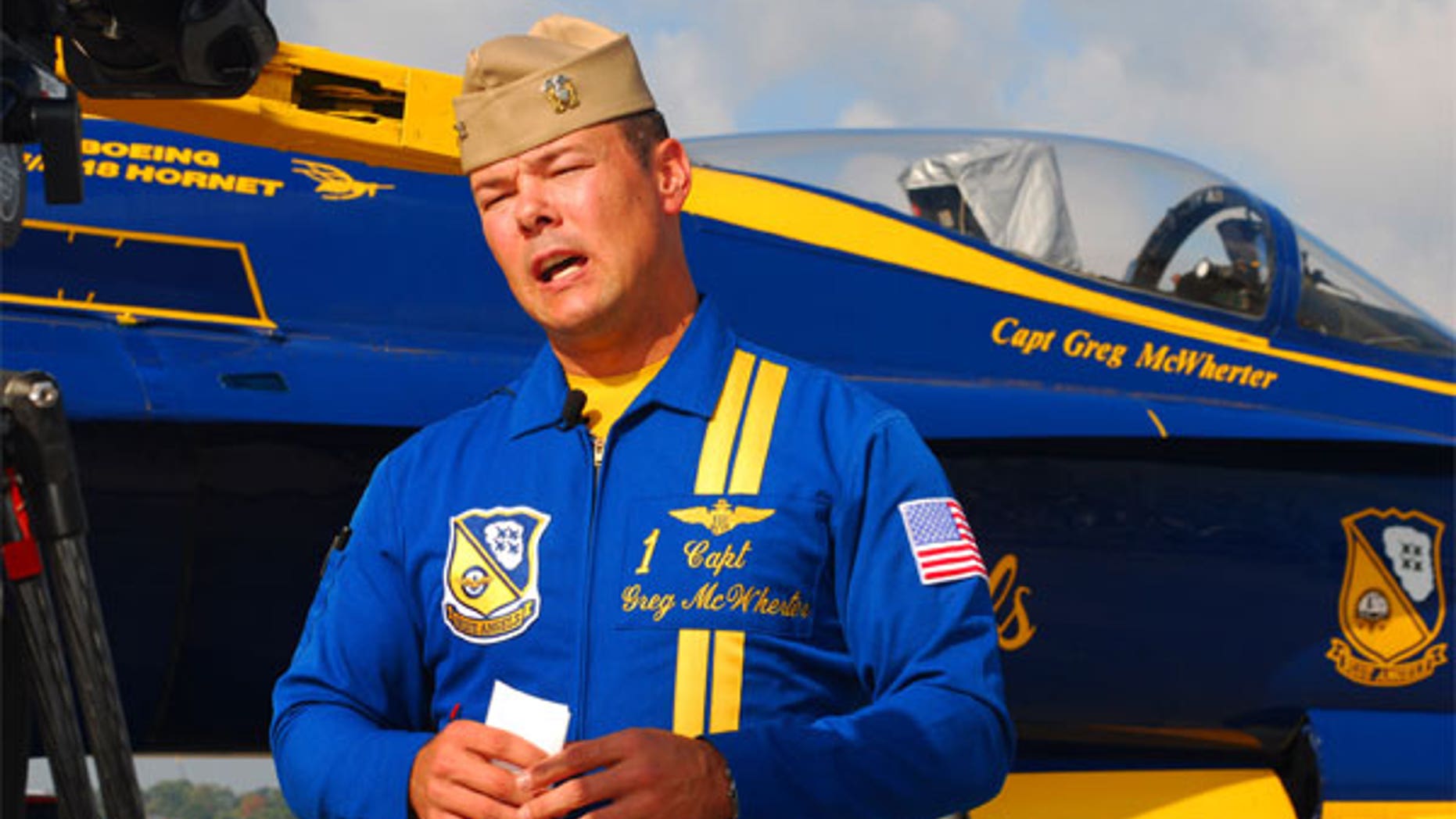 The U.S. Navy has found the former commander of the Blue Angels guilty on charges such as conduct unbecoming an officer by condoning a climate of sexual harassment, and lewd behavior in the prestigious flight demonstration squadron, according to a U.S. Pacific Fleet investigation.
The investigation concluded that Capt. Gregory McWherter "witnessed, condoned, and encouraged behavior that, while juvenile and sophomoric in the beginning, ultimately and in the aggregate, became destructive, toxic, and hostile," a June 3 Navy press release stated.
McWherter was given non-judicial punishment in the form of a punitive letter of reprimand for failure to obey an order or regulation and conduct unbecoming of an officer "by fostering a hostile command climate, failing to stop obvious and repeated instances of sexual harassment, condoning widespread lewd practices within the squadron, and engaging in inappropriate and unprofessional discussions with his junior officers."
The punishment will likely lead to the end of McWherter's once promising career.
The decision of the June 2 Admirals Mast proceeding comes as all the services are struggling to shed an image that commanders tolerate sexual assault in the ranks.
The investigation found that McWherter allowed his officers and senior enlisted personnel to engage in inappropriate and sexually harassing behavior that resulted in an unprofessional command climate during his second tour as the Blue Angels commanding officer from May 2011 to November 2012, according to the release.
"Capt. McWherter failed to maintain appropriate good order and discipline in his unit," said Adm. Harry Harris Jr., commander of the U.S. Pacific Fleet, in the release.
During McWherter's command, a "large blue and gold penis was painted on the roof of the center point trailer at the Blue Angels' winter training facilities in El Centro," according to the investigation. The blue and gold penis was visible from satellite imagery on Google Maps and existed through the end of the 2012 airshow season.
The penis is no longer visible on Google Maps, the investigation states.
The investigation found that McWherter had a successful tour as the Blue Angels commanding officer from 2008 to 2010, but discipline began to slip.
Prior to 2011, members of McWherter's command participated in hazing activities the included wearing "foam penis hats and mechanical dog humping hats" to create distractions for the person reciting speeches, according to the investigation.
There was also a complainant of alleged gender discrimination within the Blue Angels, the investigation states.
"Specifically, the complainant alleged hearing comments that 'there would never be a female Blue Angels pilot,' or that there are no female Blue Angels pilots because 'women only want to have babies,'" the investigation states. The complaint further alleged that the officers would joke and laugh about not having a female Blue Angels pilot.
Harris ordered the investigation after a service member filed an official complaint with the Navy on March 24.
"Commanding officers have an enduring obligation to maintain a proper work environment at all times and in all places and spaces; and they will be held accountable as appropriate when they fail," Harris noted in his final endorsement of the investigation. "Navy leaders must treat all personnel fairly, with dignity, and with respect. Everyone is entitled to work in an environment free of unlawful behavior and offensive material."
McWherter still enjoys a fair amount of support despite the investigations findings. A "Support Boss Greg McWherter" Facebook page has garnered 4,839 likes so far.
Based on the initial findings of the investigation, McWherter was relieved of his duties as executive officer of Naval Base Coronado, Calif., on April 18, and reassigned temporarily to the staff of Commander, Naval Air Force Pacific in San Diego. As a "fleet-up" position, McWherter was scheduled to become the Naval Base Coronado commanding officer in April 2015.
Several junior personnel assigned to the Blue Angels during McWherter's second command tour received formal written counseling for their roles in participating in the improper behavior during that time frame, the Navy release states. McWherter was held ultimately responsible and accountable for the actions of these junior personnel while he was in command.
"Our Navy has very high standards of conduct for all of our personnel," said Vice Adm. David Buss, commander of Naval Air Force Pacific in the Navy press release. "The totally inappropriate command environment fostered by Capt. McWherter was so unacceptable that it should have been clear to each member of the team that standards of personal decency and respect were violated. I will not accept the encouragement of such behavior on the part of a leader entrusted with the responsibility of command."
-- Matthew Cox can be reached at matthew.cox@monster.com