Mexico Beach still a debris-filled mess four months after Hurricane Michael
MEXICO BEACH, Fla. – Nearly five months after Hurricane Michael ravaged Mexico Beach, economic setbacks have made recovery increasingly difficult for residents trying to rebuild their homes, and their lives.
Michael made landfall in the sleepy coastal community just east of Panama City as a strong Category 4 storm, killing 75 people and leaving damage across 80 miles and 11 counties. It made history as the worst hurricane to ever strike the Florida Panhandle.
Mexico Beach was perhaps the hardest-hit city. The storm obliterated 80 percent of the town, leaving just 500 of 2,700 homes still standing in the community of just over 1,000 full-time residents. That number swells to well over 10,000 during the spring and summer months.
"…Some of the 500 are just shells of homes, they'll eventually have to be torn down," Mexico Beach Mayor Al Cathey said, recalling the vast devastation he saw after the storm.
Cathey decided to stay behind and wait out the storm from his home.
HURRICANE MICHAEL: CHILDREN FACE STRESS OF UPENDED LIVES
"I've lived here for 66 years and I had a hard time remembering where I was…the landmarks were gone," he said.
After his business of 45 years, the only hardware store in town, fell victim to Michael, he re-opened nearby with what was spared from the storm—one of less than 10 businesses back up and running in the once-picturesque community.
He said his usual inventory with a wide selection of coolers, umbrellas and beach chairs, among other items, has now shifted to just about anything you would find in a contractor's toolbelt because of the sudden change in customer base.
Non-profits from across the country sent contractors and construction workers to aid in the recovery effort. Many of them have been staying in Mexico Beach since Michael hit on October 10.
"It's sort of a makeshift operation but it's better than not having any place to go," Cathey said.
The devastation left by Michael stripped the community of thousands of jobs that once ran the town's tourism-driven economy. The National Weather Service estimates over $30 billion in losses after the storm in the Sunshine State alone.
MONTHS AFTER HURRICANE MICHAEL, FARMERS STILL TRYING TO RECOVER FROM BILLIONS IN CROP DAMAGE
Mexico Beach is still in the debris-removal phase, costing the cash-strapped community, which has a roughly $4 million budget, over $50 million so far.
"There are places in town where we don't have sewer or water back up simply because until the debris is removed, we can't go in to assess the damage," Cathey said.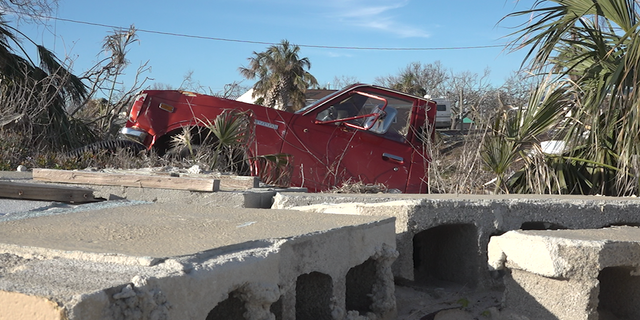 The town is still littered with downed trees, concrete blocks and broken road signs, narrowing U.S. Highway 98, the region's main thoroughfare, to one lane at points.
Tattered roofs are covered in blue tarps, and the lack of street signs leave visitors aimlessly driving from street to street, only able to navigate with the use of a cell phone's GPS map application.
Donations to the area stalled and media coverage began fading after natural disasters plagued other states soon after, leading some residents of the "Forgotten Coast" fearing the area is living up to its name.
"The longer it goes, it gets emotional...nothing looks the same…we don't have anything. You can't get gas, you can't shop, you can't do anything," said Mexico Beach Resident Martha Lee.
The St. Joe Company, the largest private landowner and a major developer in Bay County, wants to help rebuild the town with an ambitious agenda that includes fast-tracking on plans to break ground on a 200-acre retail and residential village in Mexico Beach within the next year—step one in restoring paradise along the Panhandle.
"We are committed to building commercial, residential communities to help the region come back and create jobs and stimulate the economy…we're hoping to cater to the businesses that were in Mexico Beach so that they have facilities again," said President and CEO Jorge Gonzalez.
Cathey said because of the housing shortage in the area and the limited number of builders, "it's going to take every bit of two years to see some seeds start to sprout here in terms of taking shape for a new town...it's a marathon we're in and we haven't even run a mile."
CLICK HERE TO GET THE FOX NEWS APP
"This is our home, this is where we live, where we work, where we raise our families," said Gonzalez. "We're going to be here for the long haul and we feel very optimistic that region is going to come back stronger and better."
Mexico Beach recently received over $2 million from the Federal Emergency Management Agency (FEMA), the first government in Bay County to get any reimbursement money from the agency in the months since the disaster. The state fast-tracked some funding for the town.
Officials have already submitted a second FEMA request for about $9 million in reimbursement for debris cleanup.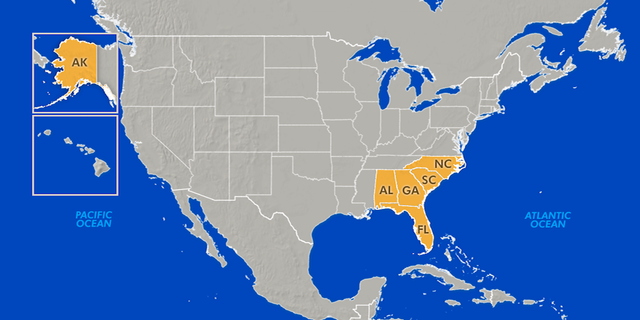 A bipartisan group of senators, including Florida's Republican Senators Marco Rubio and Rick Scott, introduced a nearly $14 billion relief package Tuesday for regions affected by recent natural disasters, such as Hurricanes Michael and Florence, the California wildfires and Puerto Rico's continued recovery after Hurricane Maria. The package has support from President Trump, who is encouraging Congress to pass the legislation.