Hurricane Michael targets north Florida as 'monstrous' storm gains strength
An intensifying Hurricane Michael gained strength over warm tropical waters on Tuesday, as residents across Florida's northern Gulf Coast are boarding homes and preparing to evacuate ahead of the dangerous storm that could bring "historic" storm surge, according to officials.
The National Hurricane Center said in its 11 a.m. ET advisory that Michael has sustained winds of 110 mph, located about 335 miles south of Apalachicola and 360 miles south of Panama City, Fla. The hurricane is now a powerful Category 2 storm, which has "extremely dangerous winds" that can cause significant damage to roofs and siding on well-constructed frame homes, according to the NHC.
"Hurricane Michael is intensifying and is threatening the Northeastern Gulf Wednesday as a major hurricane," Fox News Senior Meteorologist Janice Dean said Tuesday. "The system is likely to strike the Florida Panhandle as a Cat 3 hurricane with dangerous, potentially catastrophic storm surge, destructive winds and flooding rain."
Dean said that above-average sea temperatures and calm upper-level winds are allowing for "favorable" conditions for rapid intensification. The NHC said that data from NOAA and Air Force Reserve Hurricane Hunter aircraft indicate that Michael is still strengthening.
The National Hurricane Center said that hurricane-force winds extend up to 35 miles from the center of the storm, while tropical-storm-force winds extend up to 195 miles.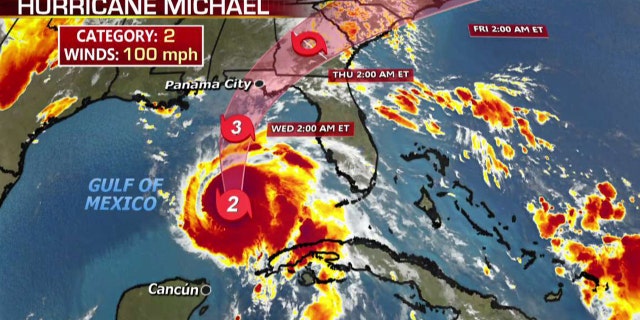 Michael targeted the U.S. after battering western Cuba with "hurricane-force winds and heavy rainfall." The storm is now causing heavy rain and strong winds for the Florida Keys, and conditions are expected to quickly deteriorate Tuesday night along the Gulf Coast.
"Landfall is most likely to occur somewhere between the Florida Panhandle and the Big Bend of Florida Wednesday into Wednesday night," Dean said. "This depends on the forward movement of the storm and how quickly it turns Northeast."
HURRICANE MICHAEL DERAILS FLORIDA CAMPAIGNS WEEKS BEFORE MIDTERM ELECTIONS
Florida Gov. Rick Scott issued a state of emergency on Sunday to 35 counties, and mandatory evacuations were ordered for residents of the state's barrier islands, mobile homes and low-lying coastal areas in Gulf, Wakulla and Bay counties. The governor said the storm could be the "most destructive storm to hit the Florida panhandle in decades."
"Hurricane Michael is a massive storm that could bring total devastation to parts of our state," Scott said.
He urged residents to wrap up their final storm preparations during a press conference on Tuesday, calling Michael a "monstrous storm" with great destructive potential. He also waived tolls in a move to help coastal dwellers leave, adding that his was really concerned about storm surge that could be between 8 to 12 feet.
"The storm surge could be historic," he said at a news conference.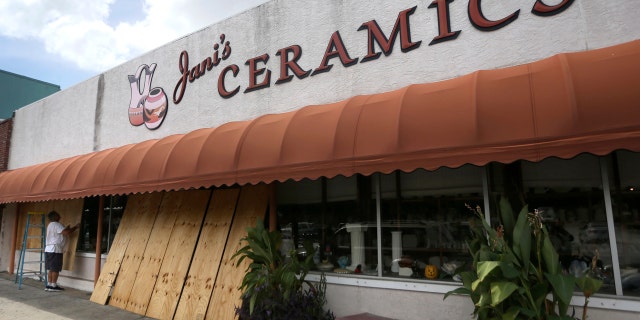 Scott also warned caregivers at north Florida hospitals and nursing homes to take care of their patients, after 14 people were killed last year when a South Florida nursing home lost power and air conditioning during Hurricane Irma.
"If you're responsible for a patient, you're responsible for the patient. Take care of them," he said.
FEMA associate director Jeffrey Byard said during a news conference on Tuesday that the rapidly intensifying storm "presents a challenge," and that residents in affected areas need to be ready now for Michael's arrival.
"With this one you have limited time, which causes you to act more and act more decisively," he told reporters.
In Florida's Big Bend area, where the storm is expected to make landfall on Wednesday, some areas could see up to 12 feet of storm surge, according to forecasters. Michael is also expected to hit the Panhandle that day, with the potential to dump up to a foot of rain in the area.
In Pensacola Beach, residents took advantage of free sandbags that were being handed out ahead of Michael's arrival.
"I have flooding in my yard every time there's a tropical disturbance from all the stormwater," Susie Knight told WEAR-TV. "You know, it's a real issue in our county."
The U.S. military was moving its aircraft from the Panhandle on Monday. An Air Force spokesperson told Fox News that roughly 50 F-22 stealth fighter jets — valued around $150 million each — have been relocated from the Tyndall Air Force Base, while the U.S. Navy said it is moving all its training aircraft from Pensacola.
Residents on the Florida panhandle were reminded rescue teams would not be able to reach them during or immediately after the hurricane hits,
"If you decide to stay in your home and a tree falls on your house or the storm surge catches you and you're now calling for help, there's no one that can respond to help you," Escambia County Sheriff David Morgan said at a news conference.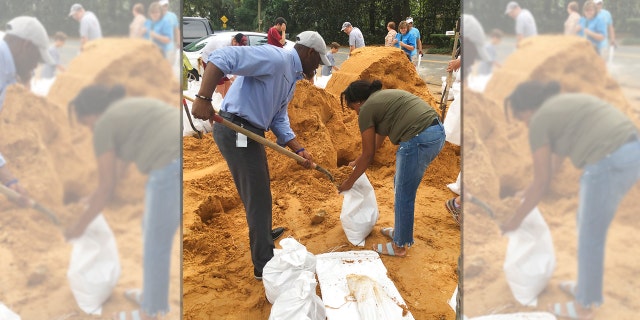 More than 2,000 residents in the small Panhandle city of Apalachicola were making filling sandbags, stocking up on groceries and boarding up homes for what Mayor Van Johnson Sr. described as a hurricane with "significant impact."
"We're looking at a significant storm with significant impact, possibly greater than I've seen in my 59 years of life," Johnson said.
Similar preparations were underway in Tallahassee, Fl., as residents quickly turned a large mound of sand into a small pile.
"Today it is about life and safety," Tallahassee Mayor, and Florida's Democratic nominee for governor, Andrew Gillum said. "There's nothing between us and this storm but warm water and I think that's what terrifies us about the potential impacts."
In Alabama, Gov. Kay Ivey on Monday declared a state of emergency for the entire state as the storm pushes its way toward the southern U.S.
"Alabama is once again in the path of a hurricane, but I know Alabamians will once again come together and be prepared for whatever Michael may bring," Ivey stated.
The governor noted that while state officials are prepared for the storm, she said "now is the time for residents in south Alabama to review your emergency preparedness plans and also get prepared" — warning that those in Michael's path "will need to take shelter by [Tuesday] evening."
Michael is expected to bring between 4 to 8 inches of rain for the Florida Panhandle, southeastern Alabama, and South Carolina causing "life-threatening" flash-flooding in some areas.
Heavy rain is also going to affect parts of the Carolinas that are still recovering from Hurricane Florence, according to Dean.
"The good news is this storm unlike Florence will move relatively quickly, but these areas could still see tropical storm impacts," she said Tuesday.
Fox News' Lucas Tomlinson, Nicole Darrah and The Associated Press contributed to this report.