Kim Jong Un not a madman, but a 'very rational actor,' CIA official says
A top CIA official said North Korean leader Kim Jong Un was not the "madman" President Trump thinks he is, but a "very rational actor" who wants to rule for a long time without the chaos of war.
Yong Suk Lee, the deputy assistant director of CIA's Korea Mission Center, said Wednesday that the hermit kingdom's leader was not the war hawk he has been portrayed as, The Washington Times reported.
"The last person who wants conflict on the [Korean Peninsula] is Kim Jong Un," Lee said.
Lee made his comments during the CIA Ethos and Profession of Intelligence conference at George Washington University in Washington, D.C.
The CIA Korea Mission Center was a newly created agency that handles the bolstered nuclear and missile threats from the rogue nation.
'CALM BEFORE THE STORM': TRUMP REMARK SPARKS FOREIGN POLICY SPECULATION
Lee said Kim, 35, "wants what all authoritarian rulers want … to rule for a very long time and die peacefully in his own bed."
"We have a tendency in this country and everywhere else to kind of underestimate the conservatism that runs in these authoritarian regimes, and it's probably the greatest circuit-breaker in any kind of conflict," Lee said.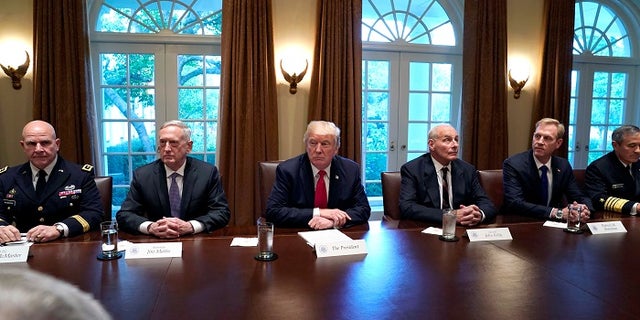 The CIA official added "all bluster and rhetoric aside," Kim "has no interest in going toe-to-toe" with the U.S.
"[Kim Jong Un's] long-term goal is very clear, [and] it's been clear for the history of the Kim family regime, to come to some kind of big-power agreement with the United States and remove U.S. forces from the peninsula," Lee told the crowd.
Trump and Kim have, though, been engaged in a war of words by hurling nicknames at each other. Trump has called Kim "little rocket man" and warned the U.S. would respond to the hermit kingdom with "fire and fury like the world has never seen" in response to the country's multiple missile tests.
NORTH KOREA 'DECODERS' OFFER WARNINGS ABOUT ROGUE NATION'S NUCLEAR PROGRAM
Kim has called Trump "deranged" and a "dotard" in response to the threats.
On Thursday, Trump said it was "the calm before the storm" as he met with senior military leaders amid increasing tensions with the isolated nation. Trump did not immediately clarify what he meant but, at the meeting, Trump pledged the U.S. would not allow the North Korean leader's "dictatorship to threaten our nation our allies with unimaginable loss of life."
He also pledged to "do what we must to prevent that from happening and it will be done, if necessary. Believe me."