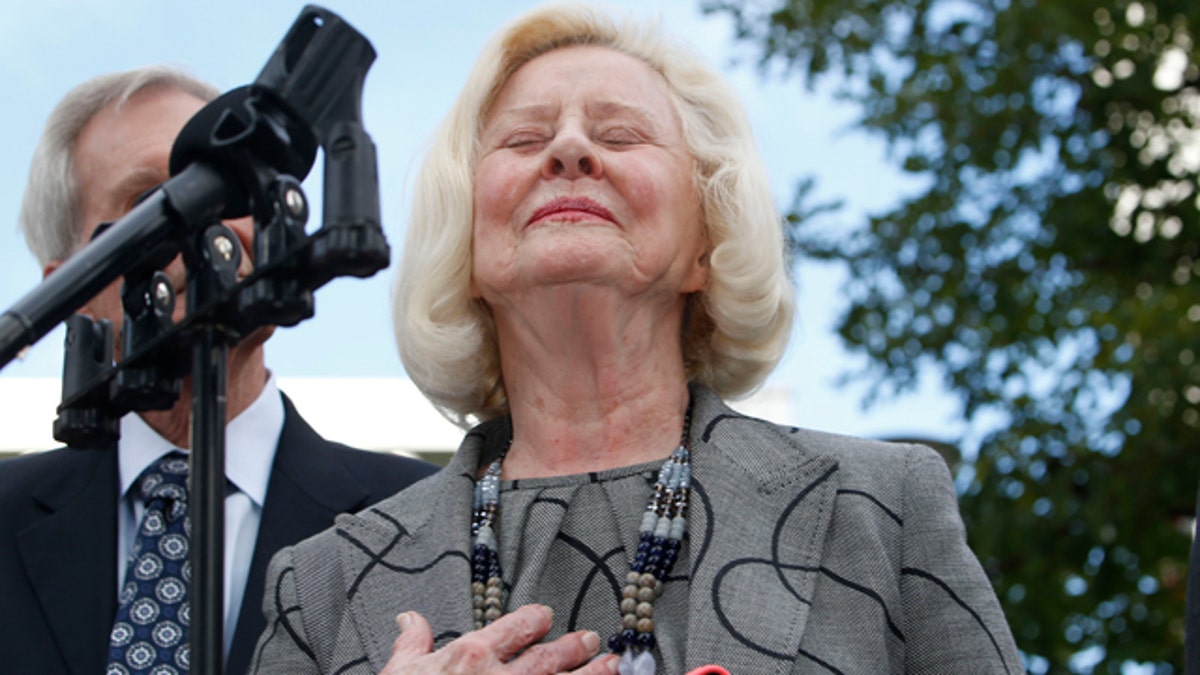 DENVER – A federal jury on Monday convicted a man of murder for pushing his wife to her death off a cliff as they hiked in Colorado's Rocky Mountain National Park to celebrate their wedding anniversary, rejecting his claim that her fall was a tragic accident.
It took the jury about 10 hours to find Harold Henthorn, 59, guilty of first-degree murder in the death of his second wife, a wealthy Mississippi native. She died after plummeting about 130 feet off a cliff in a remote, rocky area where the couple had been hiking on Sept. 29, 2012, their 12th wedding anniversary.
Henthorn told investigators that his wife paused to take a photo of the view and fell face-first over the ledge. His attorney, Craig Truman, said prosecutors failed to prove he killed her.
Prosecutors argued during a two-week trial that Henthorn carefully staged Toni Henthorn's death to look like an accident because he stood to benefit from her $4.7 million in life insurance policies, which she didn't know existed. They seized on Henthorn's inconsistent accounts of the fatal fall and said the evidence did not match his shifting stories.
Henthorn shook his head when the judge polled the jury, and after the verdict was read, one of the jurors hugged Toni Henthorn's mother, Yvonne Bertolet.
"That was very meaningful," Bertolet said. "Believe it or not I forgive him (Henthorn) for doing it. I feel for him and his family."
After the jury was dismissed, applause erupted in the courtroom.
"We are overjoyed with the verdict and relieved this won't happen to any other lady," said Barry Bertolet, Toni Henthorn's brother. "We don't have to worry anymore."
Harold Henthorn, who faces a mandatory life term when he is sentenced Dec. 8, scouted the remote area of the popular park 75 miles north of Denver nine times before bringing his wife with him. He was searching for the "perfect place to murder someone," where there would be no witnesses and no chance of her surviving, prosecutor Suneeta Hazra said.
Toni Henthorn, 50, wasn't an avid hiker, so it didn't make sense that she would have gone willingly into such dangerous terrain, investigators testified. A coroner said he could not determine whether she fell or was pushed, but he said he found no evidence that Harold Henthorn actually performed CPR on his wife, despite what he told dispatchers.
And park rangers said Henthorn could not explain why he had a park map with an "X" drawn at the spot where his wife fell.
Two jurors told The Associated Press that though some of the evidence was circumstantial, they were overwhelmingly convinced of Henthorn's guilt. Only one juror needed more time to analyze the evidence before making her decision, they said.
Juror Kim Thiessen said it was the scope of the evidence, rather than just one piece, that secured her guilty verdict.
"Some of it was circumstantial, but we were instructed to use our common sense," she said.
Another juror, Marxy Zahn, told the AP the direct evidence supported the circumstantial evidence.
Prosecutors argued the fatal fall was reminiscent of the death of Henthorn's first wife, Sandra Lynn Henthorn, who was crushed when a car slipped off a jack while they were changing a flat tire in 1995 -- several months after their 12th wedding anniversary. Henthorn has not been charged in that case, but police reopened the investigation after his second wife's death.
Details of the earlier case dominated the trial. A paramedic who responded to the 1995 accident testified that Henthorn didn't seem upset by what had happened, and an investigator said a shoe print found on the vehicle suggested it might have been pushed.
Though the investigation into Sandra Lynn Henthorn's death was initially closed after a week, Truman argued that the probe had been thorough and the case only received new scrutiny after Henthorn was charged with murder. The first wife's death was an accident, he said, as was a 2011 incident in which a 20-foot beam fell on Toni Henthorn while the couple was working at their mountain cabin. It hit her in the head and fractured her vertebra.
Toni Henthorn was a successful ophthalmologist from Jackson, Mississippi, who also earned money from her family's thriving oil business.
Harold Henthorn told her he was an entrepreneur and persuaded her to move with him to the Denver suburb of Highlands Ranch. They had a daughter, now 10.
Prosecutors said Harold Henthorn made phony business cards to make it seem like he was a hard-working fundraiser for churches and nonprofits, but investigators found no evidence that he had any income from regular employment.