Judge dismisses lawsuits against Kim Davis over marriage licenses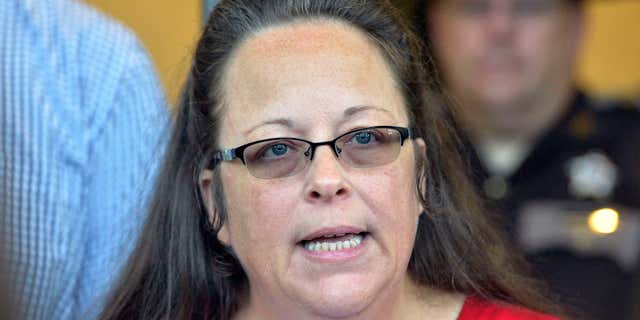 A federal judge has thrown out three lawsuits against the Kentucky county clerk who went to jail for refusing to issue marriage licenses to same-sex couples, according to reports.
Two gay couples and two straight couples had sued Rowan County Clerk Kim Davis last year over her refusal to issue any marriage licenses following a landmark ruling from the Supreme Court giving same-sex marriage couples the legal right to marry. The ACLU of Kentucky represented some of the couples.
U.S. District Court Judge David Bunning dismissed the lawsuits Thursday and wrote in his orders that there was no longer any issue for the court to decide, the Lexington Herald Leader reported Friday.
According to the paper, Bunning noted that a new state law has removed the names of county clerks from marriage licenses. And a Rowan County deputy clerk now issues marriage licenses.
"In light of these proceedings, and in view of the fact that the marriage licenses continue to be issued without incident, there no longer remains a case or controversy before the court," Bunning wrote.
Davis spent five days in jail for refusing a judge's order to issue the licenses.
Her attorney Mat Staver declared victory, calling Bunning's ruling a win for everyone who wants to remain true to their religious beliefs.
"As we've said in the past, the true victory is that all loving Kentucky couples can obtain marriage licenses without fear of discrimination," an ACLU spokeswoman told the Louisville Courier-Journal.
The Associated Press contributed to this report.