Jayme Closs, Wisconsin teen missing since October, found alive: A timeline of events
The mysterious disappearance of Wisconsin teen Jayme Closs, who went missing after her parents were brutally murdered inside their Barron home, had plagued investigators for months. News about the 13-year-old continued to spread since the gruesome discovery Oct. 15 — with authorities tirelessly combing the country for any signs of the girl.
On Jan. 10, Closs was found alive. The 13-year-old was located in Gordon by the Barron County Sheriff's Department around 4:45 p.m., the department confirmed in a Facebook post. Shortly after, a suspect connected to Jayme's disappearance was taken into custody.
"We do not any other details at this time as this is a very fluid and active investigation," the department added.
JAYME CLOSS, WISCONSIN TEEN MISSING SINCE OCTOBER, FOUND ALIVE, SUSPECT IN CUSTODY, SHERIFF SAYS
Jayme was ruled out as a suspect in the slaying of her parents, Denise, 46, and James Closs, 56, Barron County Sheriff Chris Fitzgerald confirmed months prior. The sheriff urged people across the country to be on high alert, as the young girl was believed to be in danger.
"I'm telling you: Jayme is missing and endangered," Fitzgerald previously said, adding investigators believe the teen was home at the time of the murders.
Here's what you need to know about the timeline of events surrounding Jayme's disappearance and the investigation into her parents' grisly murder.
May 24
Jake Patterson, the 21-year-old man who pleaded guilty in March to one count of kidnapping and two counts of intentional homicide for kidnapping Jayme and killing her parents, was sentenced to life in prison on May 24.
Patterson was sentenced to life in prison without the possibility for release on each homicide count and 25 years in prison on the kidnapping count. The sentences will be served consecutively. Those were the maximum sentences the judge could impose. Wisconsin does not have the death penalty.
Jayme, who did not appear in court, said in a statement read by her guardian that Patterson "thought that he could own me, but he's wrong. I was smarter." She said she wanted to see Patterson "locked up forever."
Jan. 14
Prosecutors formally charged Patterson of Gordon with two counts of intentional homicide and one count each of kidnapping and armed burglary. A judge set bail at $5 million cash.
A criminal complaint says Patterson saw Jayme get on a school bus one day while he was en route to work, decided he would take her and then kept her trapped in his remote cabin until she escaped.
"The defendant stated he had no idea who she was nor did he know who lived at the house or how many people lived at the house. The defendant stated, when he saw [Jayme], he knew that was the girl he was going to take," the complaint stated. Patterson also allegedly said he "put quite a bit of thought" into the kidnapping.
Jan. 11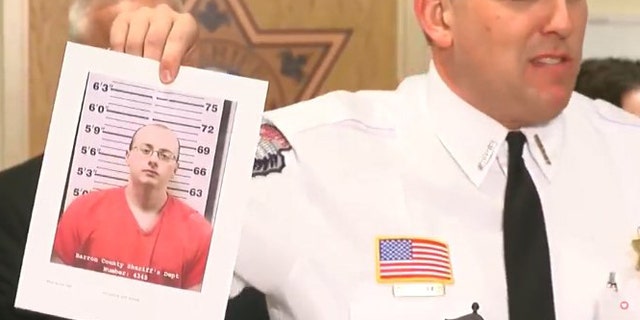 Police identified Patterson as the suspect in Jayme's disappearance. A criminal complaint charging Patterson with two counts of homicide and one count of kidnapping is "expected to be filed next week," the District Attorney's Office said, according to the Star Tribune. He was arrested Jan. 10 on homicide and kidnapping charges.
"[He] planned his actions and took many steps to hide his identity," Fitzgerald said of the suspect.
Investigators said during a news conference that Jayme escaped from a cabin in the town of Gordon where Patterson was allegedly holding her and approached a woman walking her dog. That woman alerted a nearby neighbor, who called 911.
Jan. 10
Jayme was located in Douglas County alive on Jan. 10, though authorities wouldn't elaborate on her condition. A suspect was taken into custody but no other information was released at that time.
It's unclear how exactly police were able to find Jayme, though Fox 9 reported a tip via telephone helped lead them to her.
"I heard she escaped and found a woman walking with a dog and asked for help and that's all I know," Sue Allard, Jayme's aunt, told Fox 9.
Oct. 22
Authorities are now asking for 2,000 volunteers to aid in the search for Jayme by foot, searching areas around her home for possible clues.
Fitzgerald told The Associated Press "something triggered" the decision to conduct another ground search, though he didn't provide any further explanation.
In an evening news conference, Fitzgerald told people to be on the lookout for "two vehicles of interest." Investigators believe a red or orange Dodge Challenger made between the years 2008 and 2014 might be linked to the incident. Another vehicle — either a Black Ford Edge, made between 2006 and 2010, or a Black Acura MDX made between 2004 to 2010 — is also of interest.
Jayme's classmates are hosting a vigil for her at the Barron High School football stadium from 6 to 8 p.m.
Oct. 21
Authorities "have received over 1,200 tips, and of those, we have thoroughly investigated over 1,000," Fitzgerald said in a release, in which he encouraged people to keep submitting information related to the case.
Oct. 20
Fitzgerald said authorities have fielded received more than 1,000 tips and more than 800 are being looked into.
"We are using every resource available, and have conducted hundreds of interviews, multiple searches, and are using the technical and forensic expertise of our state and federal resources to locate the person or persons who committed this offense and to locate Jayme," he told the public in a news release.
Oct. 19
Jayme was added to the FBI's kidnapping and missing person's list.
Jayme's relatives told CBS News on Oct. 19 the front door of the family's home "was shot in," though they didn't provide any more details about the scene.
The Barron County Sheriff's Department on Oct. 19 released new 911 logs, which appear to indicate Denise's cell phone placed the 911 call and that James Closs answered the door and was the first to be shot to death.
"ADVISED ONE MALE DOWN, MULTIPLE ROUNDS SPENT. REQUESTED THAT ADMIN BE NOTIFIED," the logs read around 1:04 a.m.
"ADVISED THE DOOR HAS BEEN KICKED IN. ADVISED THAT THE MALE WHO IS DOWN HAD ANSWERED THE DOOR. UNKNOWN IF ANYONE IS MISSING, the logs read at 1:05 a.m.
Police arrived shortly after, finding both Denise and James dead.
"ADVISED TWO SUBJECTS DOWN," the logs read at 1:08 a.m.
The 911 dispatcher also reportedly said they heard "a lot of yelling" during the call. Police have not yet recovered a gun.
Oct. 18
The Barron County Sheriff's office asked for 100 volunteers to help authorities "in conducting a routine search for articles of evidentiary value" that could provide clues into Jayme's disappearance.
"Volunteers need to present a valid form of photo identification and be able to walk on uneven terrain. Proper footwear (hard soled shoes) and clothing are required. Volunteers are asked to provide their own water," the sheriff's office said.
Later that day, the office posted an update.
"We thank the volunteers for their efforts, as the search efforts are still underway," a release said. "As of the time of this release, nothing of evidentiary value has been recovered."
The same release said the sheriff's office had received 800 tips since Oct. 15.
Oct. 17
Fitzgerald said the 13-year-old girl was home when her parents were shot, and autopsies confirmed James and Denise Closs were ruled homicides.
"We want to bring Jayme home and put that smile back in her family's hands," said Fitzgerald, who added investigators don't know whether the attack was random or targeted.
The sheriff called a meeting later that night with Barron County residents, though he barred reporters from attending, saying he wanted to have a private dialogue with the people who elected him.
Oct. 16
Authorities released updated pictures of Jayme asking anyone with information to call 855-744-3879.
A possible sighting of Jayme at a gas station in Miami, Florida that emerged on Oct. 15 was dismissed by Fitzgerald as "not credible."
Fitzgerald said he doesn't believe the young girl, who was last seen at a family gathering for her cousin's birthday on Oct. 13, ran away from home, though he didn't specify why.
Oct. 15
The Barron County Sheriff's Department received a 911 call from an unknown person at 12:58 a.m. from a home in Barron but the caller didn't communicate with police. Noises heard in the background suggested there was a disturbance or struggle of some kind. The 911 call, which is being analyzed, lasted 45 seconds to a minute, sources told FOX9.
Police rushed to the home and discovered two deceased adults with gunshot wounds, though a gun was not found at the scene. The couple's 13-year-old daughter wasn't home at the time and was later declared missing.
"At the end of the day, I want a 13-year-old here safe and sound. That's our goal. That's our only goal right now," Fitzgerald said, emphasizing Jayme was not considered a suspect in the murder case.
In an Amber Alert, Jayme was described as 13 years old, 5 feet tall, 100 pounds with green eyes and strawberry-blonde hair.
Deputies searched the area around the family's home with drones and infrared equipment, but they didn't find any clues as to her whereabouts. Officers also spoke with friends and staff at Jayme's middle school, hoping to develop some leads.
"Anyone with information about her possible whereabouts or anyone that has contact with Jayme is asked to contact the Barron County Sheriff's Department at 715-537-3106 immediately," the sheriff's office posted on Facebook, along with a photo of the young girl.
At 6 p.m., officials identified the victims as Denise and James Closs.
Miami police later said a witness reported seeing a girl fitting Jayme's description in a black Ford Explorer with two well-dressed, bearded men at a gas station in the afternoon. The Barron County Sheriff's department didn't comment on the validity of the report at the time.
Fox News' Katherine Lam, Nicole Darrah, Kathleen Joyce and The Associated Press contributed to this report.