FOX NEWS FIRST: Trump wants White House official behind NY Times op-ed ID'd; DOJ targets conservative censorship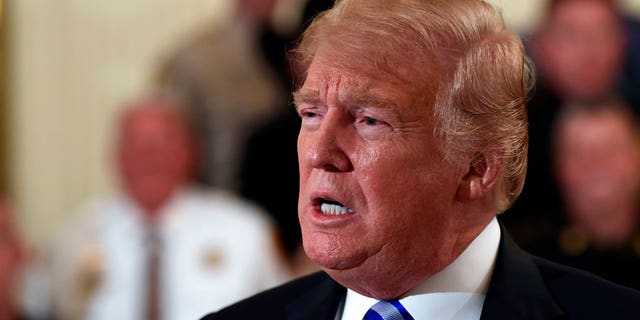 Welcome to FOX News First. Not signed up yet? Click here.
Developing now, Thursday, Sept. 6, 2018
President Trump demands that the 'gutless' author of an anonymous New York Times op-ed article be revealed. The newspaper claims the writer was a "senior administration official" inside the White House.
Supreme Court nominee Brett Kavanaugh faced a second day of grilling on Capitol Hill, with Democratic senators questioning him on topics ranging from the Mueller investigation, to his alleged ties to the president's inner circle, to racial profiling.
The Justice Department announced it will investigate whether social media giants are intentionally censoring conservatives as Facebook and Twitter executives defended their practices in hearings on Capitol Hill on Wednesday.
Kim Jong Un reaffirmed his commitment to denuclearization and expressed faith that President Trump could settle stalled nuclear talks between the North Korea and the U.S., state media reported.
Hurricane Florence has been upgraded to a Category 4 storm and could cause life-threatening conditions in Bermuda by the end of this week, forecasters warn.
THE LEAD STORY - 'THE RESISTANCE' WITHIN TRUMP'S RANKS: The New York Times on Wednesday published an explosive opinion piece that the paper says was written by an anonymous senior White House official who described a "two-track presidency" in which top officials were "working diligently from within to frustrate parts of [President Trump's] agenda and his worst inclinations" ... The piece quickly triggered anger from inside the White House, as President Trump called it "gutless," and press secretary Sarah Sanders demanded the unnamed author "resign."
In the piece, titled "I Am Part of the Resistance Inside the Trump Administration," the author wrote that the alleged actions by White House officials were not part of "the popular 'resistance' of the left." Trump responded by questioning whether the anonymous senior White House official even existed, tweeting: "Does the so-called 'Senior Administration Official' really exist, or is it just the Failing New York Times with another phony source? If the GUTLESS anonymous person does indeed exist, the Times must, for National Security purposes, turn him/her over to government at once!"
By late Wednesday night, Trump lamented in a tweet that he was "draining the Swamp" but the "Swamp was trying to fight back." However, the president vowed, "We will win."
COMBATIVE EXCHANGES AT KAVANAUGH HEARING: The second day of Supreme Court nominee Brett Kavanaugh's confirmation hearings boiled over into a series of tense exchanges late in the evening Wednesday, as high-profile Democrats lined up to hammer the appellate judge with thinly veiled accusations that he was hiding ties to President Trump's inner circle and harbored sympathies for racist policies ... In an especially combative moment late in the day, Sen. Kamala Harris, D-Calif., pointedly asked Kavanaugh whether he ever had discussed Special Counsel Robert Mueller or his Russia probe with anyone at Kasowitz Benson Torres, the law firm founded by Marc Kasowitz, a former personal attorney to President Trump.
In another dramatic exchange, Sen. Cory Booker, D-N.J., implied Kavanaugh had been open to racial profiling tactics, citing an email exchange between Kavanaugh and a colleague. However, Booker did not provide Kavanaugh a copy of the emails to review while questioning him about it, prompting an objection from Sen. Mike Lee, who charged that it was inappropriate to "cross-examine" Kavanaugh about documents that he "can't see."
Testimony in Kavanaugh's Senate confirmation is scheduled to resume at 9:30 a.m. ET Thursday.
SOCIAL MEDIA 'STIFLING' TARGETED: The Justice Department on Wednesday announced Attorney General Jeff Sessions will convene a meeting with state attorneys general this month to discuss long-standing concerns by conservatives that social media platforms like Facebook and Twitter are "stifling the free exchange of ideas on their platforms" ... The announcement came after a Senate Intelligence Committee hearing involving top officials from Facebook and Twitter, and ahead of a House Energy and Commerce Committee hearing on alleged bias and lack of transparency, where Twitter CEO Jack Dorsey testified.
There was no date set for the meeting. And it was not immediately clear how many attorneys general would attend the meeting.
NEW HOPE FOR A NUKE-FREE NORTH KOREA? - North Korean leader Kim Jong Un and his South Korean counterpart will meet later this month to discuss the denuclearization of the Korean Peninsula, his state-controlled media reported Thursday ... Kim also expressed faith in President Trump's efforts to settle a nuclear impasse, despite recent bumps in diplomacy, the report said. Chung Eui-yong, a special envoy from South Korea, told reporters that Kim stressed that "he has never talked negative about President Trump to his staff or anyone else," South Korea's Yonhap News reported.
Chung reportedly said North Korea expressed hope to improve the "North-U.S. relationship within Trump's first term." The statement comes after a South Korean envoy met with Kim to set up the inter-Korean summit with South Korean President Moon Jae-in.
HURRICANE FLORENCE INTENSIFIES: Florence, the first major storm of this year's Atlantic hurricane season, was upgraded to a Category 4 storm Wednesday as forecasters warned it could cause "life-threatening" surf and rip current conditions in Bermuda later this week ... According to the National Hurricane Center, Florence's maximum sustained winds are estimated to be 130 miles per hour. The storm is centered about 1,295 miles east-southeast of Bermuda and is moving northwest at 13 mph. Forecasters have said they expect Florence to weaken somewhat over the next couple of days, but the storm is predicted to remain a powerful hurricane through early next week. The National Hurricane Center said that the swells generated by Florence would begin to affect Bermuda on Friday.
AS SEEN ON FOX NEWS
A 'COWARD' IN TRUMP'S MIDST: "The idea that this person has a taxpayer's job somewhere in the government, is supposed to be serving the president, who the taxpayers elected, but he or she is such an elitist that they know better than the voters, that they are protecting the voters in some way? ... I agree with the president. I think is a real problem and they [New York Times editors] should come forward and say who this person is." – House Majority Leader Kevin McCarthy, on "The Ingraham Angle," demanding that the New York Times reveal the identity of anonymous White House official who wrote an anti-Trump op-ed. WATCH
RAGE OF THE FAR LEFT, ON DISPLAY: "No Democrat has disputed that Brett Kavanaugh is qualified to serve on the Supreme Court. And they're just really expressing the rage of the far left to Donald Trump. They're mad that Trump won in 2016 and Hillary Clinton lost." – Sen. Ted Cruz, on "Hannity," slamming Senate Democrats and protesters for repeatedly interrupting Brett Kavanaugh's confirmation hearings. WATCH
TRENDING
These words were added to the Merriam-Webster dictionary.
Physicists solve an age-old conundrum: the chicken or the egg.
California's 'Motor Voter' program sees nearly 23,000 erroneous registrations sent.
British Airways, Heathrow Airport staff celebrate Queen's Freddie Mercury with choreographed dance.
THE SWAMP
Top Dem candidate who said money 'corrupts' politics donated $100G to Obama, asked for U.S. ambassadorship.
Nikki Haley says she doesn't want Nicaragua to turn into another Venezuela or Syria.
Cynthia Nixon on getting single-payer health care in New York: 'Pass it and then figure out how to fund it.'
ACROSS THE NATION
Mollie Tibbetts' suspected killer reportedly used alias 'John Budd' at work.
Most U.S., Canadian fraternities ordered to ban hard alcohol from frat parties following pledge deaths.
Former NASA contractor threatened to post nude photos of women, authorities say.
MINDING YOUR BUSINESS
Nike's first Kaepernick commercial to air during NFL opener: report | Nike shares stabilize
Tax cuts 2.0: What we know so far.
Trump calls for a fair trade deal with Canada.
U.S.-China tariffs creating a 'barrier' for American dairy.
Top economists expect 'leaner' times ahead: Survey.
Bernie Sanders ratchets up Amazon attacks with 'Stop BEZOS Act.'
Levi Strauss CEO calls for stricter gun laws.
FOX NEWS OPINION
Sean Hannity: Get real, Nike – Here's what 'sacrificing everything' REALLY looks like.
Judge Andrew Napolitano: Metaphor in a government-founded church.
Hans A. von Spakovsky: Kavanaugh proves he will not be Democrats' punching bag.
HOLLYWOOD SQUARED
Bella Thorne wants out of #MeToo movement after new Asia Argento claims.
Christopher Lawford, nephew of JFK and 'General Hospital' actor, dead at 63: report.
Roy Moore says he's suing Sacha Baron Cohen, Showtime, CBS over 'Who Is America?' interview.
DID YOU HEAR ABOUT THIS?
Dogs, horses in Kentucky possibly killed by 'large cat,' officials say.
'Vegetarian' shark discovery: First omnivorous species of sea predator stuns scientists.
Book claims to have uncovered the real story of Hitler's death.
STAY TUNED
FOX Nation is coming! - Sign up now and find out about its exciting launch!
On Facebook:
Check out 'FOX News Update,' our new Facebook-exclusive news program!
On FOX News:
FOX & Friends, 6 a.m. ET: Sen. Ted Cruz discusses the Brett Kavanaugh confirmation hearings. Turning Point USA founder Charlie Kirk interviews Kavanaugh protesters. The "FOX & Friends" All-American Road Trip hits the Kentucky Bourbon Trail. Plus, special guests Newt Gingrich and Dana Loesch sound off on the top headlines of the day.
FOX News Live Coverage: The Kavanaugh Hearings, starting at 9:15 a.m. ET - Stay with FOX News for complete coverage and in-depth analysis.
On FOX Business:
Mornings with Maria, 6 a.m. ET: Special guests include: Sen. Chuck Grassley; Rep. Leonard Lance; Rick Pitino, author of "Pitino: My Story."
Varney & Co., 9 a.m. ET: RNC Chair Ronna McDaniel; Texas Attorney General Ken Paxton; Sen. John Thune; Curtis Ellis, former Trump campaign trade and jobs adviser; Tiki Barber, former NFL star.
Cavuto: Coast to Coast, Noon ET: Robert Charles, former assistant secretary of state under President George W. Bush; Joe Borelli, NYC Council Minority Whip.
The Intelligence Report, 2 p.m. ET: Kayleigh McEnany, RNC spokeswoman; Michael Block, managing director and market strategist for Third Seven Advisors; Michael Nunez, deputy tech editor for Mashable; Scott Martin, chief investment officer for Kingsview Asset Management; Justin Walker; former clerk for Judge Brett Kavanaugh and Justice Anthony Kennedy; Elizabeth Slattery, legal fellow and appellate advocacy program manager for the Heritage Foundation's Edwin Meese Center for Legal and Judicial Studies.
On FOX News Radio:
The FOX News Rundown podcast: Bob Woodward's forthcoming book, "Fear: Trump in the White House" paints a picture of a chaotic White House under President Trump. "Media Buzz" host Howard Kurtz discusses the reaction to the new book and its credibility. Colin Kaepernick, unemployed NFL quarterback-turned-controversial activist, is the new face of Nike's "Just Do It" 30th anniversary campaign. FOX News' William La Jeunesse and FOX News Headlines' Matt Napolitano discuss how consumers and companies are reacting. Plus, commentary by Judge Andrew Napolitano.
Want the FOX News Rundown sent straight to your mobile device? Subscribe through Apple Podcasts, Google Play, and Stitcher.
The Brian Kilmeade Show, 9 a.m. ET: The hot topics of the day will be the Kavanaugh confirmation hearings, Bob Woodward's new book and the explosive New York Times op-ed by an anonymous White House administration official with special guests: Kayleigh McEnany, RNC spokeswoman; American Conservative Union chair Matt Schlapp; "FOX News Sunday" host Chris Wallace; and Steve Doocy.
The Tom Shillue Show, 3 p.m. ET: Steve Hilton, host of "The Next Revolution" and former director of strategy for British Prime Minister David Cameron, joins Tom Shillue to discuss his new book, "Positive Populism: Revolutionary Ideas to Rebuild Economic Security, Family, and Community in America."
#OnThisDay
2017: Hurricane Irma, the most powerful hurricane ever recorded in the Atlantic, pounds Puerto Rico with heavy rain and powerful winds, leaving more than 900,000 people without power.
1995: Baltimore Orioles shortstop Cal Ripken Jr. breaks Lou Gehrig's record by playing his 2,131st consecutive game.
1901: President William McKinley is shot and mortally wounded by anarchist Leon Czolgosz at the Pan-American Exposition in Buffalo, N.Y. (McKinley died eight days later; Czolgosz was executed Oct. 29.)
FOX News First is compiled by FOX News' Bryan Robinson. Thank you for joining us! Enjoy your day! We'll see you in your inbox first thing Friday morning.