FOX NEWS FIRST: Trump slams 'haters' in media, threatens shutdown over border wall; Manafort trial preview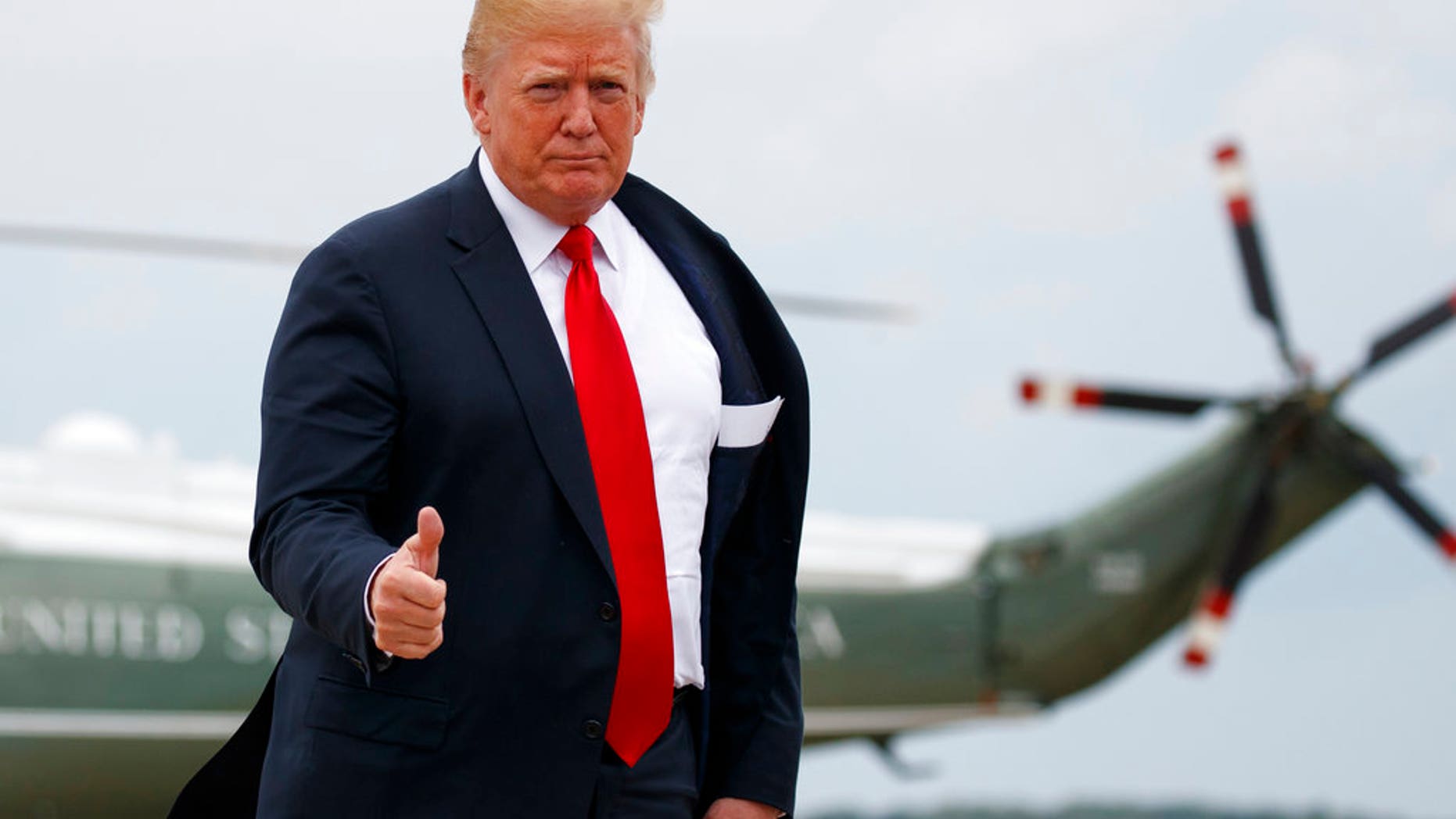 Welcome to FOX News First. Not signed up yet? Click here.
Developing now, Monday, July 30, 2018
President Trump slams 'haters' in the media after the publisher of the New York Times calls the president's rhetoric divisive and 'increasingly dangerous'  
Trump tweeted Sunday he would be willing to 'shut down' the government if Democrats do not support immigration measures such as funding for his border wall
A northern California wildfire has now left six people dead, but has started slowing down after days of growth, authorities say
The trial of former Trump campaign manager Paul Manafort is expected to begin Tuesday, and it could give a glimpse into Special Counsel Robert Mueller's investigation
In an exclusive interview with FOX News' Maria Bartiromo, Vice President Mike Pence touts the Trump administration's economic accomplishments and predicts Supreme Court nominee Brett Kavanaugh will be confirmed in the fall
THE LEAD STORY - TRUMP VS. 'TRUMP-DERANGED' MEDIA: President Trump ripped "haters in the dying newspaper industry" Sunday after the publisher of The New York Times criticized Trump's rhetoric as "not just divisive but increasingly dangerous" ... In a series of tweets, the president complained that the media had been "driven insane by their Trump Derangement Syndrome." "[Ninety percent] of media coverage of my Administration is negative, despite the tremendously positive results we are achieving, it's no surprise that confidence in the media is at an all time low!" Trump wrote.
Trump posted the tweets a few hours after New York Times publisher A.G. Sulzberger detailed a July 20 meeting between himself and the president. Sulzberger said Trump's aides had initially requested the meeting not be made public, but added he decided to comment after Trump discussed it in another tweet earlier Sunday. Sulzberger said he told Trump that while the phrase "fake news" is untrue and harmful, "I am far more concerned about his labeling journalists 'the enemy of the people.'" Trump's labels, he said, were fueling the rise of threats against journalists.
ICYMI: TRUMP TO DEMS: BORDER WALLS OR ELSE -  President Trump said on Sunday that he would be willing to shut down the federal government if the Democrats do not agree to Republican demands about funding for a wall along the U.S.-Mexico border ... Trump wrote on Twitter that border security "includes the Wall! Must get rid of Lottery, Catch & Release etc. and finally go to system of Immigration based on MERIT! We need great people coming into our Country!"
The White House has been embroiled in controversy over the ongoing efforts to reunite families separated at the border who were attempting to enter the United States illegally. During his most recent weekly address, Trump cited the 9/11 terrorist attacks to justify strong enforcement of immigration laws and the continued necessity of Immigration Customs & Enforcement, the agency which has come under fire from Democrats in recent months.
A GLIMMER OF HOPE: A deadly northern California fire has now left six people dead but has slowed down, giving authorities new hope ... The North California Carr wildfire, which has grown to just under 90,000 acres since exploding Thursday, has taken six lives, including two firefighters, a woman and her two great-grandchildren, ages 4 and 5. In addition, seven missing persons reports remain outstanding, according to the Shasta County Sheriff's Office.
Still, in Redding, officials stuck a hopeful tone for the first time in days. "We're feeling a lot more optimistic today as we're starting to gain some ground rather than being in a defensive mode on this fire all the time," said Bret Gouvea, the California Department of Forestry and Fire Protection's incident commander.
THE TRIAL OF PAUL MANAFORT: The trial of President Donald Trump's onetime campaign chairman Paul Manafort is expected to begin Tuesday and will focus on Manafort's business dealings and lifestyle, not Russian collusion allegations. But it will give a glimpse into Special Counsel Robert Mueller's investigation ...  Manafort's financial crimes trial, the first arising from Mueller's investigation, will center on his Ukrainian consulting work and only briefly touch on his involvement with the president's campaign. Jury selection begins Tuesday in Alexandria, Virginia.
The trial will give the public its most detailed glimpse of evidence Mueller's team has spent the year accumulating. It will feature testimony about the business dealings and foreign ties of a defendant Trump entrusted to run his campaign during a critical stretch in 2016, including during the Republican convention.
FOX NEWS EXCLUSIVE: VICE PRESIDENT PENCE ON 'DRAMATIC' ECONOMIC GROWTH AND MORE: Vice President Pence touted the Trump administration's economic progress and slammed reporters who forgo "decorum" at the White House in a wide-ranging interview with FOX News' Maria Bartiromo on "Sunday Morning Futures" ... "The reality is, in the last two administrations, the economy grew by less than 2 percent," Pence said. "And in the first 18 months of this administration -- we were a little shy of 3 percent last year -- we're on track to be at 3 percent or better this year." The "dramatic increase" in business investment and exports are a testament to the policies of the Trump administration, Pence said.
On Friday, the Commerce Department released a long-awaited estimate showing that the gross domestic product (GDP) grew by 4.1 percent in the second quarter of 2018, marking the fastest economic expansion in nearly four years.
In addition, despite extreme division on Capitol Hill, Pence predicted that Supreme Court nominee Brett Kavanaugh will be confirmed soon. "We remain confident that before the fall is out that Judge Brett Kavanaugh will be Justice Brett Kavanaugh," Pence said.
AS SEEN ON FOX NEWS WEEKEND
THE TRUTH ABOUT DEMOCRATS AND OPEN BORDERS: "The Obama folks called it a healthy economy, but there was barely a pulse." – Judge Jeanine Pirro, in her "Opening Statement" monologue on "Justice with Judge Jeanine," praising President Trump for the fastest expansion of the U.S. economy in about four years. WATCH
TRUMP'S 'FRIENDLY' POLITICAL FOES: "The biggest enemies here are not necessarily the open-borders Democrats. They're doing what they always do. It is those Republicans in Washington, D.C. who are willing to throw President Trump and his voters and supporters under the bus to preserve their own power." – Michelle Malkin, on "FOX & Friends Weekend," arguing that Congressional Republicans looking to retain power are standing in the way of President Trump's border security agenda. WATCH
TRENDING
Great white shark caught in Rhode Island waters.
Deputy's graphic Facebook post describing fight with suspect goes viral.
If you use Amazon, change these five settings immediately.
THE SWAMP
Top Tennessee Dem Party official snubs 'reaching out' to Trump voters, calls them 'idiots.'
Rep. John Lewis released from hospital with 'clean bill of health.'
Prankster puts Putin's portrait in Trump's place at Colorado Capitol.
ACROSS THE NATION
Missing University of Iowa student may have returned to home after jog: report.
Teen seriously injured after plastic bottle thrown from car explodes in her hands: report.
Burned-out millennials quitting lucrative jobs to live their best life.
MINDING YOUR BUSINESS
CBS brass grapples with Moonves' fate amid Redstone feud.
Fiat Chrysler chief's death focuses spotlight on CEO health.
Senate looms as big test for changes to U.S. fishing laws.
FOX NEWS OPINION
Kyle Smith: Trump's demise has been greatly exaggerated.
Peter Morici: I'm an educator. This is why I want Judge Kavanaugh on the Supreme Court.
Timothy Head: The unhinged anti-Kavanaugh left gears up to attack a Christian family man who feeds the homeless.
HOLLYWOOD SQUARED
'Big Bang Theory' boss Chuck Lorre comments on safe work environments after Les Moonves sexual harassment allegations.
Netflix focused on building faith and family-based shows, exec says.
Mark Hamill responds to news that Carrie Fisher will appear in next 'Star Wars' via old footage.
DID YOU HEAR ABOUT THIS?
Mourning orca mother carries dead calf for fifth day.
Polar bear killed after attacking cruise ship employee near North Pole.
Bridesmaid begs JetBlue for refund after bride asks her 'to relinquish' title, 'duties.'
STAY TUNED
On Facebook:
Check out 'FOX News Update,' our new Facebook-exclusive news program  hosted by Shepard Smith, Carley Shimkus and Abby Huntsman!
On FOX News: 
FOX & Friends, 6 a.m. ET: Special guests include: President Trump's attorney, Rudy Giuliani; Larry Winget, the "Pitbull of Personal Development"; and Greg Gutfeld, who discusses his new book, "The Gutfeld Monologues." Plus, reaction after Philadelphia takes another step toward hindering ICE; Analyzing the geopolitics of China; and a look at the best backyard toys for summer fun.
On FOX Business:
Mornings with Maria, 6 a.m. ET: More of Maria Bartiromo's exclusive interview with Vice President Mike Pence as he takes her behind closed doors to show the Bronze Star Medal being awarded to his late father for his service in the Korean War.
On FOX News Radio:
The FOX News Rundown podcast: The GDP report for the second quarter shows the strongest level of economic growth in the last four years. FOX Business reporter Adam Shapiro discusses what this means moving forward for the economy. Last week, the U.S. Dept. of Agriculture announced $12 billion in emergency relief for farmers affected by President Trump's recent tariffs. Andy Petersen, the morning farm news anchor at FOX News radio affiliate WHO-AM, discusses how the tariffs are impacting farmers. Plus, commentary by FOX News; Gregg Jarrett.
Want the FOX News Rundown sent straight to your mobile device? Subscribe through Apple Podcasts, Google Play, and Stitcher.
The Brian Kilmeade Show, 9 a.m. ET: FOX News White House correspondent Kevin Corke on Trump lashing out at the New York Times, media and being willing to "shut down" the government over his promised border wall. Investigative journalist Sharyl Attkisson on being spied on by the Obama administration.
#OnThisDay
2013: U.S. Army Pfc. Bradley Manning is acquitted of aiding the enemy — the most serious charge he faces — but is convicted of espionage, theft and other charges at Fort Meade, Md., more than three years after he spilled secrets to WikiLeaks. (The former intelligence analyst, now known as Chelsea Manning, would be later sentenced to up to 35 years in prison. The sentence was commuted by President Barack Obama in his final days in office.)
1975: Former Teamsters union president Jimmy Hoffa disappears in suburban Detroit; although presumed dead, his remains have never been found.
1956: President Dwight D. Eisenhower signs a measure making "In God We Trust" the national motto, replacing "E Pluribus Unum" (Out of many, one).
FOX News First is compiled by FOX News' Bryan Robinson. Thank you for joining us! Enjoy your Monday! We'll see you in your inbox first thing Tuesday morning.