FOX NEWS FIRST: Stage set for partisan war in Kavanaugh hearings; Nike under fire for siding with Kaepernick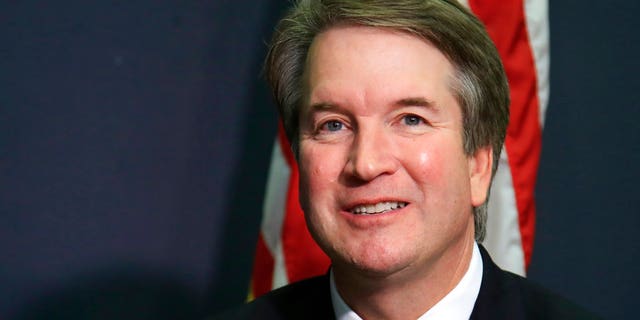 Welcome to FOX News First. Not signed up yet? Click here.
Developing now, Tuesday, September 4, 2018
The confirmation hearings for President Trump's Supreme Court pick Brett Kavanaugh are set to begin Tuesday, and a bitter, highly partisan war over a potential rightward shift in the high court is expected
Parts of Louisiana, Mississippi and Alabama are on alert as Tropical Storm Gordon pummeled South Florida Monday and could strengthen into a hurricane when it hits the Gulf Coast on Tuesday
President Trump accused Attorney General Jeff Sessions of jeopardizing Republicans' chances in the November midterms because of Justice Department investigations against two Republican congressmen
NBC News chairman Andy Lack defended his network's handling of Ronan Farrow's exposé of the sexual misconduct allegations against Hollywood mogul Harvey Weinstein in a memo to employees Monday
Nike is under fire for selecting controversial former San Francisco 49ers quarterback Colin Kaepernick as one of the faces of the 30th anniversary of its 'Just Do It' campaign. 
Voters in Massachusetts will go to the polls Tuesday to decide candidates in gubernatorial, congressional and Senate races   
THE LEAD STORY - THE KAVANAUGH CONFIRMATION BATTLE: The Senate Judiciary Committee launches confirmation hearings for President Trump's Supreme Court nominee Brett Kavanaugh on Tuesday, kicking off what is expected to be a bitterly partisan gauntlet as Democrats vow to scrutinize his lengthy record as an appellate judge and lawyer in the Bush administration ... Kavanaugh's elevation from the D.C. Circuit Court of Appeals to replace retired Justice Anthony Kennedy would mark a generational rightward shift on the Supreme Court, raising the stakes beyond those of last year's nomination of Neil Gorsuch and leading Democrats to ratchet up their rhetoric.
However, Kavanaugh steadily has gathered support from legal circles, former colleagues and Republican lawmakers. The judge's nomination, though, will ultimately succeed or fail depending on a handful of swing-vote senators, including vulnerable red-state Democrats and moderate pro-choice Republicans who have all said that they would withhold judgment on the nominee. Republicans command a narrow 50-49 Senate majority, which would return to 51-49 once a Republican successor to the late Sen. John McCain is appointed. Republicans have little margin for error, though Vice President Pence can break a tie.
THE GULF COAST BRACES FOR GORDON: Parts of the Gulf Coast are under a hurricane warning after Tropical Storm Gordon drenched parts of South Florida and meteorologists warned it could strengthen into hurricane by late Tuesday ... Meteorologists have warned Gordon likely will strengthen into a hurricane by the time it reaches coastal Mississippi and Louisiana. The hurricane warning was placed into effect for the area stretching from the mouth of the Pearl River in Mississippi to the Alabama-Florida border. Voluntary evacuation orders were issued on Monday for parts of Louisiana for residents in areas outside the levee protection system.
Gov. John Bel Edwards declared a state of emergency Monday and said 200 National Guard troops will be deployed to southeastern Louisiana. After making landfall, Gordon is expected to charge inland over the lower Mississippi Valley on Wednesday.
TRUMP DUMPS ON SESSIONS ... AGAIN: President Trump lashed out at Attorney General Jeff Sessions in a string of tweets on Monday, accusing him of hurting Republican chances in the upcoming midterm elections with a series of Justice Department investigations ... "Two long running, Obama era, investigations of two very popular Republican Congressmen were brought to a well publicized charge, just ahead of the Mid-Terms, by the Jeff Sessions Justice Department," Trump tweeted. "Two easy wins now in doubt because there is not enough time. Good job Jeff....."
The president apparently was referring to the current investigations into GOP Reps. Duncan Hunter of California and Chris Collins of New York. FOX News has reached out to the White House for additional clarification, and the Justice Department did not immediately respond. Monday's tweets continued a long-running gripe Trump has had with Sessions ever since the attorney general recused himself last year from the Russia investigation.
NBC NEWS CHIEF ON THE DEFENSIVE ON FARROW, WEINSTEIN: NBC News chairman Andy Lack defended his network's handling of Ronan Farrow's Harvey Weinstein reporting in a lengthy memo to staff on Labor Day ... The 10-page memo provided to FOX News, which came with a cover letter and table of contents, was sent out after a former NBC News producer who was working with Farrow on the Weinstein probe said they were ordered to kill the report on direction from "the very highest levels at NBC."
But Lack fought back against the allegation in his memo, labeling talk about the network's handling of the report "an unusual situation for a news division." He said there were no ulterior motives to punting the story and that it simply was "not ready to air."
DID NIKE 'JUST DO' THEMSELVES IN WITH KAEPERNICK? - Nike selected the controversial former San Francisco 49ers quarterback Colin Kaepernick as a new face of the athletic wear company's "Just Do It" campaign, which is celebrating its 30th anniversary ... "Believe in something, even if it means sacrificing everything. #JustDoIt," Kaepernick posted on Twitter on Monday afternoon. Kaepernick, who hasn't played on an NFL team since the 2016 season, already had a deal with Nike that was set to expire. However, it was renegotiated into a multi-year deal to make him one of the faces of Nike's 30th anniversary "Just Do It" campaign, according to a person familiar with the contract.
The source said Nike will feature Kaepernick on several platforms, including billboards, television commercials and online ads. Nike also will create an apparel line for Kaepernick and contribute to his Know Your Rights charity. The deal puts Kaepernick in the top bracket of NFL players with Nike.
The free agent quarterback stirred up controversy when he began kneeling during the playing of the national anthem prior to NFL games, beginning in the summer of 2016, to protest racial injustices against the African-American community. Many other players have joined the movement since it began, which sparking condemnation from President Trump and a decline in TV ratings for the NFL.
PRIMARY DAY IN BLUEST OF BLUE MASSACHUSETTS: Voters in Massachusetts are choosing between incumbents and fresh faces in Tuesday's primary, where several members of the state's all-Democratic U.S. House delegation face challenges and races for governor and a Republican contest for the U.S. Senate are featured ... The most closely watched contest pits longtime incumbent U.S. Rep. Michael Capuano against Boston City Councilor Ayanna Pressley. The challenge from Pressley, the first black woman to serve on the city council, has drawn some comparisons to Alexandria Ocasio-Cortez, who upset 10-term New York Rep. Joe Crowley in a Democratic primary in June. If elected, she'd be the first black woman Massachusetts has sent to Congress.
Another veteran congressman, Rep. Richard Neal, also faces a primary challenge from Tahirah Amatul-Wadud, a black attorney from Springfield who, if elected, would be the first Muslim to serve in Congress from Massachusetts. Three other Democratic incumbents — Reps. Stephen Lynch, William Keating and Joe Kennedy — also face primary opponents Tuesday. Another Democrat, U.S. Rep. Niki Tsongas, is retiring at the end of this term and the open seat has touched off a political scramble with 10 candidates on the Democratic primary ballot.
Republican Gov. Charlie Baker, a moderate who has been popular with voters, faces a primary challenge from Scott Lively, a conservative minister from Springfield. Lively, who has little money or staff, calls Baker a "RINO" (Republican in Name Only) and declares he is "100 percent" behind President Donald Trump. Baker says he did not vote for Trump in the 2016 presidential election and has frequently criticized White House policies.
Democratic U.S. Sen. Elizabeth Warren is unopposed in the Democratic primary, but three Republicans are competing for the nod to face her in November: state Rep. Geoff Diehl, who was the co-chair of Trump's Massachusetts campaign; John Kingston, a businessman who once tried to fund a third-party challenge to Trump but has become more supportive of the president; and Beth Lindstrom, who served in former Republican Gov. Mitt Romney's administration.
ICYMI - AS SEEN ON FOX NEWS
LIBERAL DISTORTION OF HISTORY: "Hollywood is dominated now, unfortunately, by liberals. And because of that power, they always have the temptation to revise history or to in fact bend history to reflect their current political views." – Former White House and Pentagon official Douglas MacKinnon, on "FOX & Friends," calling out the makers of "First Man," an upcoming biographical film about Neil Armstrong, for omitting the moment Armstrong and Buzz Aldrin planted the American flag on the moon. WATCH
THE 'DEEP STATE' SESSIONS: "You are so clueless, you don't even know you're being used. You don't even know you're nothing but a shill." – Judge Jeanine Pirro, in her "Opening Statement" on "Justice with Judge Jeanine," blasting Jeff Sessions for his performance as U.S. attorney general. WATCH
IN THE SPOTLIGHT
Heather Childers: I'm back at FOX News after a shocking health crisis – Please take my advice about your body.
Jalaluddin Haqqani, founder of Afghan militant network, is dead: Taliban.
Trump warns Assad, Syrian allies on reported plan for Idlib province offensive.
EXCLUSIVE: Iran's secret weapons-smuggling air routes to Lebanon revealed by intel sources.
TRENDING
Monica Lewinsky cuts off interview after being asked if she expects Bill Clinton 'apology.'
New Yorker caves to liberal outrage, cancels plans to interview Steve Bannon.
Police officer pumps, pays for elderly woman's gas, viral Facebook post shows.
ICYMI: Twitter CEO reportedly favored keeping Alex Jones and Richard Spencer on platform.
THE SWAMP
Trump slams John Kerry as 'father' of Iran deal amid 2020 speculation.
Bernie Sanders tees off on Trump in Labor Day visit to key presidential primary state.
Request to end DACA from multiple states denied by federal judge.
ACROSS THE NATION
Chicago's violent Labor Day weekend leaves at least six dead; more than 1,000 shot since Memorial Day.
Viral 'Momo suicide game' blamed for deaths of boy, 16, and girl, 12, reports say.
Ohio animal rescue center claims inmates with prison program killed dog.
MINDING YOUR BUSINESS
Jobs, tariffs and the Supreme Court headline the week ahead.
Trump slams AFL-CIO president Trumka on Labor Day.
Gas prices to drop this fall, here's how much.
China's JD.com founder returns to Beijing after U.S. arrest.
Argentina announces new taxes, ministry cuts amid economic turmoil.
SocGen expects around $1.4B in U.S. sanctions penalties.
FOX NEWS OPINION
Steve Hilton: Why I believe we need a positive populist revolution.
Dana Perino: Five suggestions for college students who want to make the most of this year. #BackToSchool
Joshua Rogers: I was a troublemaker in third grade, then the principal did this on my sixth visit. #BackToSchool
HOLLYWOOD SQUARED
Aretha Franklin's family says pastor's eulogy was offensive, distasteful.
'Roseanne' spinoff 'The Conners' gives first look at the cast at work in a very familiar place.
Lana Del Rey cancels Israel performance amid pressure from BDS movement.
DID YOU HEAR ABOUT THIS?
Planet Nine may exist, but it might be hiding behind Neptune.
Moose drowns in Vermont lake after being spooked by onlookers snapping photos.
Firefighters try saving relics at 200-year-old National Museum after massive blaze.
STAY TUNED
On Facebook:
Check out 'FOX News Update,' our new Facebook-exclusive news program!
On FOX News:
FOX & Friends, 6 a.m. ET: Sen. Chuck Grassley previews the Kavanaugh confirmation hearings. Ohio truck driver gives his take on how President Trump is protecting America's workers. A look at top innovative products that will make your life easier. Plus, special guests include: Sen. Mike Lee, Judge Andrew Napolitano and Tucker Carlson.
FOX News Live Coverage: The Kavanaugh Hearings, starting at 9:15 a.m. ET - Stay with FOX News for complete coverage and in-depth analysis.
The Kavanaugh Hearings Fallout: Look back on the first day of testimony with Special Report at 6 p.m. ET, The Story with Martha MacCallum at 7 p.m., Tucker Carlson Tonight at 8, Hannity at 9, The Ingraham Angle at 10 and FOX News @ Night at 11 p.m. ET.
On FOX Business:
Mornings with Maria, 6 a.m. ET: Special guests include: House Judiciary Committee member Rep. Darrell Issa; Alan Dershowitz; James Bullard, St. Louis Federal Reserve president and CEO.
Varney & Co., 9 a.m. ET: Scott Galloway, author of "The Four: The Hidden DNA of Amazon, Apple, Facebook, and Google"; Jim Brulte, California Republican Party chairman.
The Intelligence Report, 2 p.m. ET: Thomas Jipping, deputy director of the Edwin Meese III Center for Legal and Judicial Studies; Steve Forbes-Forbes Media chairman; Retired Maj. Gen. Bob Scales; Ed Rollins, GOP strategist and former adviser to President Reagan.
After the Bell, 4 p.m. ET: Art Laffer, former economic adviser to President Reagan; Rep. Tom Reed.
The Evening Edit, 5 p.m. ET: Former Rep. Jason Chaffetz; Rep. Doug Collins.
On FOX News Radio:
The FOX News Rundown podcast: Want the FOX News Rundown sent straight to your mobile device? Subscribe through Apple Podcasts, Google Play, and Stitcher.
The Brian Kilmeade Show, 9 a.m. ET: Chris Stirewalt and Allen West analyze the start of Brett Kavanaugh Supreme Court confirmation hearings. Rep. Cathy McMorris Rodgers looks ahead to the November midterm elections. Investigative journalist and FOX News contributor Sara Carter on the latest in Special Counsel Robert Mueller's investigation and President Trump's latest public scolding of Attorney General Jeff Sessions. Mark Leibovich gives the inside story on his new book, " Big Game: The NFL in Dangerous Times."
The Tom Shillue Show, 3 p.m. ET: FOX News contributor Jessica Tarlov and comedian Kevin Downey Jr. join Tom Shillue's nightly panel to discuss Nike's new ad featuring Colin Kaepernick and the latest news of the day.
#OnThisDay
2006: "Crocodile Hunter" Steve Irwin, 44, dies after a stingray's barb pierced his chest.
1998: Internet services company Google files for incorporation in California.
1951: President Harry S. Truman addresses the nation from the Japanese peace treaty conference in San Francisco in the first live, coast-to-coast television broadcast.
FOX News First is compiled by FOX News' Bryan Robinson. Thank you for joining us! Enjoy your day! We'll see you in your inbox first thing Wednesday morning.